/ Source: The Associated Press
President Bush said Tuesday he plans to increase the overall size of the U.S. military, which has been stretched by wars in Iraq and Afghanistan, so it can fight a long-term battle against terrorism.
Bush said he has asked his new defense chief, Robert Gates, to report back to him with a plan to increase ground forces. The president did not say how many troops might be added, but he said he agreed with officials in the Pentagon and on Capitol Hill that the military is stretched too thin to deal with demands of fighting terrorism.
"I'm inclined to believe that we do need to increase our troops — the Army, the Marines," Bush told The Washington Post in an Oval Office interview. "And I talked about this to Secretary Gates and he is going to spend some time talking to the folks in the building, come back with a recommendation to me about how to proceed forward on this idea."
The White House said Bush's decision about expanding the size of the military was separate from his search for a new approach to the war in Iraq. "This is necessary for the long term obligations in the war on terror," presidential spokesman Tony Snow said.
Different schools of thought
Snow acknowledged that Bush is considering sending more troops to Iraq, an option that worries top generals because of its questionable payoff and potential backlash.
Top generals have expressed concern that even temporarily shipping thousands of more troops would be largely ineffective in the absence of bold new political and economic steps, and that it would leave the Army and Marines Corps even thinner once the surge ended.
They also worry that it feeds a perception that the strife and chaos in Iraq is mainly a military problem; in their view it is largely political, fed by economic distress.
Bush said he has not yet made a decision about a new strategy for Iraq, which he is expected to announce next month. He said he was waiting for Gates to return from his expected trip to Iraq to get a firsthand look at the situation.
"I need to talk to him when he gets back," the president said. "I've got more consultations to do with the national security team, which will be consulting with other folks. And I'm going to take my time to make sure that the policy, when it comes out, the American people will see that we ... have got a new way forward."
Bush cites an 'ideological war'
Bush said his decision to increase the size of the armed forces was in response not just to the war in Iraq but to the broader struggle against Islamic extremists around the globe.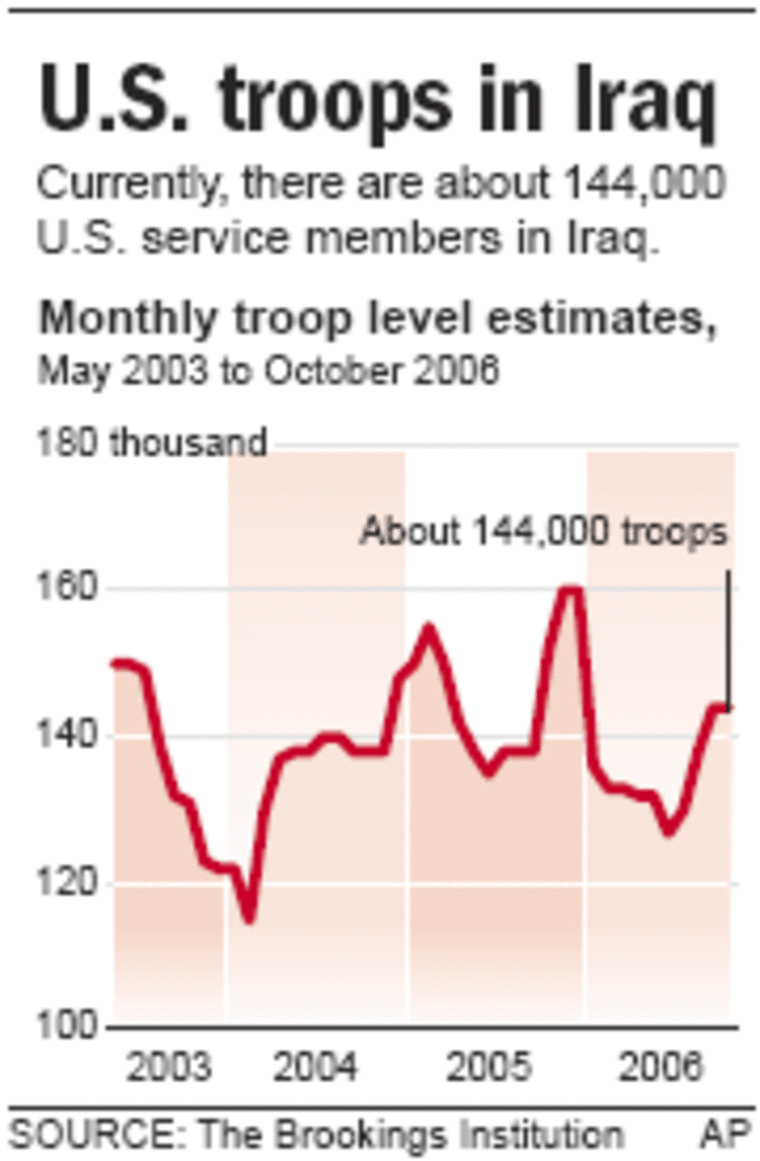 "It is an accurate reflection that this ideological war we're in is going to last for a while and that we're going to need a military that's capable of being able to sustain our efforts and to help us achieve peace," he said.
Sen. Edward M. Kennedy, D-Mass., criticized any decision to send more troops to Iraq.
"Instead of changing course for the better, the president's plan for more troops will make matters worse in Iraq — as many generals agree," Kennedy said in a statement.
"We need a political solution that brings these warring factions together and makes Iraq take responsibility for their own future. (Former Secretary of State) Colin Powell and General (John) Abizaid agree that more troops will just delay that process. Right now, we are a crutch for the Iraqis and our troops are paying the price," he said.