/ Source: The Associated Press
Holiday travelers stranded by a blizzard that paralyzed Colorado's biggest cities lined up at ticket counters in Denver's snowbound airport Thursday only to learn they wouldn't be going anywhere for another day.
While some flight signs still said "on time," airport spokesman Steve Snyder said the runways likely wouldn't reopen before noon on Friday.
The airport's crews simply can't keep up with the falling and drifting snow, Snyder said. They plow the runways, but within 30 minutes, the tarmacs are covered again. By midday Thursday, more than 2 feet of snow had fallen on Denver in less than two days.
"It feels like I'm a refugee," said Lisa Maurer, a University of Wyoming student who was stuck at the Denver airport as she tried to make her way home to Germany. Some 4,700 other hunkered down with her overnight after all flights were canceled Wednesday night and then Thursday and into Friday — about 2,500 in all.
Outside, Denver's streets were empty, and long stretches of highway in the eastern Colorado were so impassable, even the mail couldn't get through. Bus and light rail service in a six-county region was suspended. The Colorado Avalanche postponed Thursday night's hockey game against the Calgary Flames.
The ripple effect
With Denver as the epicenter of the storm and a major hub for United Airlines, travel across the country was snarled, with delays at other airports including San Francisco International and Chicago O'Hare International.
Cathy Stuart, 44, a sales representative from Dallas, spent the night on the airport's stone floor after her flight home was canceled. "I don't feel bad, but I just want to get out of here," she said.
Elsewhere in the United States, , backing up traffic as city pumps struggled to keep up.
More than 3 feet of snow fell in the Colorado mountains, and up to 25 inches fell in the Denver metro area, including 2 more inches on Thursday. A snowstorm also dumped up to 18 inches on New Mexico, icing roads and closing schools, and the National Weather Service warned that another storm was taking aim at New Mexico Friday night.
Heavy snow also fell on southeastern Wyoming on Wednesday closing interstate highways, stranding travelers and sending government workers home early in Cheyenne.
The amount of snow was hard to measure because it wasn't evenly distributed. "We have drifts up to 6 feet high in some locations, and in other areas, it is completely dry on the asphalt and concrete," said Mike Sowko, a forecaster with the National Weather Service in Cheyenne.
Front Range cities desolate
In Denver, Colorado Springs and other cities along the Rocky Mountain Front Range, workers slipped and slid their way home on Wednesday and stayed there, leaving the cities virtual ghost towns on Thursday, typically a busy shopping day. A few pedestrians trudged down the middle of unplowed streets as the snow continued.
Three more inches of wind-whipped snow was expected Thursday before tapering off in the afternoon. Parts of Nebraska and Kansas were also getting snow and ice, but farther east, warmer temperatures meant even Chicago was only forecast to get heavy rain as the storm moved through.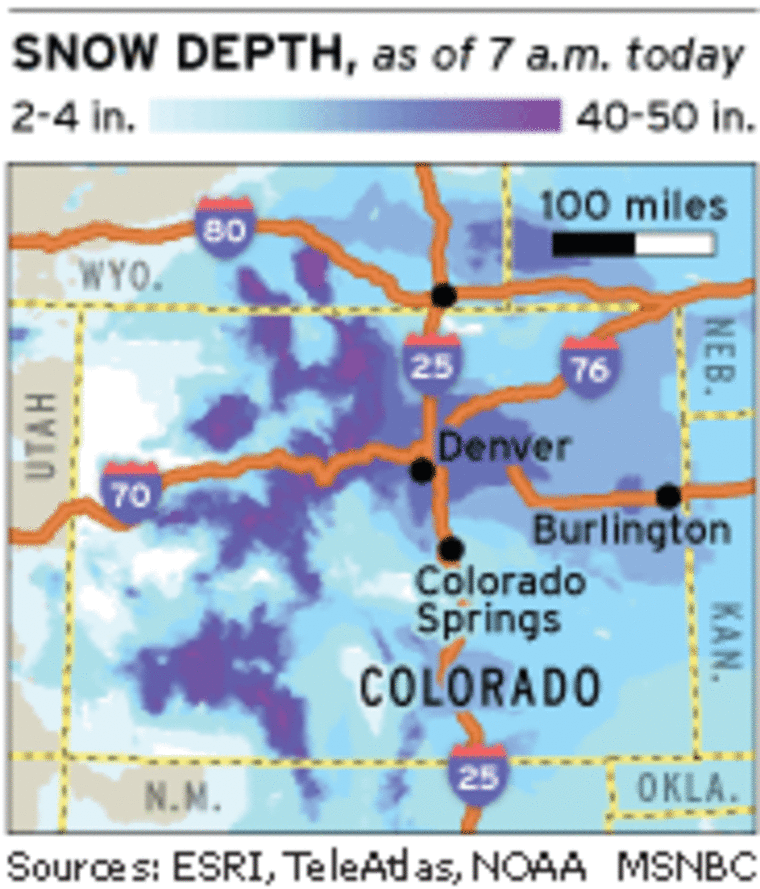 In Colorado's socked-in eastern half, few travelers were going anywhere.
The Colorado Springs airport reopened and some airlines were flying, but getting there was nearly impossible.
Gov. Bill Owens declared a state of emergency and activated the National Guard, which assisted dozens of motorists on the highways around Denver and delivered diapers, formula and bottled water to Denver's airport.
Long stretches of Interstates 70 and 25, the main east-west and north-south routes through the Mountain West, were closed. Interstate 76 was closed from Denver to Nebraska.
Cops rescue 100 stranded motorists
Police in the Denver suburb of Broomfield rescued nearly 100 people who had been stranded in cars along U.S. 36, the main route between Denver and Boulder.
National Guard and sheriff's deputies rescued about 50 people overnight from snowbound vehicles in Weld County, where up to 22 inches of snow fell. About 18 others were still stuck in their cars Thursday morning, said Weld County emergency management director Roy Rudisill.
At least 270 people took refuge at American Red Cross shelters in the Denver area and the number was expected to rise as motorists arrived by the busload early Thursday, said Robert Thompson, spokesman for the Mile High chapter.
"It's just amazing how many people are still out there," he said.
Shelters provided
The Red Cross provided 140 cots for nearly 350 people stranded at a Greyhound bus station in downtown Denver, Thompson said.
Weather Service program manager Byron Louis said it was the most powerful storm to hit Colorado since March 2003, when a massive blizzard dumped up to 11 feet of snow in the mountains over several days and was blamed for at least six deaths.
Major malls closed early Wednesday. One, Flatirons Crossing Mall in Broomfield, northwest of Denver, offered warmth for motorists stranded along U.S. 36, the major link between Denver and Boulder.
Mail service was canceled in the eastern half of the state because mail carriers and trucks delivering mail four days before Christmas couldn't get through.
'We don't want to take the risk'
"We don't want to take the risk of clogging up the system just by being out there," said Al DeSarro, a U.S. Postal Service spokesman in Denver. "We're considering delivering on Sunday to make up for what's sure to be a backlog of mail."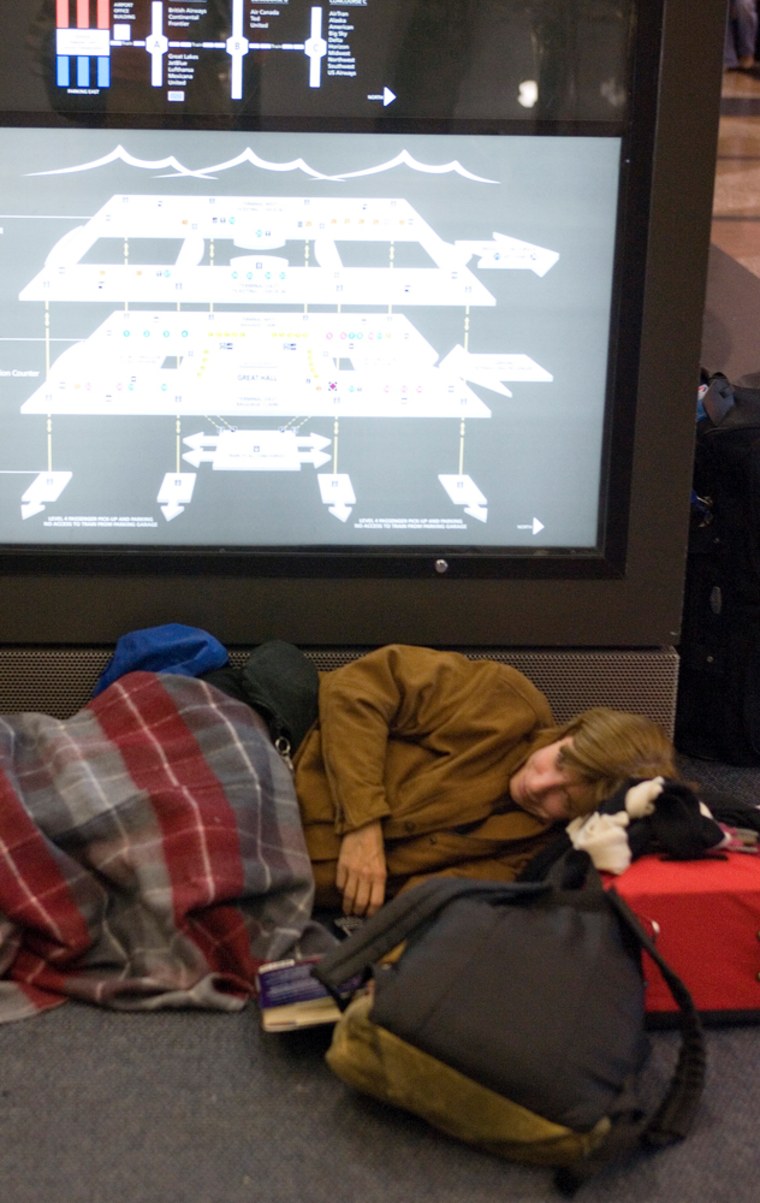 Thirteen hours after Alan Barr left his Denver office for a bus ride home to Boulder, he was stuck at a Red Cross shelter in Denver, not much closer to home than when he left. His bus had set out from Denver hours late, then had to turn back.
Barr trudged into the shelter shortly after midnight with other discouraged riders but said he had not given up on the bus system.
"Days like today are an exception," he said. "I believe in public transportation."
Commuters on several buses had similar experiences, said Scott Reed, spokesman for the Regional Transportation District: "It was absolute gridlock."
Public transit service was not expected to resume until late Thursday at the earliest.
"It was comical for a while," said bus rider Matt Notter of Boulder. "Then we realized, this is an all-night thing."