/ Source: The Associated Press
'Tis the season to be ... angry?
The countdown to Christmas has dwindled to the single digits: As the mall crowds have worsened, so has the stress on shoppers faced with a creeping deadline to buy gifts — and they're increasingly taking that stress out on salespeople.
Now merchants from toy sellers to electronics chains have buckled down to deal with irate shoppers. Their strategies vary but the goal is generally the same: to keep customers happy (and from wrestling each other in the aisles) and employees safe.
"We've all done it: I know I've lost my temper, and everyone else has probably done it," said Ernest Speranza, chief marketing officer of KB Toys. "At this time of year, people start out with all the best intentions. They're busy buying toys for a young child. They're happy about doing that. Then they get caught up in the frenzy ... and a nice experience now starts to spiral out of control."
With shoppers procrastinating even more this year than last year, according to reports, retailers are bracing for an even bigger rush this weekend — and doing what they can to manage the mad multitudes. Stores have beefed up security and coached their employees in anger management. They're taking the hottest items off the shelves to avoid fights in the aisles. While retailers are reluctant to say how much they're spending to manage the mayhem, they do say the measures are worth it to keep their customers happy, employees sane and stores safe during the busiest time of the year.
Shoppers have become angrier, suggests a recent study by ComPsych Corp., a provider of employee assistance programs. This year, ComPsych has seen a marked increase in the number of acute-stress counseling sessions it provides to retailers related to customer abuse. The number rose 13 percent in 2006 following a 65 percent jump last year.
"During the holiday season, (retailers) bring on people who are less familiar with where products are, how stores operate," said Richard A. Chaifetz, chairman and chief executive of ComPsych. "Shoppers are agitated. Put those together and you create a combustible environment."
On the corner of 34th Street and 7th Avenue in New York, Melanie Marquez took a deep breath as she set down two handfuls of red and white Macy's shopping bags. She had just been shopping at the flagship store of Federated Department Stores Inc.
Marquez, 47, said she made her way to the front of the Macy's checkout line only to find that the register didn't recognize the discounts she expected on a set of towels. After leaving the line to search for the proper sales ticket, Marquez waited another hour to save about $14 on a receipt that totaled $450 — that, after putting up a fight.
"Poor Macy's," she said. "You have to be mean to them."
People are "pushy and rude," said 18-year-old Cheryl Warshauer, while shopping in New York. "I try not to be. But they're all so pushy, you have to be pushy back."
This season, fewer retail workers will bear the increased aggression. According to the Bureau of Labor Statistics, the number of people employed in the retail sector slipped in November, compared to the same month last year. Meanwhile, workers employed by general merchandise stores has dropped to the lowest number since 2002.
To diffuse an incendiary situation before it sparks, KB Toys' Speranza said the chain has stopped putting the year's hottest toys on the shelves altogether. Fisher-Price's T.M.X. Elmo — one of this season's most fought-over items — didn't make it onto shelves until just this week, he said. Instead, KB Toys created a waiting list and called customers one by one as shipments arrived.
Meanwhile, Toys "R" Us Inc. said it puts hot products on display but tries to be sure supply meets demand, said Ron Boire, president of Toys "R" Us in the U.S. Still, there have been periodic shortages of T.M.X. Elmo, Nintendo's new Wii gaming console and Sony's Playstation3, he said.
To keep customers under control — lest a stressed-out shopper become a violent shopper — Boire said the chain beefs up security during the holidays, including hiring plainclothes officers to police its aisles and checkout lines.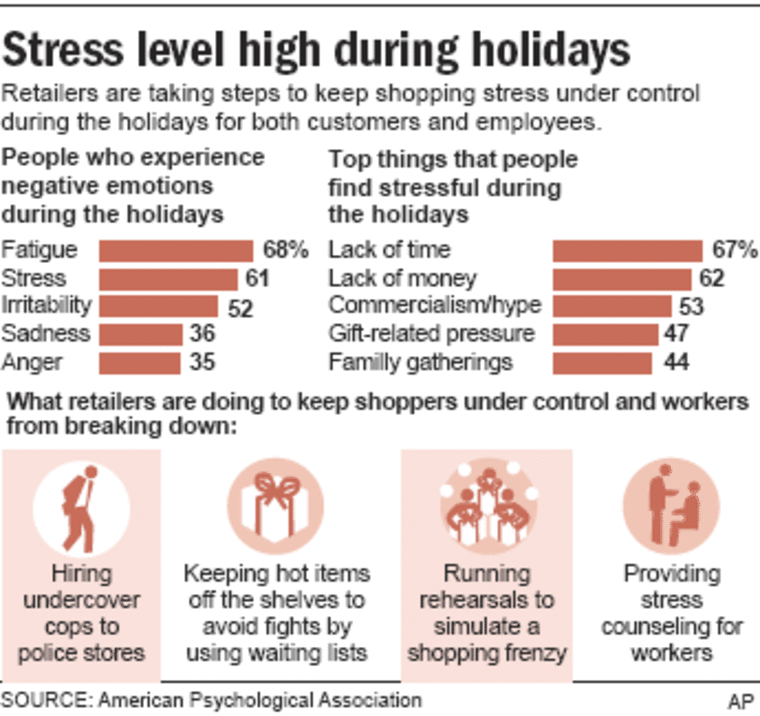 Electronics retailer Best Buy Co. preps its employees for the holiday rush with preseason rehearsals.
Customers who normally come to browse or toy with Best Buy's interactive displays, "during the holidays, they come with a purpose," said Ryan Seymour, general manager of a Best Buy store in Alexandria, Va. "They're aggressive."
So a few days before Black Friday — the day after Thanksgiving that marks the start of the holiday shopping season — Best Buy stores do a "dry run" of the frenzy. Seasonal employees are made to wait in their respective departments when, at once, the other employees bully their way toward the department with a flood of questions. Employees are "armed with a strategy" for organization and inventory, Seymour said.
And the crowds won't be going away after Dec. 25. The nation's retailers are set to expand hours next week to accommodate the post-Christmas shopper rush, which has been increasing in recent years with the popularity of gift cards. That means the stress on employees continues, and retailers are keeping holiday season measures intact.
At a street vendor's table in New York, Lourdes Maria Gonzalez haggled for a bottle of perfume. After settling for the $10 price, she hurriedly stashed the canister in a stroller where her 3-month-old son slept and slung a large bag of wrapped presents over her shoulder.
"Everything is a rush," she said. "I'm behind. After Christmas, I'll still be doing Christmas shopping."