/ Source: Forbes Traveler.com
Ross McCall, a television comedy writer in L.A., recently spent his honeymoon in Zihuatanejo, Mexico, where he and his wife, Susan, had rented a nice condo near the beach. A few times during the week, the newlyweds dropped in for lunch at the nearby La Casa Que Canta and dined alongside the hotel's "infinity pool," with its stunning view of Zihuatanejo Bay. "We were really enjoying our condo across the street," McCall said, "But when we were having lunch at La Casa Que Canta, all we could think about was how much we wanted to be spending the whole day in their swimming pool."
Pool envy can affect not just travelers, but also the hotels themselves, many of which seem to be engaged in a sort of aquatic arms race, outdoing each other with square-acreage, sandy beaches, underwater sound systems or cliff-edge vistas. From Le Meridien's 69,000-square-foot expanse in Makadi Bay, Egypt, to the Hyatt Regency Maui's tide-pool simulators, hotels aim to impress and attract visitors with their swimming holes' scale and novelty features (or a combination of both).
The measure of a hotel swimming pool's quality is, of course, a largely subjective matter. Some prefer sheer size; others look for beach simulacra, like sand shores and wave machines). A spectacular view (often, ironically, a view of water) tops the list for certain travelers, and specialty features like swim-up bars, luxury cabanas or underwater sound systems matter most for other adventure-seekers.
And some vacationers just want a good old-fashioned pool party. At Las Vegas's Hard Rock Hotel and Casino, they can find just that. On Sundays from May to September, this 4.7-acre facility (which comprises two pools joined together by a meandering lagoon) is host to "Rehab," an occasion for the Hard Rock's hard-partying set to bake off their hangovers with, well, more booze (alcohol-soaked melons), and "exercise" with activities like "Stripper Dodgeball."
Sometimes it's the pool — as much as the hotel proper — that draws visitors to a resort. Jennifer Vandekreeke, marketing director at the Biltmore Hotel in Coral Gables, Florida, said, "There are tons of pools with spas and golf, but no one has a pool like this."
The chlorinated colossus she's referring to is the Biltmore's 23,000-square-foot, 700,000-gallon receptacle, purportedly the largest hotel swimming pool in the United States. "It has been the main attraction since the hotel opened in 1926," Vandekreeke said.
The Biltmore, like many of the resorts on our list, offers private poolside cabanas with overstuffed chaise lounges, banana-leaf fans, Internet access and a "dedicated staff of cabana butlers." The private suites go for $139 per day.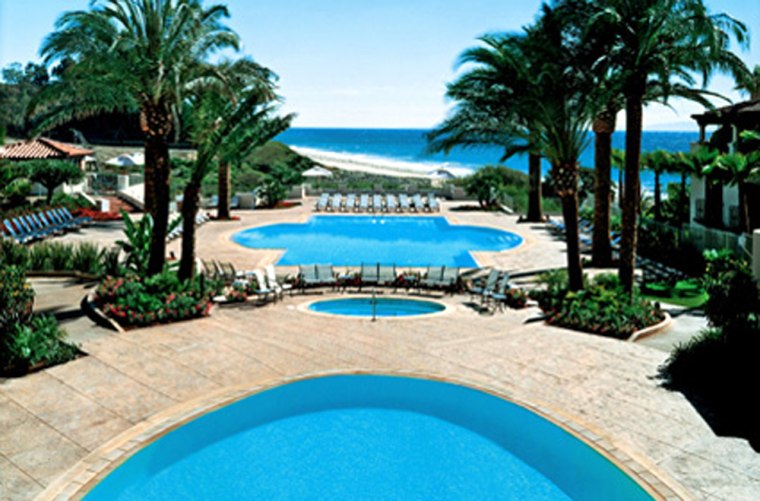 In such comfortable confines, one might be tempted to pass an afternoon at the pool without ever setting foot in the water. But as our list of the world's best hotel swimming pools will attest, from oceanic aqua park to quieter, tropical pools of reflection, it's not always about the water alone. What's beside, above and beyond the pool can be just as attractive.