/ Source: The Associated Press
A gauge of future economic activity advanced 0.1 percent in November, suggesting that the U.S. economy will continue to expand modestly in coming months, an industry-backed research group said Thursday.
The Conference Board, based in New York, said its Index of Leading Economic Indicators edged up to 138.2 last month following a revised increase of 0.1 percent to 138.1 in October and 0.4 percent to 138.0 in September.
The November performance was in line with analysts' expectations.
"The recent behavior of the leading index so far still suggests that slow economic growth is likely to continue in the near term," the Conference Board said.
The index is closely watched because it is designed to predict economic activity in the next three to six months.
Gary R. Thayer, chief economist for A.G. Edwards & Sons in St. Louis, Mo., said that the performance of the index of leading indicators suggests "we're likely to see the economy expand in 2007 — though not necessarily robust growth."
Thayer said the housing market was likely to be less of a drag on the economy.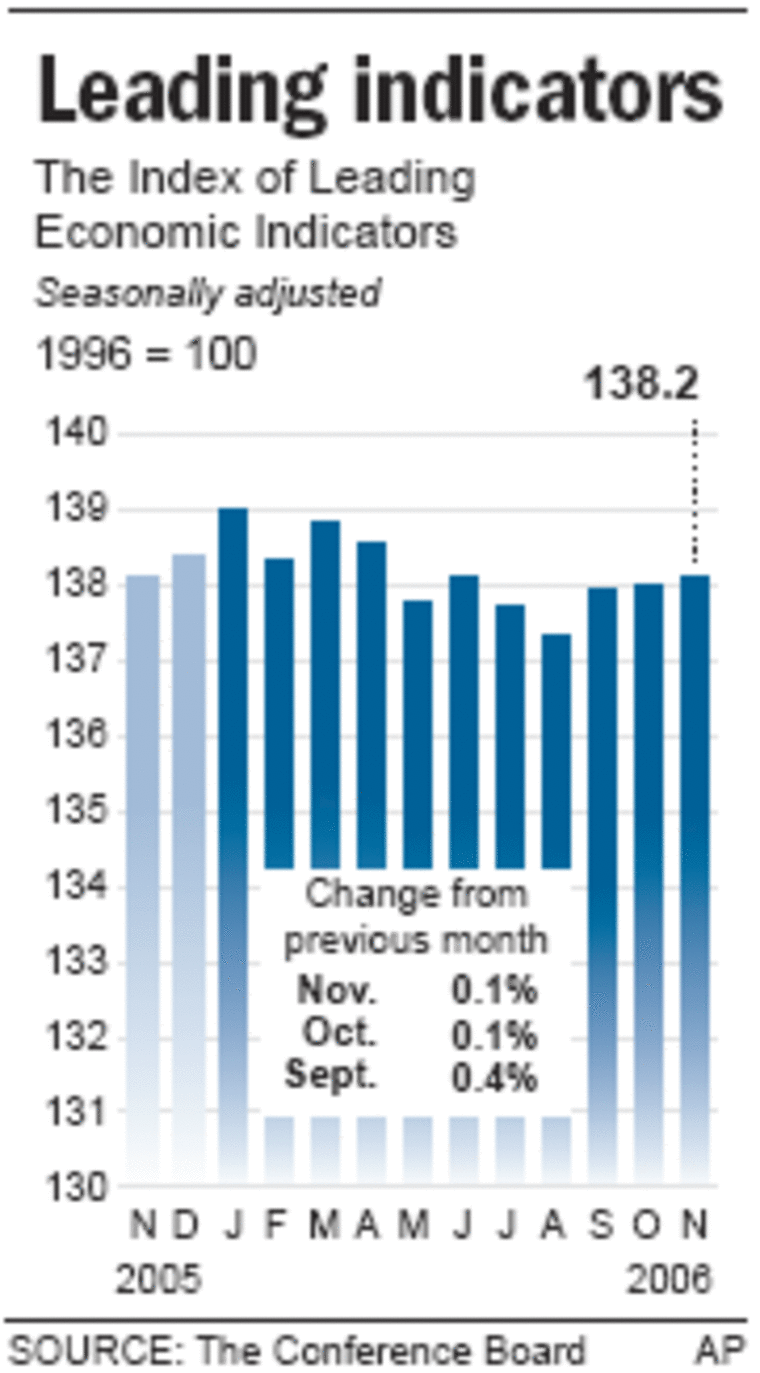 "We're beginning to see signs it is starting to stabilize," he said. "Mortgage applications have turned up, and maybe we'll see some better sales numbers early in the year and be able to clear up the excess supply of homes."
Thayer said he believed the economy was growing at an annual rate of about 2.5 percent in the current quarter and will grow at about the same pace in the first half of 2007.
The Conference Board said four of the 10 components that make up the leading index increased in November: money supply, vendor performance, manufacturers' new orders for nondefense capital goods, and stock prices. Manufacturers' new orders for consumer goods and materials held steady. Negative contributors were unemployment insurance claims, building permits, the interest rate spread, manufacturing hours, and the index of consumer expectations.
The coincident index, which measures current activity, advanced 0.2 percent to 124.0 in November after rising 0.2 percent in October to 123.8. The lagging index was up 0.5 percent to 124.9 last month after advancing 0.2 percent in October to 124.3.