/ Source: The Associated Press
Faced with some less-than-perfect choices, NASA watched the weather report in three time zones Thursday as it struggled to pick a landing site for the space shuttle Discovery's return to Earth.
The space agency planned to bring the ship home on Friday, after a 13-day mission during which its crew rewired the international space station.
But showers and clouds were in the forecast at Cape Canaveral, Fla., and crosswinds were expected at NASA's next-best option, Edwards Air Force Base in California's Mojave Desert.
At NASA's third-best choice, White Sands, N.M., the weather looked favorable, but that could change later in the day because of a front coming from California. And New Mexico is considered inconvenient, because the space agency would have to fly some heavy equipment there to transport the shuttle back to Florida.
"I have a lot of things to worry about on this flight that I can control, and the weather is something I can't," Discovery commander Mark Polansky told reporters from space. "I'm ready to land at any of the three sites."
Dependent on weather
Entry director Norm Knight, who will be directing the landing, said his decision on where the shuttle touches down will depend on what the weather looks like shortly before the seven opportunities arrive Friday. The earliest landing time is at 3:56 p.m. ET at Kennedy Space Center.
"As we get closer, we'll have much more certainty on what we're really faced with," Knight said.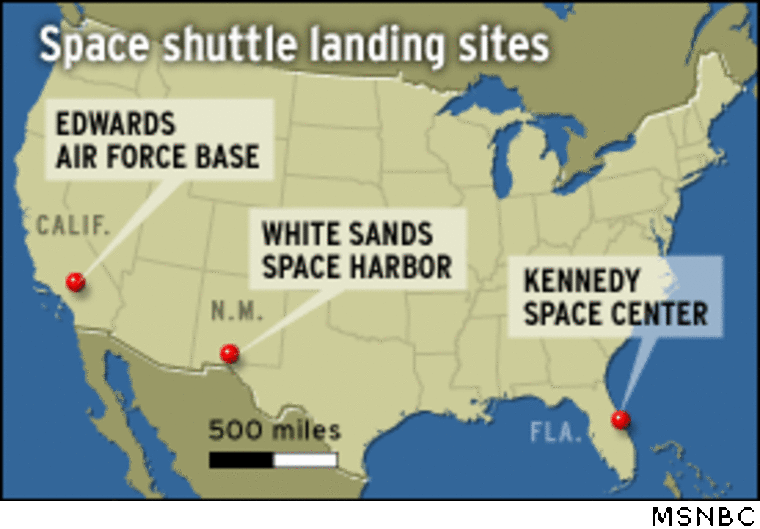 Only one shuttle has ever landed at White Sands, in 1982. NASA was flying in the cranelike equipment used in lifting the shuttle and 60 workers from the Kennedy Space Center in the event of a landing there. It could take as long as two months to bring the shuttle back to Florida if it lands in New Mexico, potentially posing a threat to NASA's schedule for getting it ready to fly again next October.
"Landing at White Sands is of no concern from a safety standpoint," said John Shannon, chairman of the mission management team. "The concern with White Sands ... is with our turnaround facilities. We don't have as much equipment there to service the vehicle."
NASA said that if one of the sites has favorable weather Friday, it will bring the shuttle home, no matter how inconvenient the spot is. The shuttle does not have enough fuel to remain in orbit beyond Saturday.
"Don't worry about us. You tell us where to go, we'll be there," Polansky radioed Mission Control after hearing a weather report.
All clear for landing
On Thursday afternoon, the space agency pronounced Discovery safe to return, after analyzing images from an inspection of the ship's heat shield. Shuttles are now routinely inspected in flight for any damage of the sort that doomed Columbia in 2003.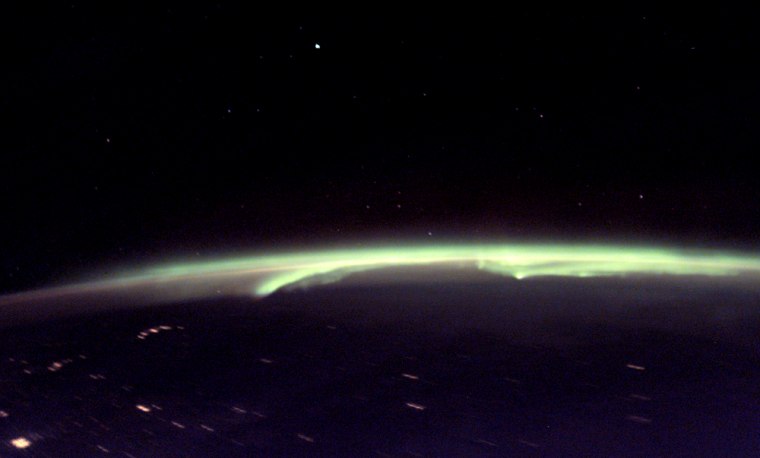 "That is really good news!" Polansky said when given the update.
Discovery had originally been scheduled to land on Thursday, but the flight was extended a day to allow a fourth spacewalk to fold up a stubborn, accordionlike solar array on the space station.
During Discovery's successful eight days at the space station, astronauts not only rewired the orbiting outpost but also installed a new $11 million section and dropped off a new crew member, American Sunita Williams.