Iran condemned a U.N. sanctions resolution as "a piece of torn paper" that would not scare Tehran and vowed on Sunday to accelerate uranium enrichment work immediately.
The U.N. Security Council voted unanimously on Saturday to impose sanctions on Iran's trade in sensitive nuclear materials and technology, in an attempt to stop uranium enrichment work that could produce material to be used in bombs.
President Mahmoud Ahmadinejad said those who backed the U.N. resolution, drawn up by Britain, France and Germany but supported unanimously by the Security Council, would soon regret their "superficial act."
"It is a piece of torn paper ... by which they aim to scare Iranians ... It is in the Westerners' interest to live with a nuclear Iran," the semi-official Fars news agency quoted Ahmadinejad as saying.
"Give up this Muppet game. You (the backers of the resolution) cannot send secret friendly messages to us and at the same time show your teeth and claws. End this dual game," Ahmadinejad was quoted by the official IRNA news agency as saying in a speech at the former U.S. embassy in Tehran.
Iran insists its nuclear development, which had been carried out for many years in conditions of strict secrecy, is intended only for purposes of electrical power and denies Western accusations it seeks nuclear weapons.
Immediate installation
Chief nuclear negotiator, Ali Larijani, reacted swiftly to the vote.
"We will start our installation activities (of 3,000 centrifuges) at the Natanz facility from Sunday," he told the Kayhan newspaper. "It is our immediate answer to the resolution and we will go ahead with full speed."
Acting U.S. Ambassador Alejandro Wolff told the council before Saturday's 15-0 vote, which followed two months of tough negotiations: "Today we are placing Iran in the small category of states under Security Council sanctions."
Iran, which refused to end its uranium enrichment work in exchange for economic incentives earlier this year, says the resolution is an illegal measure outside the council's jurisdiction.
China immediately called for a resumption of talks to attempt to defuse the confrontation.
"The Chinese side calls on all sides to continue all-out diplomatic efforts to push for an early resumption of talks and seek a long-term, comprehensive solution," said a Foreign Ministry statement on Sunday, adding that Beijing backed the U.N. resolution to punish Tehran.
The resolution demands Iran end all research on uranium enrichment, which can produce fuel for nuclear power plants as well as for bombs, and halt all research and development on methods of producing or delivering atomic weapons.
The thrust of the sanctions is a ban on imports and exports of dangerous materials and technology relating to uranium enrichment, reprocessing and heavy-water reactors, as well as ballistic missile delivery systems.
Less restrictive
The original draft was amended at Russia's behest to make it less restrictive. A ban on Iran's oil exports was not considered.
"Iran has simply thumbed its nose at the council and defied international law," British U.N. Ambassador Emyr Jones Parry told the council.
While Britain, France and Germany urged Iran to return to negotiations, the United States sought tougher measures, such as an end to credits for Iran and a halt to arms sales. It urged the Europeans, Russia and China to do the same.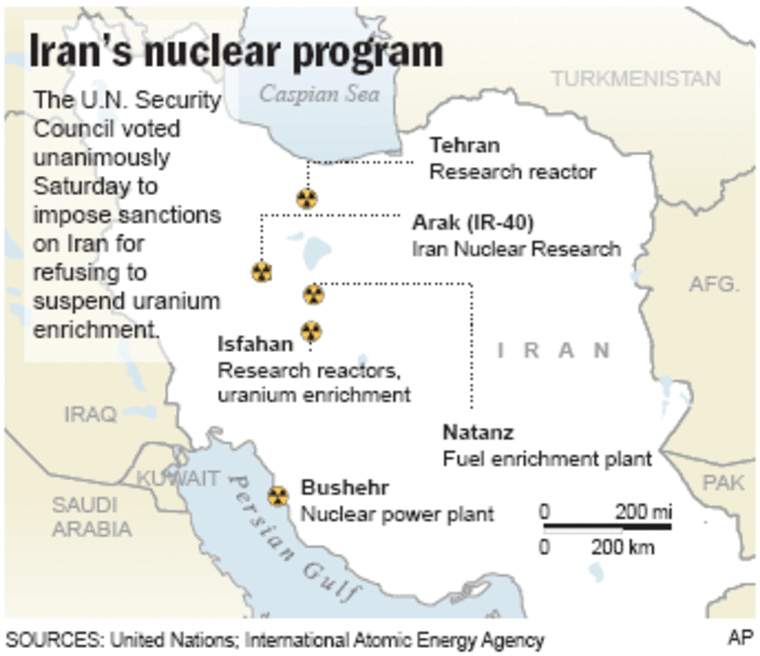 The resolution is under Chapter 7, Article 41 of the U.N. Charter, which makes enforcement mandatory but restricts action to non-military measures, and Russia's U.N. Ambassador Vitaly Churkin emphasized this point.
Russian President Vladimir Putin, whose government hesitated over supporting the resolution, called President Bush on Saturday after reviewing the measure until the last minute.
Russia, which is building an $800 million light-water reactor for Tehran that is exempted in the resolution, has tried to maintain close ties with Iran but is also concerned about any bomb-building intentions Iran may have.
The resolution includes a freeze on financial assets abroad of 12 individuals and 10 organizations from Iran associated with nuclear programs to prevent them from buying dangerous materials. The list is attached to the resolution.
But there are numerous qualifications, including exempting contracts made prior to the adoption of the resolution.
Russia was also successful in scrapping a mandatory travel ban. Instead, the resolution now calls on states to notify a Security Council sanctions committee if any of the individuals on the list are in their countries.
The bans would be suspended if Iran suspends its enrichment work and rejoins negotiations. They would be lifted if Iran fully complies with Security Council resolutions and directives from the International Atomic Energy Agency.