Even before the final votes were tallied in the 2006 elections, politicians started lining up for the 2008 presidential sweepstakes. Without further ado, let me kill Hamlet in the first act and tell you how your favorite candidate will fare over the next 12 months.
THE DEMOCRATS
Barack Obama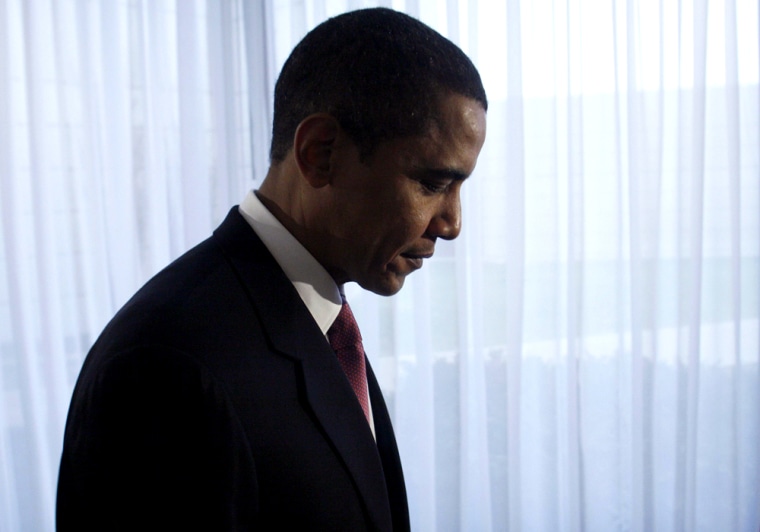 Forget the fact this guy's middle name is "Hussein." Forget the fact he has been in national politics for less than two years. Forget the fact that Hillary Clinton will raise more money than God in 2007. Forget all of that, the Washington press tells us, because Barack Obama is none other than the second coming of JFK.
Yeah, right.
Barack Hussein Obama is more Johnny Bravo than John Kennedy. The vest fits and the fans scream while DC's star-maker machinery shifts into overdrive.
Like Peter Brady's Bravo, Obama's shot at the top will be short lived. But since BHO is young enough, dynamic enough and (just) black enough to whip official Washington into a frenzy, expect this stupid story to stick around for a while. Soon enough though, this year's model will be shouting, "Please give a warm Chicago welcome to the next President of the United States, Hillary Clinton!"
Hillary Clinton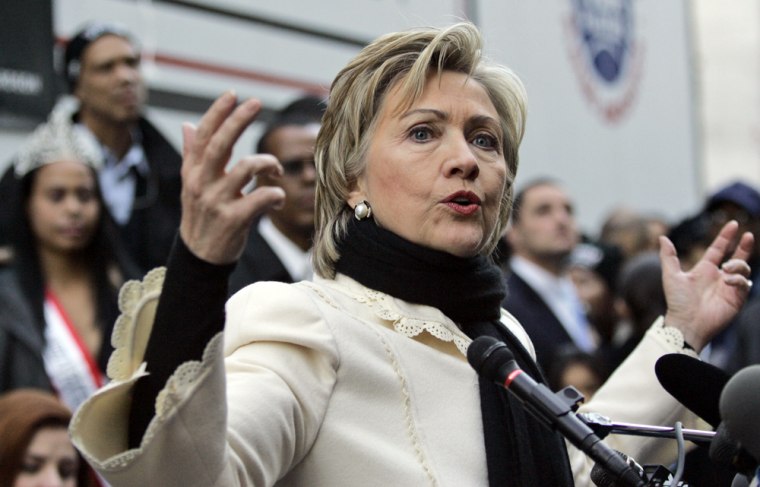 Cheering for New York's junior senator excites Democratic activists about as much as rooting for General Electric. Regardless of their hand wringing, Hillary Inc. will grind up and spit out any Democratic challenger that gets in its way.
Ms. Clinton has completed six ruthlessly efficient years in the U.S. Senate and avoided even a whiff of scandal since Bubba moved to a separate zip code. But that doesn't mean the problematic ex-president won't be her campaign's chief asset. Time and again throughout the next few years, Bill Clinton will make the difference on fundraising, networking and strategy. And 2007 will show that any politico who dares to cross Team Clinton risks being crushed into dust.
Even Richard Nixon would be proud.
Al Gore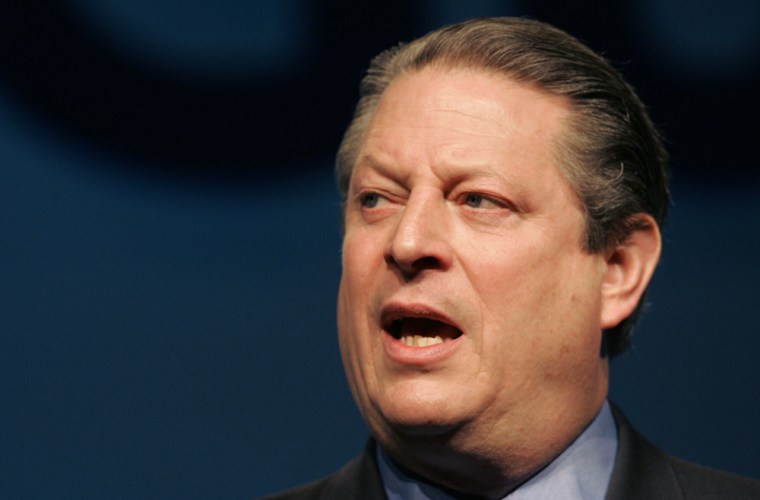 You may be right. He may be crazy. But it just may be a lunatic you're looking for.
Florida, the heartbreaking loss, the brooding, the beard, the beefsteak, the crème brulee, the screaming speeches, the rack of lamb slathered in gravy, the braised pork loin, the movie that says we're screwed in like two weeks, and the feeling that if you were stuck on a transatlantic flight with the former vice president, Gore would start gnawing on the fatty part of your arm if cabin service were delayed due to turbulence is almost enough to make you believe this man is unfit to serve ice cream let alone the country.
But while Gore may be built like a rhino, he's crazy as a fox.
The man who won the most popular vote in 2000 was alone among political heavyweights in his early attacks on the president's war. And he once again became a hero to environmentalists with "An Inconvenient Truth." Young voters, liberal activists and angry Democrats seem more excited about Al Gore's shot at the White House in 2008 than they ever were in 2000.
Forget Barack Obama. He's child's play. If anyone can beat Hillary Clinton, it is her rival from White House days, Albert Gore, Jr.
Gore will feel growing pressure to save the party from Hillary Clinton. If his biggest contributors from 2000 line up, he will run. But let's just hope he curbs his appetite by 2008, for the sake of his image and our arms.
The other Democrats
Joe Biden, John Edwards and Tom Vilsak are all hoping to be the Anybody-But-Hillary candidate after the first few primaries. But expect 2007 to be rough sledding for these three and the rest of the Democratic field since the only way they will break from the pack is a strong showing in Iowa or New Hampshire the following year.
REPUBLICANS
Rudy Giuliani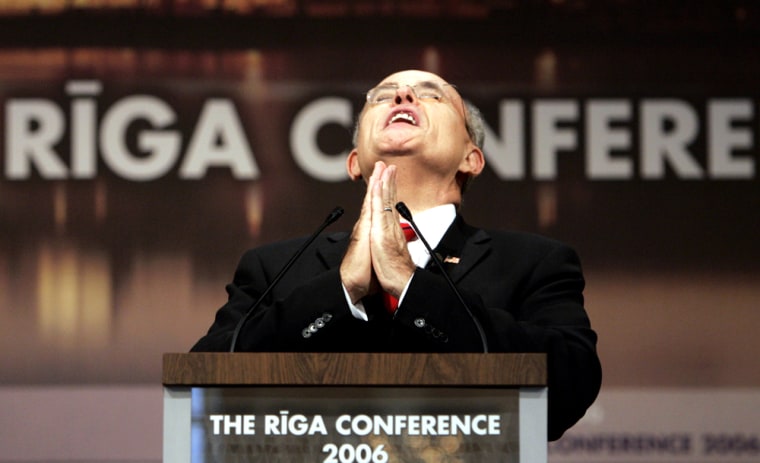 Believe it or not, this guy keeps coming out on top in Republican preference polls for president despite the fact America's mayor supports abortion, gay rights and gun control.
2007 will see Rudy making a rightward lurch on those positions and others, but position papers will not pose the biggest problem for the mayor. Instead, Rudy will have to explain to evangelical voters in Iowa and South Carolina why he and Newt Gingrich have had enough wives between them to start a basketball team complete with a sixth man. (I cast no stones. Rudy and I could field a starting five.)
With any luck, New York liberals like Mark Green and Al Sharpton will parachute into early GOP primary states to highlight just how abusive Rudy's New York police force was to criminals during his reign. Once that word gets out, primary voters will give the mayor a free pass to run through another harem or two before settling on his ideal first lady for next year's race. In 2007, family values will be more about my family's safety than your candidate's sex life.
John McCain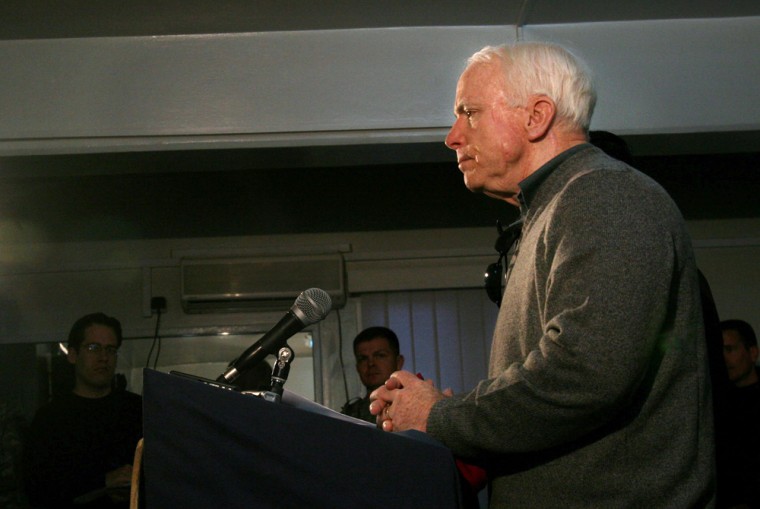 You've got to love presidential politics. It brings out the absolute worst in everybody. That's why predicting political currents is so damn easy.
Take John McCain.
For years, this war hero, turned Reagan Republican, turned political maverick, turned pop culture icon has been adored by Democrats and media types alike. Sen. McCain was the good Republican.  The guy who was willing to put country in front of party. The one Republican who cared about cleaning up money in politics.
Ahh. But now that this god-like creature has soared down from Mount Olympus to become the presumptive GOP nominee for president, we are learning he is a reactionary stooge who is no different from all those other dirty Republicans. McCain's campaign manager, we are told, is responsible for the rise of Jack Abramoff, the corruption of Tom DeLay and the crucifixion of Jesus Christ. Besides, the candidate's call to send more troops to Iraq only proves that in the end, John McCain is nothing more than an unreformed right-wing knuckle dragger.
McCain can only hope that liberal loons hold enough press conferences vilifying him in 2007 that the conservative base will take note and invite the Arizona senator back into the revival tent.
McCain will still be the presumptive GOP nominee at the end of 2007.
Mitt Romney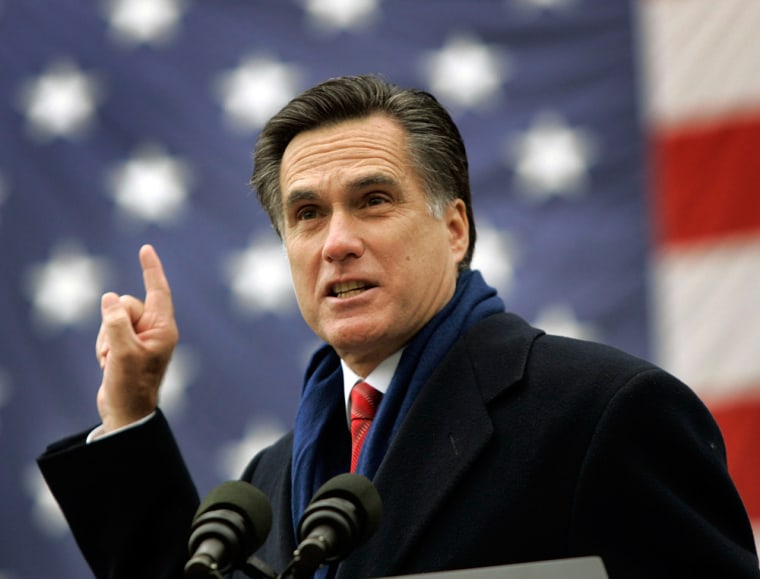 The Bushies love this guy. But the president made a deal with McCain in 2004 so expect to see him kept on the sidelines. That doesn't mean Romney won't raise a boatload of cash from friends of the first family and their political allies.
Romney will do well in fundraising but the once-moderate Massachusetts governor will fail to spark the conservative base he so desperately needs to run as the right-wing alternative to McCain or Giuliani. That leaves it open for Newt.
Newt Gingrich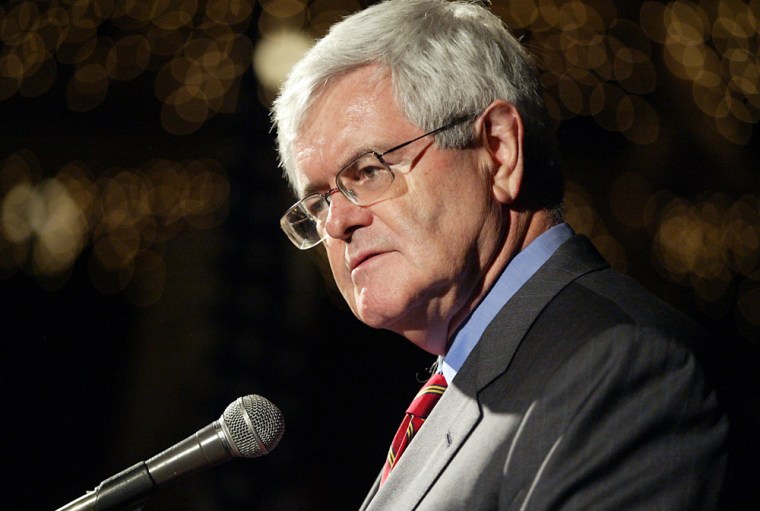 Few political candidates are as unappealing from 100 yards as Newt Gingrich. The messy divorces, the endless gaffes, the hyped-up ethics charges and the fact his own party ran Gingrich out of town make the former Speaker seem like the worst of all candidates in 2008.
But look closer. See Newt on Meet the Press. See Newt wowing a college crowd on C-Span. See a campus radical stand up and attack Newt for his personal failings. See the young crowd boo Newt's inquisitor. See Newt still speaking after 60 minutes and try to figure out why you are still paying attention. Maybe it's because Gingrich is a political figure like none other in our time. A quirky, gifted, egomaniacal visionary, Gingrich is the historical figure who did more than anyone—Reagan included—to end the American welfare state as we knew it. Gingrich also began a movement that balanced the budget for the first time in a generation and did it more years in a row than any other Congress since the 1920s.
2007 will be a year when we learn whether Gingrich's perceived shortcomings are enough to keep him out of the presidential sweepstakes. Gingrich is the conservative movement's one great hope for 2008, and the GOP base will likely overlook any past indiscretions. The bigger challenge for Gingrich will be turning himself into a likeable enough figure to grab Middle America's support.