/ Source: The Associated Press
Tradition often trumps the trendy during the Christmas season.
People send traditional Christmas cards through the mail far more than they send greeting cards by e-mail. Most people think it's OK to have Christmas decorations at public buildings, even though it occasionally draws protests and lawsuits.
And many people long for the days when businesses routinely told customers "Merry Christmas" rather than the more politically correct, "Happy Holidays" or "Season's Greetings." But nearly half are not bothered by the broader greeting.
These are among the findings of an AP-AOL News poll.
"I think we should stick with the traditional things we were raised with," said Melody Sadler, 31, who is bringing up her family in Livingston, Tenn. "I think we're getting away from what's important in life. We forget why we have Christmas. When people say 'Happy Holidays,' it turns the season more commercial."
The poll found:
People were four times as likely to send traditional Christmas cards, 64 percent, as opposed to send greeting cards by e-mail, 16 percent.
They were twice as likely to call someone on the phone with holiday greetings, 64 percent, as to send an e-mail, 33 percent.
People are divided on whether it's a good thing or bad thing that businesses often greet their customers by saying "Happy Holidays" instead of Merry Christmas. About half, 48 percent, said it is good and almost that many, 42 percent, said it is bad.
Seven in 10 say they will use the Internet for Christmas shopping as much or more as in past years, while 25 percent will rely on it less.
Nine in 10 people say it's appropriate for public buildings to have Christmas decorations.
The poll of 1,000 adults was taken Dec. 12-14 and has a margin of sampling error of plus or minus 3 percentage points.
The growing popularity of the Internet is not keeping shoppers away from the stores, the poll suggested.
Malls still flooded
While online holiday shopping continues to grow in popularity, people still flood the shopping malls during the holiday season. Some people who shop online said they enjoy going to the mall for the holiday music, mood and crowds.
Mailing traditional Christmas cards remains very popular, though not as much among young people. Those over 50 were much more likely to have sent traditional Christmas cards, than those in the 18-to-29 year age group. And young adults are more likely to say the Internet makes it easier to stay in touch with family and friends.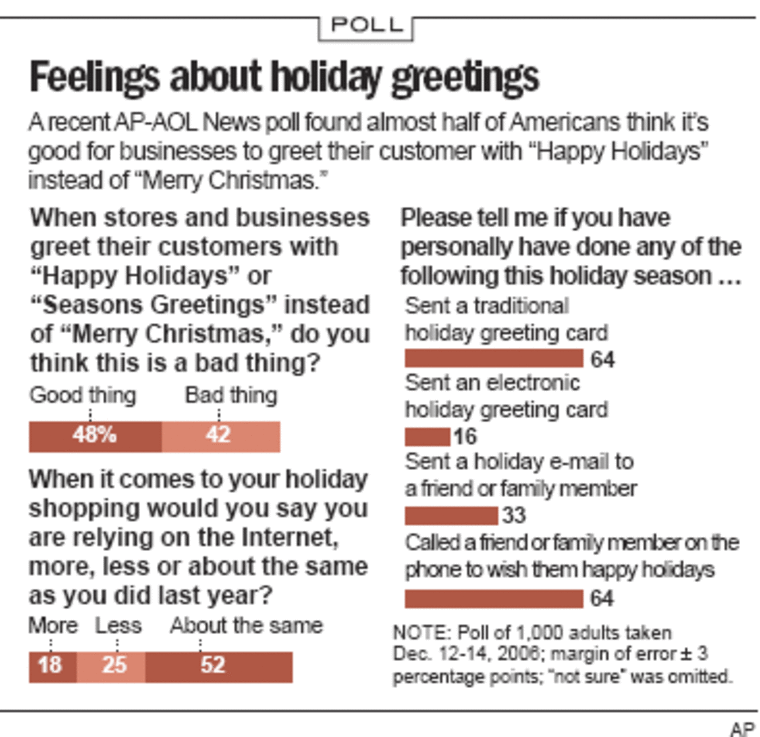 For 81-year-old Emmett Tillett, exchanging traditional Christmas cards is a way of keeping track of family and dozens of friends made during a career in the Air Force. Tillett still hears from five men he served with during World War II.
"Every year I get five cards from these guys," said Tillett, who sends out almost 100 Christmas cards each year. "They tell us about their grandkids, tell us about their travels. I get cards from all over the country."
For Steve Hall, who lives in House Springs, Mo., holiday traditions are part of the glue that binds one generation to the next. "They help ensure your children will have the same values in celebrating the holidays that you have," he said.