A really good hotel can make even the most tedious business trip worthwhile.
You're far from home. You've traded friends and family for hours-long meetings and day-long flights. You're jetlagged and cranky.
On the other hand, you can order room service from the first-ever Gordon Ramsay restaurant in the U.S. You can leave a suit with your personal butler and get it back, flawlessly pressed, hours later.
And if you have a minute between meetings, you can pop over to the hotel spa — located in a former Renaissance church and with the original flooring preserved under glass panels — for a quick rubdown.
That's right. Assuming you've chosen your hotel wisely, you can do all this and more on your next business trip.
Once again, Forbes.com has rounded up the year's best business hotels. And while there hasn't been an abundance of new hotel openings recently — the industry took a while to recover from the post 9/11 travel slump, and in the meantime, raw materials like steel and concrete have grown pricier — the hotels that have opened are vying to outdo one another in terms of services and amenities.
"After the bed wars, we had the TV wars. Now, bathrooms are getting a huge makeover," says Jan Freitag, vice president at Hendersonville, Tenn.-based Smith Travel Research. "Chains are taking out bathtubs and putting in stand-alone showers. They are catering to a business traveler, who doesn't need a tub, so we're seeing rain showers with glass walls instead."
But bathrooms aren't the only amenities getting bumped up. Freitag cites additional perks aimed at businesspeople like e-concierges, who tackle your technical woes, extended hours for ordering room service and complimentary personal trainers in hotel gyms.
Even though demand for hotel rooms is high at the moment — new hotel openings haven't kept up with consumer travel demand, giving hotels unprecedented pricing power — many properties are investing in upgraded amenities in preparation for a downturn.
"Everyone knows the hotel industry is cyclical," Freitag continues. "Eventually, hotels will have to fight for their customers again. And they want to go for the premium customer — the business traveler will always be there, paying the premium rate, booking at the last minute. For the upscale hotels, the business traveler is driving the amenities and modernizations."
Take The London NYC, an LXR-owned property in Manhattan that was formerly The Rihga Royal Hotel. Thoroughly reinvented this past November, the hotel now flaunts a totally redesigned lobby, guest rooms and restaurants — including Gordon Ramsay, in his American debut, who will offer special room service and fitness menus in addition to two on-property restaurants.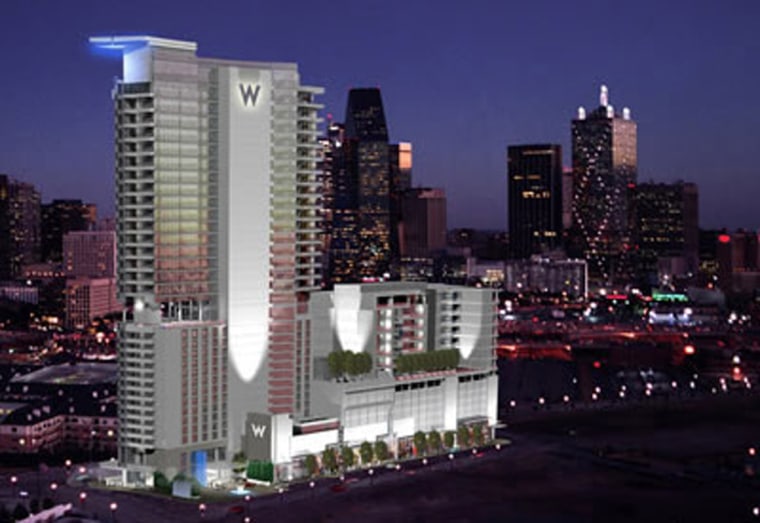 At Palacio Duhau-Park Hyatt, which opened this summer in the Argentine capital of Buenos Aires, butler service comes standard with every room and the hotel itself is in a restored palace located in the Recoleta neighborhood, one of the city's most expensive.
And at the new Mandarin Oriental in Prague, which opened in September, every room has two LCD high-definition TVs (suites have three), high-speed internet, and a limestone bathroom with heated floor. In the hotel spa, a former Renaissance church, weary business travelers can unwind in one of seven luxurious treatment suites.
So maybe your next business trip doesn't have to be such a chore after all. At least, not if you choose the right hotel.