/ Source: The Associated Press
For 20 years, many of the illegal immigrants drawn by jobs in tomato fields have worshipped at an outdoor church, a concrete altar in a canyon where they slept under the shelter of plywood and plastic tarps and bathed in a stream.
Today, however, McGonigle Canyon is overshadowed by multimillion-dollar homes, and police and landowners want the eyesores gone. The squatters and their tree-covered place of worship, which the Roman Catholic church installed in the 1980s, are being expelled in one of the latest skirmishes in the nation's battle over illegal immigration and homeless squatters' camps.
"We're wandering pilgrims once again," Monsignor Frank Fawcett told about 75 people at a Mass earlier this month. The service was held in a dirt parking lot at the top of the canyon because rain turned the path leading to the altar into thick mud.
Many of the homes and strip malls that surround the makeshift chapel in McGonigle Canyon are just a few years old.
"This is a 25-year-old problem, but now that new housing projects are right on top of them, it has brought more attention to it," said San Diego police Capt. Boyd Long. "This is just scratching the surface of a much bigger problem: immigration, which is something our nation is struggling to deal with."
Activists ramp up pressure
Anti-illegal immigration activists have tried to accelerate the evictions. They collected pay stubs in the canyons and called a boycott of the companies listed on them — nurseries, farms, a landscaping company. A sticker on a post that once supported a basketball hoop reads "No Amnesty to Illegal Aliens."
Canyon squatters were estimated to have numbered in the hundreds, even thousands, in the 1980s.
In Carlsbad, a city of 100,000 some 35 miles north of San Diego, police closed a migrant camp of about 20 huts in June because big homes, a new golf course and new trail system made it impossible for them to stay, police Cpl. Kevin Lehan said. He estimates squatters in the city have dwindled from 300 in 1996 to fewer than 100.
"The landowners and farmers are selling out because it's a lot more lucrative to sell your land for multimillion-dollar homes than to grow poinsettias," Lehan said.
Altar to be demolished
Developers were required to preserve the canyon as open space to win permission to build, but now police-installed fences block cars from driving in. One developer, D.R. Horton Inc. of Fort Worth, Texas, has peppered huts with signs that warn squatters their belongings may be hauled away at any time.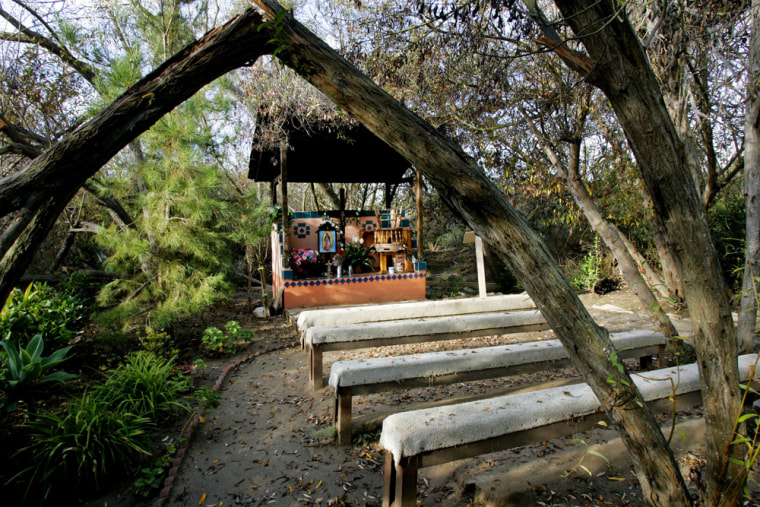 The altar — covered with blue, gold and pink tiles portraying the Virgin of Guadalupe — sits along the stream in front of four rows of wooden benches and six picnic tables. The church plans to destroy it as soon as the ground is dry.
Some squatters have already moved to nearby canyons; others sleep in the tomato fields.
Some decided to chip in about $100 a month to share an apartment, but Juan Ramirez said that would mean less money to send home to his wife and three children in Mexico.
"My children are studying, and they need pencils. They don't have enough money," he said. Ramirez makes $6.75 an hour plucking tomatoes six days a week, and sends two-thirds of his wages to his family while he sleeps under a tarp tied to trees. It's a slim return on the $2,000 he paid a smuggler to sneak him across the border last summer.
Other migrants live in ramshackle camps elsewhere in the country, but few live next to exquisite homes like those overlooking McGonigle Canyon. Just north of the canyon lies Rancho Santa Fe, where the median home price is $2.8 million. For San Diego County as a whole, the median home price this year is $575,000.
'Strangers in another land'
Homeowner Julie Adams, an outspoken critic of the squatters, said the huts pose fire and safety risks.
"It's a transient camp in the middle of the community and that shouldn't be allowed," said Adams, whose husband and son stopped mountain biking on trails in the canyons because they felt unsafe.
Other homeowners are sympathetic.
"They get kicked out of one place and go to another," said Barry Martin, 54, a retired airline pilot. "As long as people are willing to hire them, as long as there are jobs, they'll be around."
The priest told his parishioners at the recent Mass that he would follow them.
"Even though you find yourselves strangers in another land, we pray that you will still feel welcome from some," Fawcett said.