/ Source: The Associated Press
A body found buried in snow on a remote China mountain is U.S. climber Charlie Fowler, who disappeared several weeks ago with his climbing partner, Christine Boskoff, friends said Thursday.
"The body was that of Charlie, but I have no other details at this point," said Helen Chung, a spokeswoman for Seattle adventure company Mountain Madness, which has been helping to direct the search.
Boskoff, a top female climber and the owner of Mountain Madness, and Fowler, a climbing guide and photographer, were reported missing after they failed to return to the United States on Dec. 4. The search was hampered initially because the two did not leave details of where they planned to climb.
Arlene Burns, a friend of the missing climbers, said the body was found at about 17,390 feet on Genie Mountain, also known as Genyen Peak, not far from the Sichuan border with Tibet.
On Wednesday, Burns said, "The other body could be under the snow or could be connected by a rope."
"We are tremendously sad they are not coming home, but they were doing what they loved," she said. "For these guys, they were there by choice, climbing beautiful, pristine peaks with someone they respected at the top of their skills."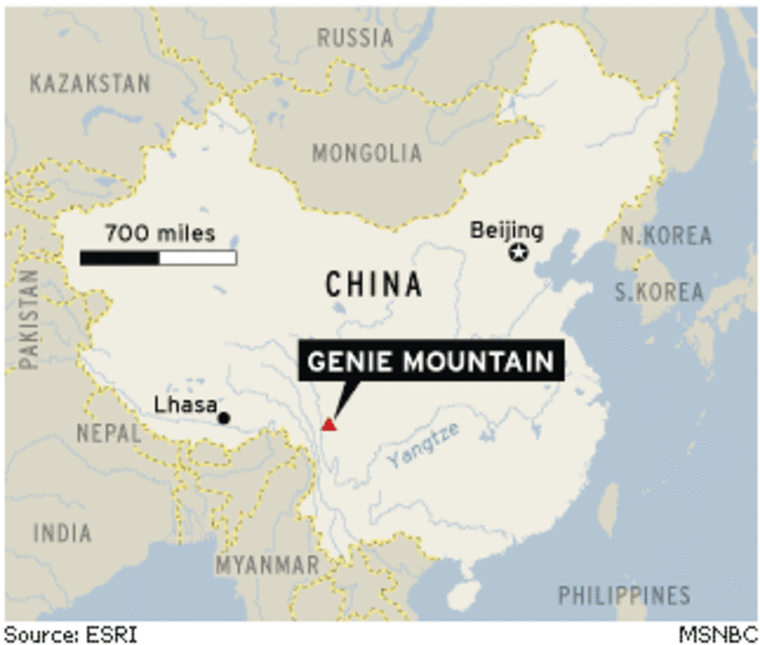 Burns said it was too early to say what happened to the two, if they were hit by an avalanche, slipped or encountered some other problem.
"Whether they fell off the face or were swept off the face, we don't know," she said.
The body was found at the 17,390-foot level on Genie Mountain, also known as Genyen Peak, not far from the Sichuan border with Tibet. The mountain is 20,354 feet tall.
Burns said it was most likely the searchers found the body because something stood out in a blanket of white snow.
More complicated search than Mount Hood
Unlike the case of the missing climbers on Mount Hood in Oregon, the search has been complicated because the two did not leave detailed plans and rescuers initially did not even know which province in southwestern China to search.
But a clue to their whereabouts emerged several days ago when rescue workers found a driver who had dropped the pair off near the mountain on Nov. 11.
Boskoff and Fowler told him they would climb the mountain and that he could meet them on Nov. 24 so they could pick up their bags, but they did not show up.
Boskoff has ascended six of the world's peaks over 26,000 feet, including Mount Everest.
Fowler is an expert on climbing in southwestern China. He has guided climbers up Everest and climbed some of the tallest and most difficult peaks.
Burns said both climbers have homes in Norwood, Colo.