/ Source: The Associated Press
A helicopter transporting gas rig workers crashed into Morecambe Bay in northwestern England, killing six. Rescuers in helicopters and boats searched early Thursday for one more person who was missing.
Lancashire police, coordinating the search, and the Maritime & Coastguard Agency, said six bodies had been found by searchers in the cold water of the large bay within hours of the crash Wednesday night.
The search for the other person aboard the helicopter, which was carrying five Centrica PLC employees and two crew when it went down 24 miles, or nearly 39 kilometers, off the coast around 6:40 p.m. would go on.
It was not immediately known what caused the crash in the bay, which is east of the Isle of Man.
Mick Gradwell, Detective Superintendent for the Lancashire police, said the search was focusing around a drilling platform. He confirmed that all the bodies recovered so far were men.
He said several people aboard one of the rigs saw the Eurocopter AS365N ditch into the sea, and they would be taken back to land to be questioned.
Jim Paton, operations manager for the HM Coastguard at Holyhead, said six bodies had been returned to shore to be identified.
"The search is still going on," he said, adding that visibility on the water was good, but that winds of about 25 knots were being experienced.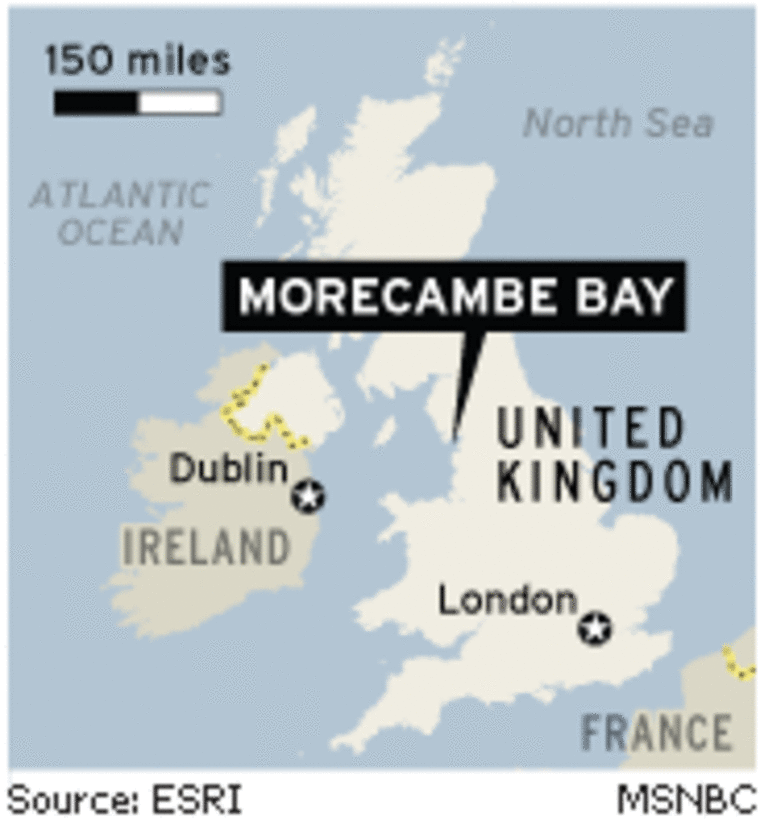 Centrica said it had contracted with CHC Helicopter Corp. to operate the aircraft. Police said the helicopter that crashed had traveled from Blackpool Airport and stopped at two different gas rigs and was on its way to a third when it went down in the water.
"We regret that we have been informed of fatalities," the company said in a statement. "Centrica is contacting all families connected with its Morecambe Bay gas fields."
Royal Air Force Rescue Center official Michael Mulford said that signals from a distress beacon believed to be part of the helicopter were detected after it hit the water.
Gas was discovered offshore of Morecambe Bay in 1974 and some rigs operate there extracting the six trillion cubic feet of natural gas that is beneath the sea floor.
In February 2004, 23 shellfish collectors from China died when they were trapped by the tide on the sand at Morecambe Bay and drowned.