/ Source: Forbes Traveler.com
Gift-giving is never a straightforward proposition. Fraught with indecision, most settle for the standbys of yesteryear: books, neckties and those dreaded felt-bottomed executive gifts.
Buying gifts for the man of the world is another story.
Having seen--and experienced--it all, he is far keener than your average Joe. He holds more than a handful of passports (think U.S., U.K., Swiss and Singaporean). He maintains homes in New York and London, of course, and pied-à-terres in St. Tropez and Tokyo. The gifts and gadgets he lusts after, and would like to be on the receiving end of, are elusive but practical.
This isn't the stuff of big box retailers. Rather, his carefully edited wish list consists of a mix of stylishly functional accessories that can be used on the go, without encumbering him as he moves effortlessly between time zones and hemispheres.
James Forbes (no relation) is one of these men. The CEO of Asil Consulting, a boutique hotel and resort consulting firm with offices in Zurich, London and New York and clients all over the world, he traveled almost 800,000 miles last year from his Europe-wide base. His constant companion is something that seems downright tame: Tumi's recently unveiled electric adaptor, which provides non-grounded power in over 150 countries.
"This ingenious, well-designed device has eliminated my need to carry a box of adaptors as I travel," he says. "Like all good things, it is well thought out and executed and thanks to it, I can be wired up anywhere in the world."
After spending incalculable hours in transit (airport lounges and general aviation waiting areas, mostly), James Forbes has abandoned high-street retailers and is looking farther afield for his fix of quirky and unusual gadgets and gifts.
"We have seen a definite increase for personal shopping services amongst our members," says Clementine Brown of the global concierge service Quintessentially. "With more money to spend and more choice available, people are looking for gifts and purchases that are both unusual and unique--something that makes them stand out and shows them to be ahead of the game."
Some of our gifts are for exceptionally particular travelers, like Hansgrohe's Raindance travel hand shower, which is created exclusively for those persnickety about their water pressure and hygiene; or Whirlpool's stylish Prêt-á-Porter Clothes Revitalizer, which is solely for the mobile, wrinkle-shunning metrosexual.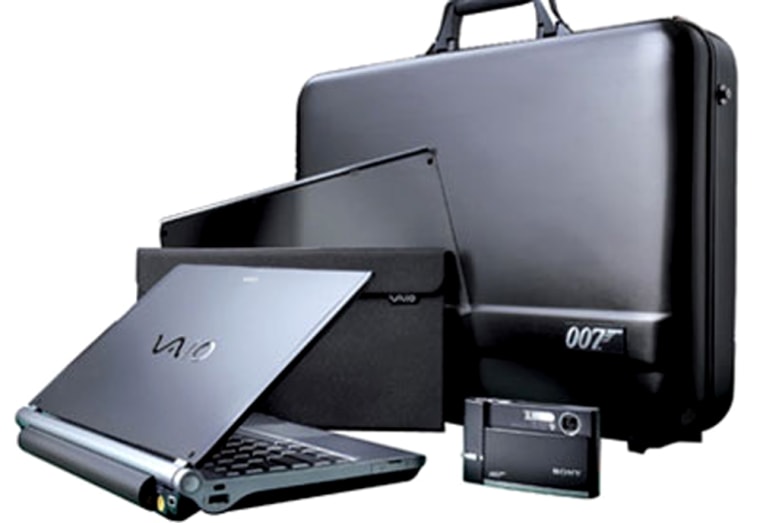 Then there are some products, like Puma's 96hours scheme, that must be custom-ordered months in advance while others, like Breitling's life-saving Emergency Watch, are offered in limited-edition numbers. Most products that appeal to the man of the world, however, are neither expensive nor unique, but have been repurposed or re-launched by out-of-the-box thinkers. These would include Shure's fantastic noise-canceling in-ear canalphones.
And some of these picks are shamelessly romantic. A Veuve Clicquot traveling Champagne pack, for instance, or an exclusive Goyard traveling dog bowl for your furry companion. Recall the glory days of motor touring with Dunhill's Motorities Essential Car kit, or the jumper cable set by Connolly, purveyors of fine leather to Rolls Royce.
And then there are gifts that will please pacier and leisurely jetsetters alike, including Sony's 007 Spy Gear Bundle or a glut of city travel guides that are concise, opinionated and indispensable. In the end, it's not how expensive or rare a product is, but how bowled over its owner will be with what it can do. In the case of Vertu's stylish Signature series Duo, that would be virtually everything, thanks to a concierge who is just a touch of a button away.
Here now, our list of unique gifts, gadgets and gear for the hip and fleet-footed traveler in your life.