/ Source: The Associated Press
Consumer confidence improved to its strongest level in eight months in December after lackluster performance through the fall, but a private research group said Thursday it was too soon to determine if its reading was signaling genuine improvement.
The Conference Board said that its Consumer Confidence Index rose to 109.0 in December from a revised 105.3 in November and 105.1 in October.
The reading was the highest since the index registered 109.8 in April and was better than Wall Street anticipated. Analysts had been expecting a slight dip in the December reading to about 102.5.
Lynn Franco, director of the board's consumer research center, said in a statement accompanying the report that despite the reading "there is little to suggest that the pace of economic activity in the final quarter of 2006 is anything but moderately better than its uninspiring performance earlier this year."
She added: "Given the seesaw pattern in recent months, it is too soon to tell if this boost in confidence is a genuine signal that better times are ahead."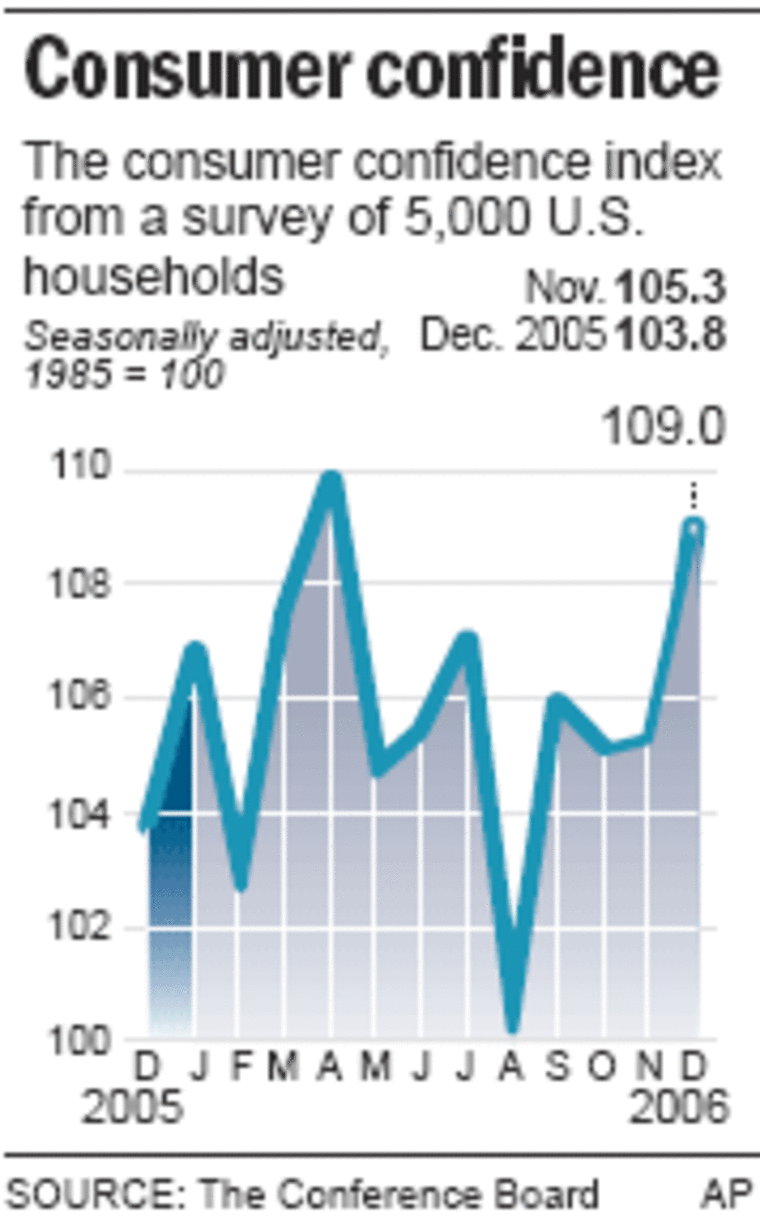 The reading, which is based on a survey of 5,000 U.S. households by the New York-based research group, is closely watched because consumer confidence often presages spending trends. Consumer spending makes up about two-thirds of the U.S. economy.
The index has been buffeted in recent months by concerns about higher fuel costs and job security. But fuel prices have edged down, and the job market has held up well.
The Conference Board's Present Situation Index, which measures how consumers feel about current economic conditions, rose to 129.9 in December from 125.4 in November. The Expectations Index, which measures consumers' outlook over the next six months, improved to 95.1 in December from 91.9 the month before.
The U.S. economy grew at a rapid 5.6 percent annual pace in the first quarter of 2006 — the strongest spurt in 2 1/2 years. But in the second quarter, growth slowed to a 2.6 percent pace and it dipped further in the third quarter to a 2 percent rate.
Many economists believe there was little improvement in the current October-to-December period, in part because of lethargic holiday sales. Forecasts range from about 1.7 percent to 2.5 percent.