/ Source: The Associated Press
National Guard helicopters dropped emergency food bundles and bales of hay for people and livestock trapped by snowdrifts as high as rooftops Tuesday after back-to-back blizzards paralyzed the Plains.
At least a dozen deaths were blamed on a weekend storm that knocked out electricity to tens of thousands of people in Colorado, Kansas, Nebraska and Oklahoma and left herds of cattle without food or water. The blizzard spread a blanket of snow on top of the icy layer left by a storm that hit just before Christmas.
Because of rising temperatures, many highways were clear, but many rural roads remained impassable, and National Guardsmen used Humvees and snowmobiles to reach people trapped in their homes and take them to shelters.
Colorado also launched a hay lift in hopes of saving thousands of cattle immobilized by drifts as high as 10 feet. In 1997, a similar storm killed 30,000 in the state.
"Most of my cattle haven't seen food since last Thursday, when the snow started," said Tony Hall, who has 200 head on a ranch near Lamar, Colo. "Wherever they were standing when the snow piled up, that's where they are now. Every day, it's getting more crucial."
Most Guard copters in Middle East
Colorado and Kansas were trying to find enough helicopters capable of hauling hay bales weighing up to 1,300 pounds, said Don Ament, Colorado's agriculture director. Many helicopters in the state's National Guard fleet are in the Middle East.
"These cattle have already gone a number of days without food and water. They're just going to lay over dead if we don't do something soon," Ament said.
Two Huey and three Black Hawk helicopters dropped 400 bales of hay Tuesday to feed cattle in the hardest-hit areas, Colorado officials said.
National Guard helicopters in the state also dropped Meals Ready to Eat, or military rations, just outside people's houses so they could reach the bundles, Sgt. 1st Class Steve Segin said.
In the Oklahoma Panhandle, a dozen troops went door to door in Humvees, checking on rural residents snowed in without power for days. Col. Pat Scully said the priority was to reach people on ranches and farms who might have medical problems.
"We have no reason to believe anybody is hurt, but we did think it was necessary to do some welfare checks," said Michelann Ooten, spokeswoman for the Oklahoma Department of Emergency Management.
Sometimes, ice was bigger problem
Ice in some areas was even more difficult to deal with than the snow, snapping trees and bringing down power lines. In Nebraska, big portable generators were set up to maintain water service and keep emergency shelters open.
In an aerial tour, Nebraska Gov. Dave Heineman said Tuesday that he saw damage "more massive and more extensive than any of us imagined," noting that in some areas ice was 3 inches thick on trees. Heineman had declared a state of emergency in advance of the storm.
Ice and heavy snow also bent over electrical towers and downed hundreds of miles of power lines. At least 6,300 homes and businesses in western Kansas, more than 15,000 in Nebraska, and 6,000-plus in Colorado and Oklahoma were without electricity, and some utility officials warned it could take more than a week to restore.
No room in the inns
Every motel in the western Nebraska town of Kearney was full with people who had no electricity at their homes, said a spokeswoman at the Kearney Ramada Inn.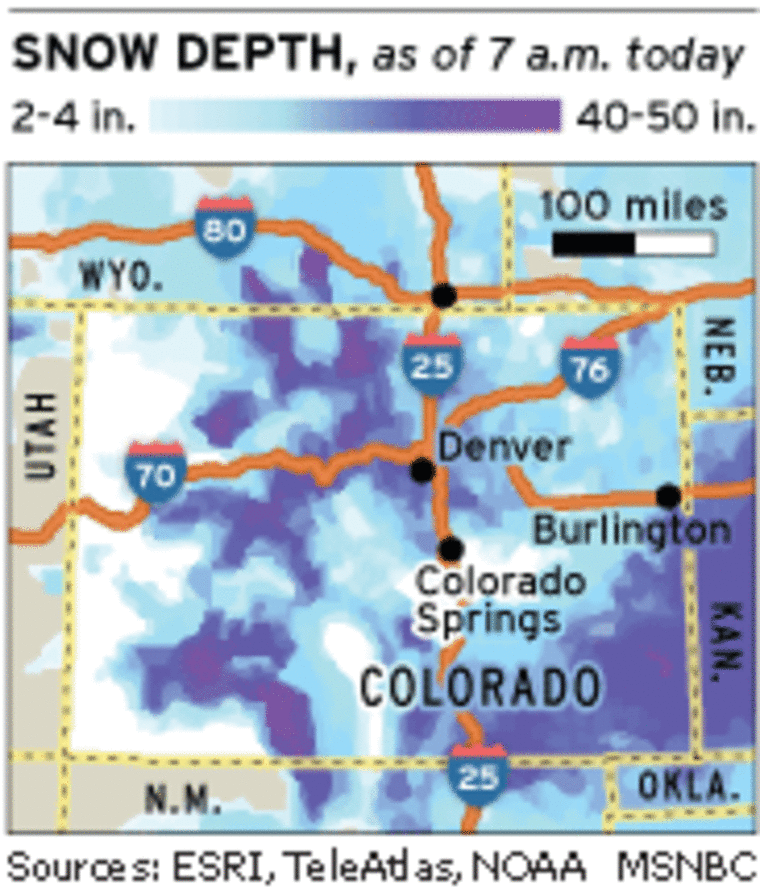 "We know that customers are getting frustrated," said Beth Boesch, spokeswoman for the Nebraska Public Power District, which lost 600 miles of power lines. "We just ask people to be patient. The damage is very widespread, and it's going to take some time to put it back together."
In Oklahoma's Panhandle, National Guard troops and local authorities were going door-to-door at farms and ranches in isolated areas Tuesday, checking on residents who had been snowed in and without power for four days.
The snowbound Kansas town of Sharon Springs still had no clear way in or out for its 835 residents on Monday, but at least they didn't lose power, said Bill Hassett, manager of the town's power plant.
Colo. National Guard brings supplies to homes
"We're snowed under," Hassett said. "We're just in the process of digging out. We had total 36 inches of snow. Thank God we kept the lights on."
Slightly warmer temperatures on Monday helped workers still trying to reopen the roads, said Kansas Department of Transportation spokesman Ron Kaufman.
The Colorado National Guard, which the governor activated twice in the span of a week because of the back-to-back blizzards, helped carry emergency supplies such as medicine and baby formula to isolated homes.
At the Wooten family's ranch in canyon land along the Purgatorie River near the southeastern Colorado town of Kim, Steve Wooten and his uncle spent Monday checking on their cattle. They had moved most of the animals closer to the house but had some that had not been fed since the latest storm hit on Thursday.
Still, after several years of drought, Joy Wooten said she was thankful for the moisture.
"It's kind of hard now," she said, "but you have to think of the green grass in the spring."