Easing concerns about a slowdown in the U.S. economy, the government reported Friday that employers are still in a hiring mood, adding an estimated 167,000 new jobs in December. That was more than expected and left the unemployment rate unchanged at 4.5 percent, relatively low by historical standards.
But as the Democratic Congress settles in to try to improve the lot of working-class American families, a basic question underlies much of the debate. Do these newly created service jobs pay more or less than the relatively high-paying manufacturing jobs that are being eliminated?
Friday's report should help dispel concerns that the economy is replacing high-paying factory work with low-wage jobs like manual laborers and burger-flippers. While there may have been a basis for that concern several years ago, the increasingly tight labor market has seen strong growth of jobs that pay higher-than-average wages over the past few months.
The latest employment report shows a continued loss of manufacturing jobs paired with an expansion of service sector industries like education and health care. Education and health services added 43,000 jobs in December, professional and business services added 50,000, leisure and hospitality employment rose by 31,000 and financial firms added 9,000 new jobs.
Meanwhile the nation's factories shed 12,000 positions last month and construction companies eliminated 3,000 jobs as the housing and auto markets remain mired in a slump. Retailers shed just over 9,000 slots.
While the service sector continues to post solid job gains, that might not help millions of workers in declining industries like manufacturing. Many of them face the prospect of taking a new job in an industry that won't allow them to replace their income and maintain the standard of living they've worked a lifetime to achieve.
"It is hotly debated," said Harley Shaiken, a professor at the University of California in Berkeley who specializes in labor issues. "You can look at a lot of the data and you will find that for someone certainly with a high school education the prospects are bleak. But increasingly, for people with college education the prospects don't look any too bright either."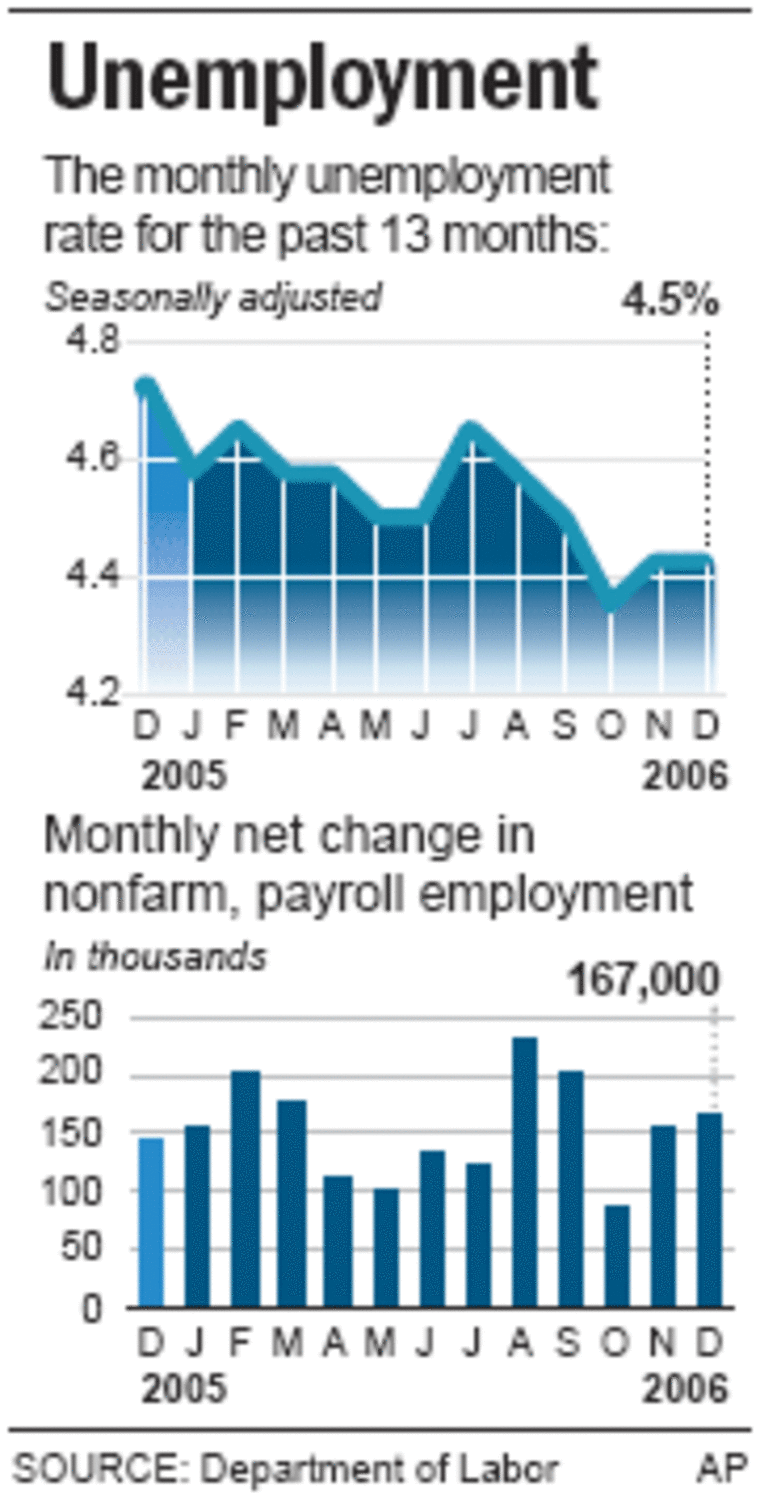 But the issue is not as simple as it appears at first blush. On average, the wages of American workers are rising.
The economy continues to create jobs a healthy clip. In Friday's report, the government revised its numbers for October and November to show stronger gains than originally reported. Employers added 154,000 new positions in November, versus the 132,000 reported last month. Payrolls grew by 86,000 in October, up from a previous estimate of a 79,000 gain.
And the portion of the workforce without a job is at low by historic standards. For all of 2006, the nation's unemployment rate dropped to a six-year low of 4.6 percent as the economy added 1.8 million jobs. In 2005, the unemployment rate averaged 5.1 percent.
Of course, not all these newly created jobs are paying better.
"How much (are wages) going up become of a change in mix in industry and occupation composition, and how much because people are getting raises?" said Tom Nardone, an economist with the Bureau of Labor Statistics.
A lot depends on the industry you work in. For those in manufacturing, the situation is pretty bleak. Even as factory jobs have been eliminated, wages have barely kept up with inflation. Some 72,000 manufacturing jobs were lost in 2006; over the past decade, roughly 3 million manufacturing jobs have been eliminated.
Meanwhile, the leisure and hospitality industries, one of the fastest-growing sectors, added some 2.6 million jobs during the same decade, including 353,000 last year. Those jobs paid, on average, just $9.60 an hour last year, compared with $16.82 for manufacturing jobs.
Those numbers add fuel to the argument that a low unemployment rate means little if most of the new jobs are being created at the lowest rung of the ladder. And it's a big reason that laid-off manufacturing workers face a downward economic spiral if the only alternatives available to them are low-wage service jobs in hotels or chain restaurants.
But labor economists say that when you crunch all the jobs numbers, other fast-growing industries are more than taking up the slack.
"Early in the expansion, it was true (that new jobs paid less than lost jobs), but not now," said Mark Zandi, chief economist at Moody's Economy.com. "We're seeing solid job growth in a lot of high-paying occupations and industries."
For example, the education and health services fields added 455,000 jobs last year, at an average wage last year of $17.35 an hour. Professional and business services, which includes skilled workers like lawyers and accountants, added 420,000 jobs last year at an average wage of $19.11 an hour. Some 153,000 financial jobs were added at an average $18.79 an hour.
But averages don't tell the whole story. A worker who loses a high-wage manufacturing job faces an uphill struggle getting the training and experience required to change career course and take advantage of newly created high-wage jobs. Last year, Congress cut some $12 billion in financial aid for students trying to finance higher education.
"You have to worry about folks who are displaced by that sector," said Jared Bernstein, a labor economist at the Economic Policy Institute. "Because their next job is likely to pay 15 to 20 percent less and have far fewer benefits."
As manufacturing jobs have been outsourced to low-wage overseas markets, some workers in skilled service industries fear that their jobs may be next. U.S. employers have had some success in outsourcing higher-wage jobs, but it has become increasingly difficult, according to Zandi.
"Wages have risen sharply in places like India, for example, so there isn't as much of a cost benefit for outsourcing that kind of high-skilled labor to India," he said. "So it's not putting the same kind of pressure on wages that it was a few years ago, because the entire global labor market for skilled labor is very tight."
And while the average wage for new U.S. jobs appears to be rising, the trend has little impact on the overall financial health of American workers, said Bernstein.
"The factor we're talking about is a fairly minimal factor compared to the wage trend for incumbent workers — something like 90-plus percent of whom keep their job month to month," he said. "You've had pretty healthy wage gains for the last six to eight months. The problem is that inflation has eaten them up — and more — until about three to four months ago."