/ Source: The Associated Press
Somalia's interior minister said Thursday that thousands of Islamic fighters still pose a threat in the capital, while Kenya officially closed its border with its neighbor, fearing an exodus of militants and refugees.
And an Islamic militant Web site said Thursday that Osama bin Laden's deputy would soon release a new message calling for Muslims to support Islamic guerrillas in Somalia.
In the past 10 days, Ethiopian-backed government forces have driven out the Islamic movement that had controlled Mogadishu and much of southern Somalia for more than six months. The Islamic movement has vowed to keep fighting, raising the specter of an Iraq-style guerrilla war.
"There are 3,500 Islamists hiding in Mogadishu and the surrounding areas and they are likely to destabilize the security of the city," Interior Minister Hussein Aideed said at a news conference.
Aideed did not explain the source of his information or what prompted his comments. Prime Minister Ali Mohamed Gedi later Thursday tried to play down the threat and disputed Aideed's number of Islamists hiding in the capital, although he did not offer his own estimate.
Gedi said his government would begin efforts to disarm Somalis by seizing large arms caches located around Mogadishu. A house-by-house search will follow, the prime minister told journalists, without saying when that will happen.
Thursday was the deadline for people in Mogadishu to surrender their arms. Gedi said the disarmament program was progressing but offered no details. By Wednesday, only a handful of people had heeded Gedi's demand and turned in any weapons in the capital.
Al-Qaida statement?
The Islamic Web site that reported an upcoming al-Qaida statement did not specify when the message from Ayman al-Zawahri, al-Qaida's No. 2, would be released, and it did not say whether it would be in video, audio or text form.
The announcement, displayed on a Web site frequently used by militants, carried the logo of al-Qaida's media production wing — al-Sahab — which usually releases videos.
"Rush in support of your brothers in Somalia," the banner quoted al-Zawahri as saying.
The announced message would be the first time al-Zawahri speaks out this year, after having boosted his media messages in 2006.
Kenya closes its borders
Kenyan Foreign Minister Raphael Tuju said, meanwhile, that his country had officially closed its border with Somalia. The U.N.'s humanitarian agency has said there are thousands of Somali refugees reported to be near the border, unable to cross into Kenya.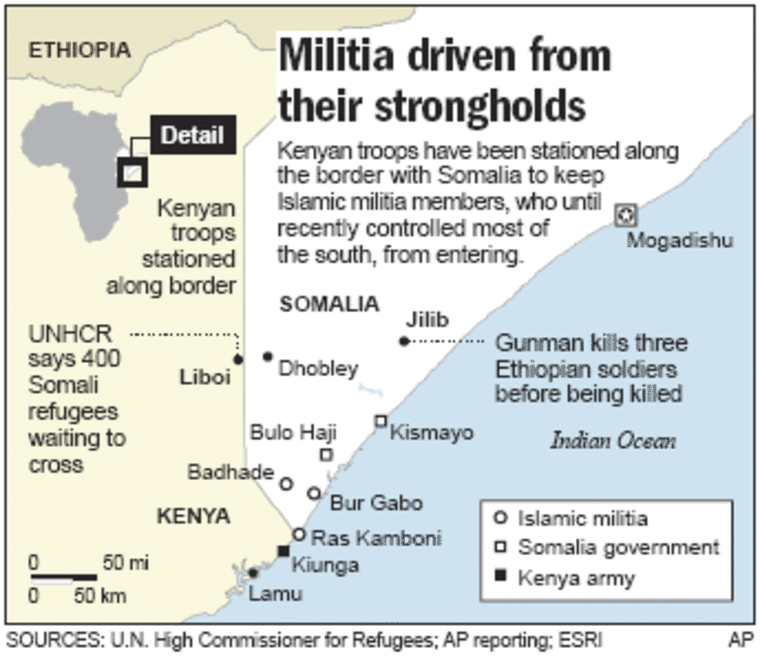 Tuju said Wednesday that Somali government troops were not threatening civilians so he didn't believe Somalis should be trying to cross the border into Kenya. However, he stopped short of saying the border was closed, saying Kenya would strictly enforce its tight screening process of refugees to ensure no foreign fighters slipped into the country.
On Thursday, he said the border was closed, but did not say when the decision was made or how long it would remain that way.
A Kenyan security helicopter and air force plane were fired at by unidentified gunmen on either side of the border on Wednesday. Tuju said he had no information on the incidents.
In Ethiopia, the top U.S. diplomat to Africa held consultations with African leaders on how to help Somalia's struggling government establish itself.
"The people of Somalia need to come together," said Jendayi Frazer, assistant secretary of state for Africa. "The Council of Islamic Courts are no longer, though there may be remnants or individuals, and we continue to push for dialogue."
Push for peacekeepers
Frazer was expected to meet with African Union officials and Uganda's President Yoweri Museveni in Ethiopia's capital later Thursday. Museveni has offered 1,000 peacekeepers, but Ugandan officials say they need help paying for the operation and a clear exit strategy.
Ethiopian Prime Minister Meles Zenawi has pressed the international community to send in peacekeepers quickly, saying his forces cannot play that role and cannot afford to stay long.
Aideed said that there are about 12,000-15,000 Ethiopian troops in Somalia, and when peacekeepers arrive in the country the Ethiopians will leave. Ethiopia has put the number much lower, at around 4,000, and said it would pull out within weeks.
With the Islamic movement's fighters on the run, concern has grown about extremists believed to be among them. Three al-Qaida suspects wanted in the 1998 bombings of U.S. embassies in East Africa are believed to be leaders of the Islamic movement. The movement denies having any links to al-Qaida.
State Department spokesman Sean McCormack said Wednesday that U.S. Navy vessels deployed off the Somali coast were looking for al-Qaida and allied militants trying to escape by sea.
Somalia's last effective central government fell in 1991, when clan-based warlords overthrew military dictator Mohamed Siad Barre and then turned on each other. The government was formed two years ago with the help of the United Nations, but has been weakened by internal rifts