The end of the 2006 holiday shopping season left some retailers with little to cheer about as consumers snubbed winter coats, sweaters and other apparel items, gave gift cards instead of actual holiday gifts and held out for big discounts.
But for a handful of retailers, a mixture of advertising savvy and smart merchandise choices helped end the year on a somewhat more festive note.
The International Council of Shopping Centers said Thursday that same-store sales at U.S. chain stores rose by a moderate 3.1 percent in December, helped by a boost in last-minute shopping.
Overall, the trade group said comparable sales for the November-December holiday season gained 2.8 percent over the previous year. That's in line with the group's expectations but weaker than the 3.6 percent gain such stores saw in 2005.
Same-store sales measure the performance of retailers at stores open at least one year and are one of the best gauges of how chain stores are doing.
Analyst Marshal Cohen with NPD Group said the mixed results showed him that consumers are willing to spend money, but their spending habits are changing. Instead of going for the same brands or stores, they are hunting for either high-quality products — translating into strength for luxury retailers — or the best deal.
"This year it's not about loyalty to a brand and it's not about loyalty to retailer. It's all about, basically, self-indulgence and value," Cohen said.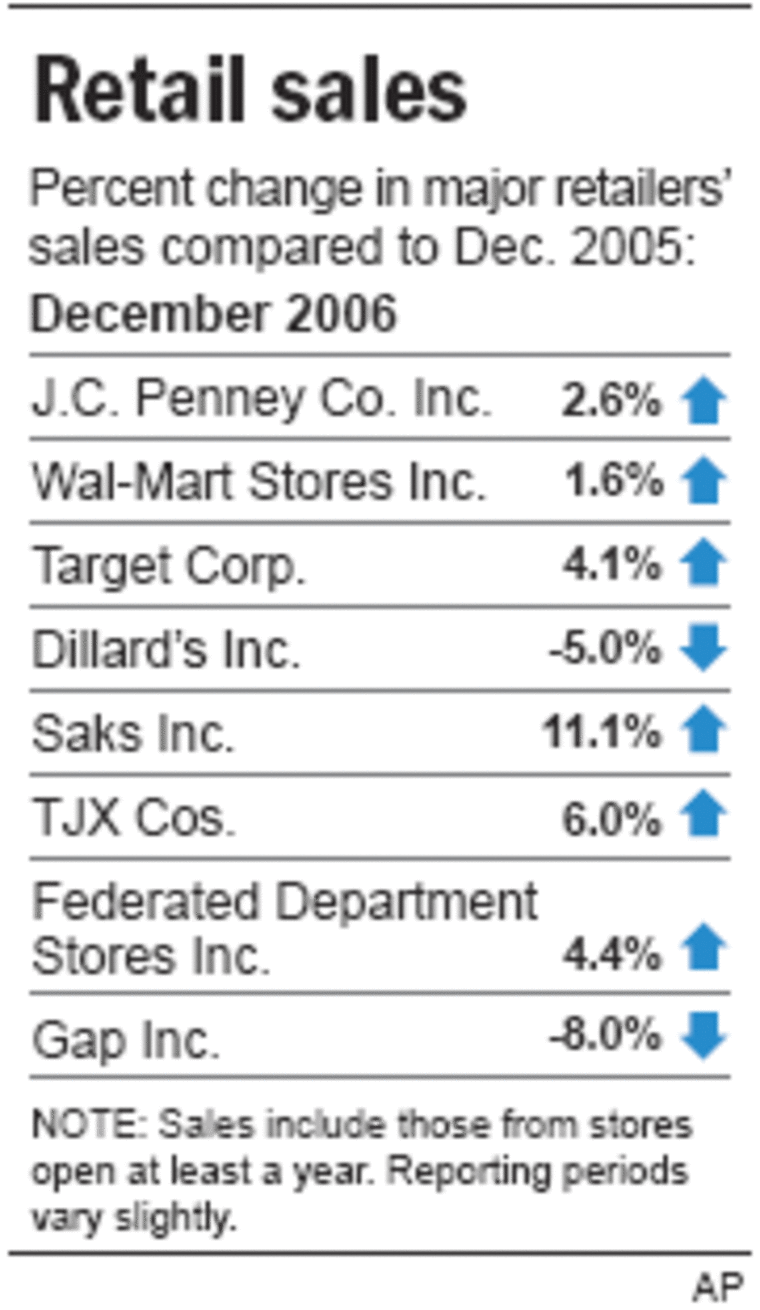 Discounting giant Wal-Mart Stores Inc. managed to best its original forecast, which called for December same-store sales to be between zero and 1 percent higher than the same period last year. Nevertheless, the 1.6 percent increase for the five weeks ended Dec. 29 wasn't enough to wow analysts.
"They're going to need to do better than this," said Joseph Beaulieau, stock analyst with Morningstar.
Beaulieau said the company suffered in part from weak apparel sales. Still, he had hoped for better results because fuel prices dropped and a warmer winter has meant lower heating bills. That should have given Wal-Mart's lower-income shoppers more spending power, he said.
Analyst Ed Weller with ThinkEquity Partners said Wal-Mart has made it difficult to find things in its massive stores, some of which sell everything from big televisions to organic produce.
"They focused too much on lower prices and perhaps not enough on the ease of shopping and on having the most current goods," he said.
Wal-Mart's results stood in contrast to Target Corp. and Costco Wholesale Corp., discounters that tend to appeal to more affluent shoppers.
Costco said December same-store sales rose 9 percent, although it benefited somewhat from the fact that this year's period was a day longer than last year's. Weller credited the company with stocking its bare-bones warehouse stores with the type of merchandise that appeals both to wealthy shoppers and smaller businesses.
Target said comparable-store sales rose 4.1 percent over the previous year, in line with the company's expectations. Weller said Target has come up with a way to both compete with Wal-Mart on price and offer merchandise that distinguishes Target in a positive way.
Target, Costco and Wal-Mart were among a slew of retailers reporting December sales figures Thursday.
Some retailers specializing in apparel and accessories sales struggled this year to ply holiday shoppers with sweaters, coats and other traditional holiday gift items.
Several companies blamed slower-than-expected clothing sales on unseasonably warm weather. Analyst C. Britt Beemer with America's Research Group said he thought sales also suffered because shoppers weren't too enamored with the latest styles.
He said that was especially problematic for specialty retailers based mostly in malls, who may have found it tough to draw customers beyond the large department stores.
"If you're a good retailer and you had a good advertising plan for Christmas you did OK, but if you were a mall-based retailer I think you faced some real challenges," Beemer said.
Beemer also criticized some stores for not starting discounting promotions earlier in the year, which he said could have given such stores a pre-Christmas boost and saved them from offering even deeper cuts after Dec. 25.
Gap Inc. said Thursday it was forced to offer steep markdowns on merchandise at its Gap and Old Navy stores, hurting same-store sales for the month. The company also severely reduced its fiscal year earnings guidance because of the weak holiday results.
Ann Taylor Stores Corp. said same-store sales fell, in part because people bought fewer holiday gifts there than expected. Chief Executive Kay Krill said in a statement that "December was clearly our most challenging month of the year."
Analysts have praised some department stores with rediscovering their niche this year, drawing in customers who may have snubbed the stores in years past. Still, Morningstar's Beaulieau said results for mid-tier retailers such as JCPenney and Macy's parent Federated Department Stores Inc. were "middling," in some cases also reflecting weakness in apparel sales.
J.C. Penney Co. Inc. said same-store sales increased 2.6 percent, which it said was in line with its expectations. Federated said sales rose 4.4 percent, slightly below the company's earlier guidance of 5 to 8 percent.
Some stores may have seen December sales hurt by a surge in gift cards, since sales for such cards generally are not recorded until the value on the card is redeemed.
Bill Martin, co-founder of research firm ShopperTrak, said the trend toward gift cards is still a boon to retailers, although they tend to reap the benefits in January or later instead of November and December. He is more upbeat than some about the overall shopping season, in part because of gift cards.
"Shoppers still have a great deal of confidence. They spent money, and we're just going to see it redeemed over time," Martin said.