/ Source: The Associated Press
Hundreds of hay bales fell from the sky across Colorado's rangeland as military helicopter and cargo plane crews delivered food to cattle that have been stranded by the heavy snow and high drifts for a week.
In smaller helicopters, ranchers landed near frozen streams and used sledgehammers to chop ice from the water for the livestock to drink.
The situation on the snowbound plains is getting dire. Typically, cattle can survive only five to 10 days without food or water in good conditions, state veterinarian John Maulsby said. For the cattle in New Mexico, eastern Colorado and on the Kansas and Nebraska plains, it has now been seven days since a blizzard dumped up to 3 feet of snow and whipped up 10-foot-high drifts.
"We think there are probably 30,000 head (of cattle) out there that are at risk that we're having to make sure we feed," said Maj. Gen. Mason Whitney of the Colorado Guard.
There is no estimate of how many have died.
Small groups spotted
Pilots leading the emergency haylift on Wednesday were mostly seeing groups of 10 or 20 cows, rather than 100 or more, said Dan Hatlestad, spokesman for the Southeast Area Operations Command, a regional emergency response team.
Cattle were already spread thinly across the region before the storm hit because a prolonged drought had left little grass for them to eat. The back-to-back holiday blizzards have since covered fences dividing pastures so the animals have scattered even more.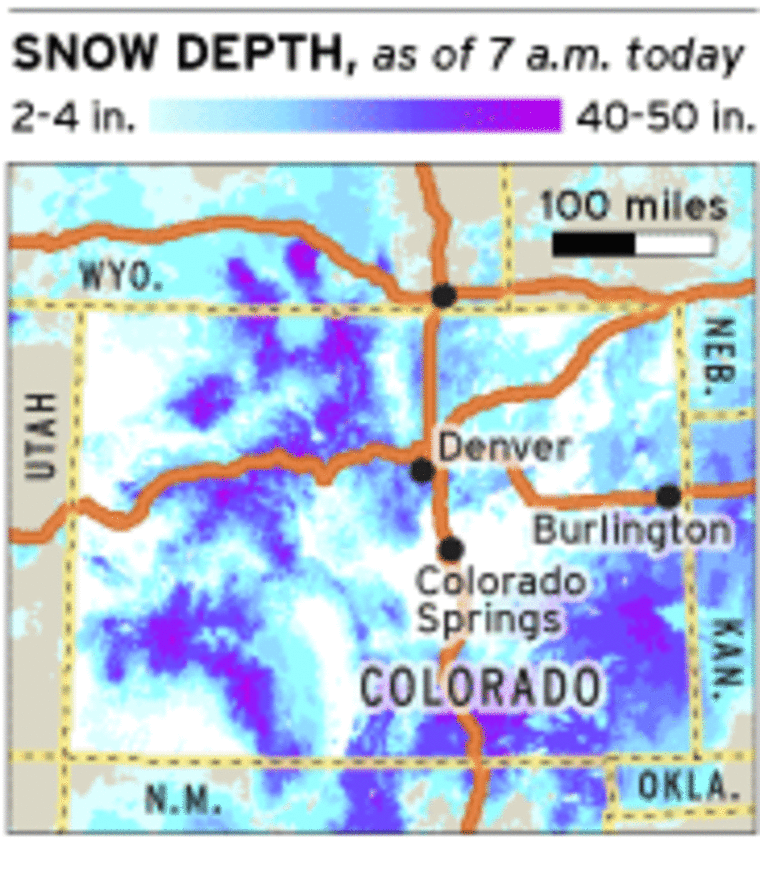 One Lamar-area rancher could find only half of his 600-head herd, said Don Ament, the Colorado agriculture commissioner. Ament said farmers and ranchers have told him it's worse than the 1997 blizzard that killed 30,000 cattle and cost $28 million in agriculture losses.
Colorado health and agriculture officials planned to meet Thursday to discuss what to do with the dead and disabled cattle that are found. Ament said he wants to put the meat to use if possible and will contact rendering operations.
One Kansas feedlot owner said he had lost 450 cattle out of the 155,000 he has on feed preparing for slaughter and 20 dairy cows out of his herd of 7,500. Still, Roy Brown, co-owner of Cattle Empire near Satanta, said his insurance would cover his losses, which he estimated at about $350,000.
Bison using their heads
The 20,000 bison on ranches in southeastern Colorado, western Kansas and Oklahoma were unaffected by the storm, partly because bison use their head and hump "like a big snowplow to get down to where the forage is," said Dave Carter, executive director of the National Bison Association.
While the pilots dropped more than 900 heavy hay bales, trying to get close enough to the animals to make the food easily reachable but not so close to scare them, rangers on trucks and snowmobiles hauled more hay to cattle closer to the growing number of county roads that have been cleared since the storm.
The storm, blamed for at least 13 deaths, left utility crews in sections of Nebraska, Kansas, Colorado and Oklahoma working around the clock to restore power to tens of thousands of homes and businesses.
Officials warned that some rural areas could be without electricity for weeks. In some places, the snow has been too much for plows and workers have had to resort to front-end loaders to try to clear the roads.
Sen. Ken Salazar, D-Colo., on Wednesday sought federal disaster relief for people and livestock in the southeastern part of the state. New Mexico's Gov. Bill Richardson and Nebraska Gov. Dave Heineman also asked for a disaster declaration, as did the National Cattlemen's Beef Association.