OQO makes little computers. Some call them palmtops because they actually fit into the palm of your hand. (If you have a large hand.)
Palmtops are real computers — running real operating systems — capable of running nearly every program you can think of.
The first OQO (model 01) was a clever design. It became surprisingly popular with business users. But after more than a year on the market it was time for an upgrade — OQO model 02.
On the outside, the new OQO is black instead of gray, and is slightly larger and heavier than the original model.  But, that's because there's a lot more going on inside.
Model 02 is 5.6 by 3.3 by 1.0 inches and weighs just under one pound with the standard battery.  It comes in a few configurations: there are 1.2GHz and 1.5GHz Via processors, 30GB and 60 GB hard drives, 512MB or 1GB of memory along with Ethernet, Bluetooth, Wi-Fi (802.11a/b/g) and an optional Sprint EV-DO wireless WAN broadband system.
The 5-inch diagonal, 800 by 600 pixel color screen looks good whether used indoors or out because of an ambient light sensor that is barely visible on OQO's front panel.  The screen also has an active digitizer so that you can use OQO as a small tablet computer.  Model two also supports VGA, HDMI and DVI monitors up to 1920 by 1200 pixels resolution.  You can use OQO as part of simultaneous dual displays or an external desktop mode.
The keyboard has 58 keys (a bunch of them are lockable and multi-function) as well as a number pad and dedicated mouse and zoom keys.  There's an audio out, HDMI video out, and a USB 2.0 port.  There are two batteries available: the standard (figure two hours of computing) or the optional big battery (3-4 hours).  Model 02 comes loaded with Windows XP Home, or XP Professional, or XP Tablet PC Edition and soon, Windows Vista.    The OQO is not a toy.
And the OQO also gains new usability in your home and office.  There's now an optional model 02 docking station which allows you to slide your new OQO into a clever sleeve which is attached to a base with a CD/DVD ROM drive ($299) or a dual-layer, DVD-RW drive ($399).   Add an iGo Bluetooth keyboard and mouse and you have a very versatile system.
I have been able to play with a pre-production model 02 for the past few days.  My sample had both Windows XP Professional and Windows Vista, but not XP Tablet on the 60 GB hard drive.  Model 02 has performed nearly flawlessly.  OQO should be congratulated on figuring out a way to stuff more computing inside while keeping the chassis a lot cooler than their last outing.
I'll have more to say about OQO in the future.  Model l02 starts at $1,499 (1.2GHz, XP Home, 30 GB HD, 512MB RAM).  For $1,699 you get a faster CPU (1.5GHZ), Windows XP Professional and a larger hard drive (60GHz).  The $1,899 model comes with 1GB of RAM.
The newest Treo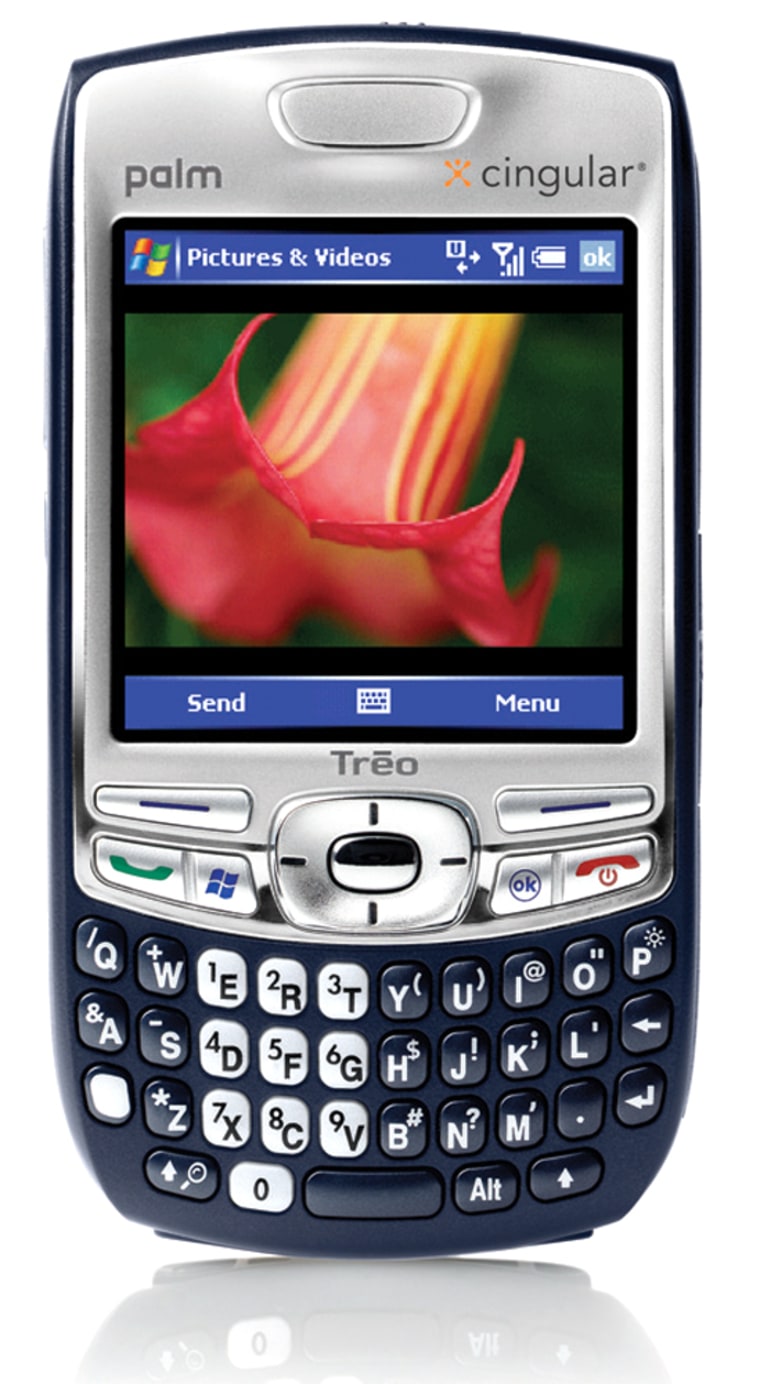 One of the other new items featured in Gates' CES keynote is Palm's new Treo 750 Smartphone.  The 750 is one of Palm's new antenna-less designs.  The 680, which uses the Palm OS, is the other one.  The 750 runs Microsoft Windows Mobile 5.0 operating system — and includes Palm's enhancements.
The 750 is a GSM/GPRS/UMTS Smartphone which can be used nearly everywhere on the planet.  Inside there's a 300MHz Samsung processor, a 240 by 240 color touch screen, 128MB of memory, a 1.3MP camera (with 2X zoom), mini-SD expansion port, Infrared and Bluetooth connectivity and a 1200mAh Lithium-ion battery.   It measures 4.4 by 2.3 by 0.8 inches and weighs 5.4 ounces.
If you're familiar with the Palm Treo design and Microsoft's Mobile operating system you will know how to operate this device instinctively.  You will also find that this combination makes for a worthy contender.
In a week of testing, the 750 has been flawless.  I really appreciate Cingular's UMTS broadband data network – which allows the Treo to do its thing with speed, style and grace.   Palm has also improved battery life.  Earlier Palm/Windows Mobile devices had problems lasting through a full 24-hour day of email synching and phone calls.   The 750 came provided me with at around 36 hours of battery life before needing a recharge.
The Treo 750 will be avilable from CIngular for $399.99 with a 2-year service agreement (with a $39.99+ voice/data plan) after a $100 mail-in rebate.