It's becoming a strangely familiar sight at the Detroit auto show — a sole Chinese automaker displaying vehicles it hopes to one day sell in the massive North American market.
Last year, a modest silver sedan built by China's Geely sat outside the main showroom of Detroit's cavernous Cobo Center. Its presence marked the first time a Chinese automaker had displayed its products at the North American International Auto Show.
This year, Changfeng Motors has a bigger display in the exhibition hall, albeit in the less visible basement area.
The state-owned automaker that at one time built military trucks for the People's Liberation Army is showing four vehicles at this year's show, including two small sport utility vehicles and a pair of trucks.
The five-passenger Liebao CS6 SUV, shown here Monday, was designed by Italy's Pininfarina Design and will reportedly go into production in China in July with a four-cylinder diesel engine built by Italian automaker Fiat. The SUV includes features that American consumers have come to expect, such as anti-lock brakes, a GPS navigation system and DVD screens behind its passenger head rests.
More importantly, the Liebao can meet U.S. crash and emissions standards, according to Changfeng general manager Cheng Zheng Chu. He said his company plans to be ready to sell vehicles like the Liebao in North America within three years.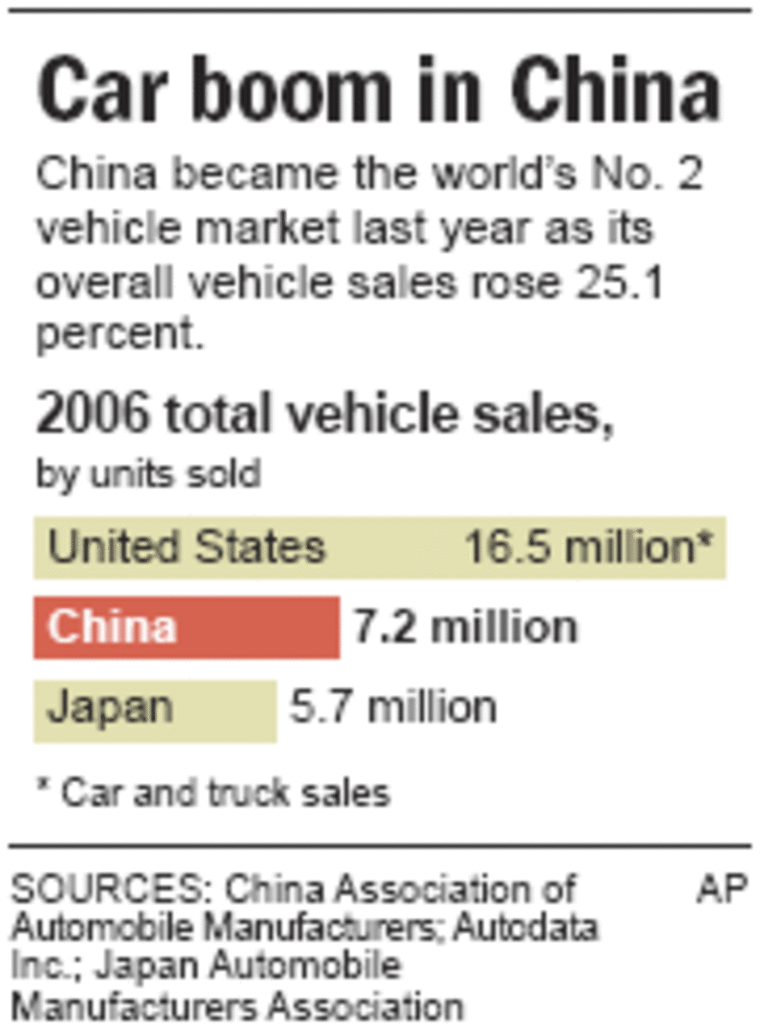 "At this stage we want to show our product to the world," he said. "The U.S. market is the most developed automobile market, so by entering it we want to show we have reached a high level of maturity in terms of technology and engineering."
He said Changfeng eventually plans to sell its products globally.
While their presence is small so far, the efforts by Chinese carmakers to make their mark in Detroit and establish themselves in the minds of North American car consumers are significant.
Pricing will be their key advantage, analysts say. A typical Chinese auto worker makes about $1.95 an hour, compared with up to $50 an hour in some Western countries. That gives Chinese automakers a tremendous opportunity to undercut not only the Big Three but also Japanese, European and even Korean brands.
But challenges remain for Chinese automakers.
One is the perception that their products are not up to par when it comes to safety and reliability.
"In the American budget car market, time is money, so if your car breaks down by the side of the road you'll forgive it once, but you won't forgive it twice," said David Champion, senior director of Consumer Reports' Auto Test Center.
He said the Chinese would do well to avoid the example of Korea's Hyundai, which entered the U.S. market with cars that were plagued with problems. Quality has improved greatly since then, but the perception lingers.
"So if the Chinese are going to come into this market and do well they can't do what Hyundai did and offer something that's really cheap but breaks down all the time," he said. "They have to come in and do what Toyota and Honda did — offer a good, cheap car with a number of features on it that won't break down. Every time you get into it, it starts — that's the key to making it in the U.S."
Chinese carmakers also have to find a network of dealers, distributors and parts suppliers. That takes time and energy, but if they can achieve that and back it up with a really good product, they have a shot at success, Champion said.
Changfeng's General Manager Cheng Zheng Chu says he isn't too concerned by questions about Chinese quality.
"We think that perception is old-fashioned, and we are here in Detroit to break down that perception," he said. "The Chinese economy is developing quickly, and in recent years there have been rapid improvements in car quality, so we can meet the requirements of the American market."
He added that when Changfeng's vehicles enter the U.S. market they will be "competitively priced."
Chrysler has agreed in principle with Chery Automobile to produce subcompact cars under a Chrysler nameplate beginning some time after 2007 for sale in North America, Europe and possibly other markets.