/ Source: The Associated Press
The Democratic-controlled House voted Wednesday to increase the federal minimum wage to $7.25 an hour, bringing America's lowest-paid workers a crucial step closer to their first raise in a decade.
The vote was 315-116, with more than 80 Republicans joining Democrats to pass it.
"You should not be relegated to poverty if you work hard and play by the rules," said House Majority Leader Steny Hoyer, D-Md.
The bill was the second measure passed since Democrats took control of the House, ending more than a decade of Republican rule.
White House opposes measure
The measure, which now goes to the Senate, would raise the federal wage floor by $2.10 from its current $5.15 an hour in three steps over 26 months.
The last increase was in 1997, when President Clinton successfully prodded the GOP-controlled Congress to enact the increase. Republicans declined to approve another raise for the six years in which they held majorities in the House and Senate and President Bush was in the White House.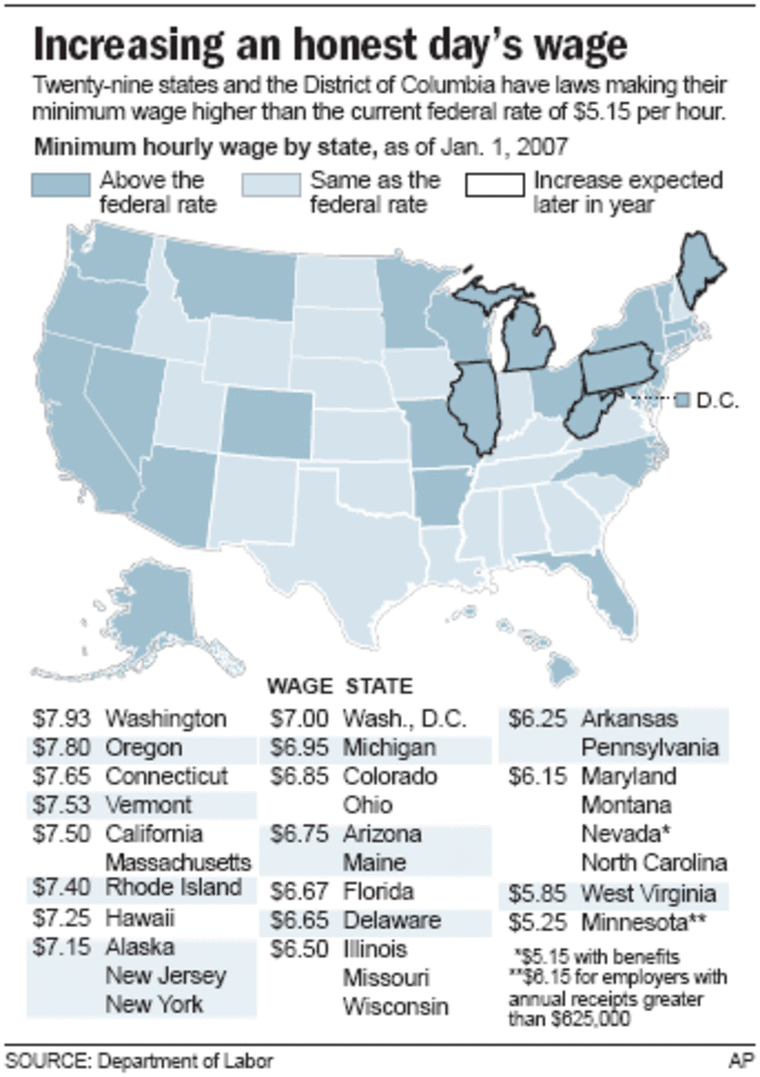 Organized labor and other supporters pitched the bill as badly needed assistance for the working poor.
Business groups and other critics said it could lead to higher prices for goods and services, force small companies to pink-slip existing workers or hire fewer new ones, and crimp profits.
The White House issued a statement saying it opposed the bill because it "fails to provide relief to small businesses."
Changes possible, options open
Senate Democratic leaders have already signaled they will accept changes designed to shield small businesses from adverse consequences of higher labor costs.
"This bill increases costs for mom-and-pop businesses," said Steve Chabot, R-Ohio, contending the legislation doesn't do anything to help offset that burden.
Many businesses want the pot sweetened, perhaps by faster depreciation or other tax breaks or letting small businesses band together to buy health insurance for their workers.
The bill would raise the wage floor in three steps. It would go to $5.85 an hour 60 days after signed into law by the president, to $6.55 a year later and to $7.25 a year after that.