/ Source: The Associated Press
Retail sales rose in December at the strongest pace in five months, indicating that the all-important holiday shopping season turned out better than original reports indicated.
The Commerce Department said Friday that retail sales increased 0.9 percent last month, the strongest showing since a 1.4 percent increase in July.
The increase was better than the 0.7 percent advance that economists had forecast and provided evidence that consumer spending was ending the year on a firmer footing than initially thought.
The government report presented a firmer tone to spending than initial reports from the nation's big chain retail stores. They complained that holiday sales had fallen below expectations as mild winter weather depressed sales of winter clothing.
For all of 2006, retail sales rose by 6 percent, a solid showing but down from a 6.9 percent increase in 2005.
That slowdown reflected the fact that consumer spending, after a sizzling start to the year, slowed in the spring and remained at lower levels for the rest of the year as Americans were battered by soaring gasoline prices, rising interest rates and a cooling housing market.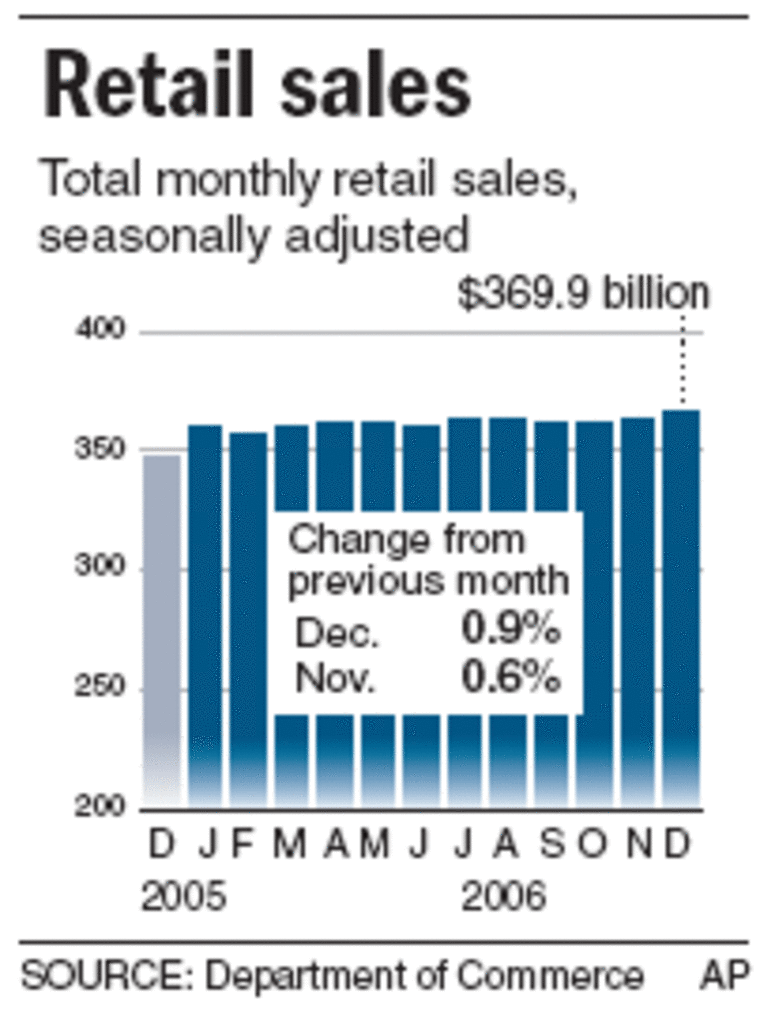 Consumer spending is closely watched because it accounts for two-thirds of total economic activity. The 0.9 percent December advance should bolster the belief that the Federal Reserve is on track to achieve a soft landing for the economy in which growth slows enough to keep inflation under control without pushing the country into a recession.
The December gains in retail sales included a 3 percent jump in sales at electronics and appliance stores which had followed an even bigger 5.8 percent surge in November. Those increases reflected the introduction of sought-after video game consoles such as Sony's Playstation 3 and Nintendo's Wii.
Sales were up 3.8 percent at gasoline stations, reflecting in part higher pump prices during the month. Those gains still left pump prices below the $3-plus records set last summer.
Auto sales rose by 0.3 percent after having been flat in November.
Excluding the volatile gasoline and auto sectors, retail sales would have risen by 0.7 percent in December, the best showing since January 2006.
The 0.9 percent overall gain pushed retail sales to a seasonally adjusted total of $369.9 billion in December after a 0.6 percent November increase, which had originally been reported as a stronger 1 percent gain.
Sales at department stores and other general merchandise stores rose by 0.9 percent while sales at specialty clothing stores were up 0.6 percent. However, sales at hardware stores fell by 1.1 percent, reflecting the continued troubles in the once-booming housing industry.