Mid-century Americana is in again. Cars, homes and clothing have all gone retro to varying degrees. Authentic classics are also a rage, like 1960s muscle cars — some of which now command six figures at auction when just five years ago they'd barely break the $10,000 mark.
Part of the reason is that Baby Boomers, the largest and wealthiest generation (or generations, depending on which definition you trust) in U.S. history, are in their financial prime. Ford and Airstream, maker of the iconic shiny aluminum trailer homes that helped shape a renewed interest in travel during the 1950s and '60s, paired up to create the unimaginatively named Ford Airstream concept that debuted at the Detroit auto show. It's an exercise in harnessing the passion for mid-century Americana.
ForbesAutos.com talked to Airstream's President and CEO Bob Wheeler about the aim of this striking concept vehicle and the social and cultural trends its design encompasses. Airstream is a 75-year-old company whose trailers, priced from between $33,000 and $95,000, define the upper echelon of the recreational vehicle industry.
ForbesAutos.com: How did the Ford Airstream concept come about?
Bob Wheeler: Ford approached us a year ago at the Detroit auto show. J Mays [director of Ford's advanced design group] said they were working on a specific concept vehicle that they very much wanted to incorporate Airstream DNA into, because they thought Airstream represented a lot of core values that they felt this concept vehicle should represent.
ForbesAutos.com: What kinds of core values?
Bob Wheeler: Road trips, the heritage of the interstate system, the grand era of renewed interest in travel in the '50s and '60s. If you look at any collection of images or talk to anyone that was of an age in that era, you run into Airstream. That was kind of a golden age for this company and Airstream just became part of the fabric of the American travel experience. So the Ford designers ran into that frequently enough when conceiving their concept vehicle, and there was enough passion for the brand within the Ford design group itself that it seemed to make sense to approach us. We were cautious at first, but then decided it would be a project that could benefit Airstream as well.
ForbesAutos.com: Why were you cautious at first?
Bob Wheeler: Well, a number of things. Ford is a car company; we're an RV company. We're a very premium brand within our segment; Ford is not a premium brand within their segment. So we had to go through some brand-alignment discussions. But if you look back at the history of this company, we represent iconic American design very well in our industry, and if you think iconic and American and cars, it's Ford with the history and heritage of that company. A lot of Airstreams have been pulled by a lot of Fords over the years, and the more we looked at it the more we felt that there's a lot of parallels between these two companies.
ForbesAutos.com: What role did Airstream play in the design process of the Ford Airstream concept?
Bob Wheeler: Ford did all of the heavy lifting, but we were involved in design reviews where we were able to critique the design, give input on certain features that we thought would make it represent our brand better and integrate more Airstream-ness into the vehicle.
ForbesAutos.com: What engineering or design elements specifically point to Airstream's heritage?
Bob Wheeler: The first and most obvious is the paint. Ford did a lot of research to find the paint that represented the reflective nature of our aluminum skins on our trailers very, very closely. It was key to them that this concept vehicle had the same kind of reflectivity, the same kind of metallic sheen that the Airstream trailers have — it's one our trademarks. Another iconic part of our construction is rivets. We're all about the rivets. And they did incorporate rivets into the vehicle. They were in more of a ceremonial nature than structural. But there are rivets on the vehicle to help link the two brands and as a nod toward our construction methods. Another area where you can see some influence from our products and our industry are some of the very clever storage solutions — storage areas that are designed specifically for certain implements like cameras, flashlights, first aid kits. That's the kind of thing we tend to do in our industry and you can see a lot of those features on the Ford Airstream concept.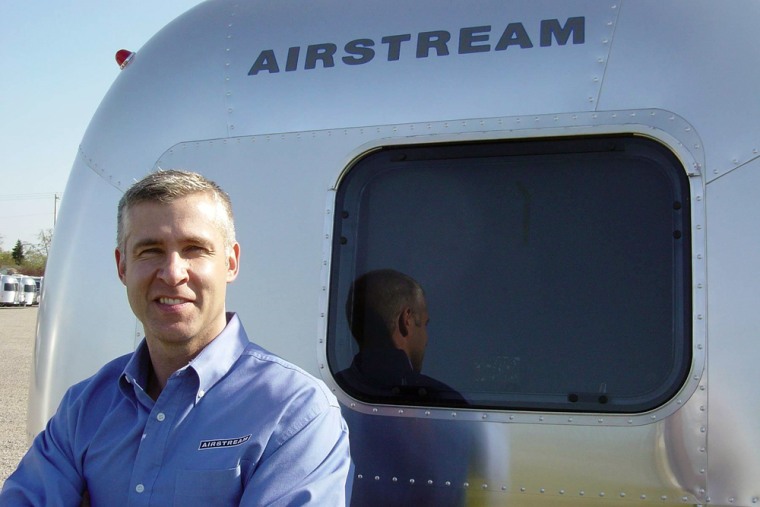 But beyond the physical, I think the connection is even stronger on an emotional level. Airstream has always prided itself on being about the spirit of the open road and wanderlust and the spirit of adventure and freedom. And you can really see those things reflected in this vehicle. So I say that the Ford Airstream concept and Airstream trailers are soul mates.
ForbesAutos.com: Why is Airstream "all about the rivets?"
Bob Wheeler: The Airstream trailer design was inspired by airplane fuselage design and construction and the early Airstream designers were airplane designers. Airplane construction has always involved riveted construction, as have Airstream trailers. We've never strayed from that construction technique, going back to the very first Airstream trailers that were built in 1931. The riveting started as a structural component and still is, but it's become kind of our trademark visually, as well. Every trailer we build has two to three thousand rivets all boxed by hand.
ForbesAutos.com: What advantages or disadvantages does riveted construction present?
Bob Wheeler: It's a simple, very reliable fastening method that is self-sealing and creates a very strong joint between the two materials that are being riveted together. And it's an integral part of monocoque construction, which uses bent ribs and stretched skin to spread forces out across the entire surface of the vehicle rather than having them concentrated in specific areas and specific support members. The rivet bonds the aluminum skin to the aluminum rib and they basically become one from a structural standpoint. So as the unit flexes, all of the load is distributed across the large exterior surface area. It's how airplanes and monocoque vehicles [including many modern cars without exposed rivets] distribute load: The body itself acts as a structural component.