/ Source: The Associated Press
Police searching a suburban St. Louis home for a boy missing since Monday found him and made an even more startling discovery — a 15-year-old boy missing for more than four years, authorities said Friday.
The stunning development came when both 13-year-old Ben Ownby and 15-year-old Shawn Hornbeck were found at an apartment in Kirkwood, miles from the rural locations where the boys disappeared 4 1/2 years apart.
Franklin County Sheriff Gary Toelke called the discovery "good, unbelievable news" at a news conference on Friday.
Ben vanished from the gravel road near his home in Beaufort, Mo., 60 miles southwest of St. Louis, Monday afternoon. Shawn was last seen in October 2002 riding his bike near his home in Richwoods, Mo., about 50 miles southwest of St. Louis.
The boys were found in an apartment occupied by Michael Devlin, 41, who has been charged with one count of first-degree kidnapping, Toelke said. Devlin is jailed on $1 million bond at a location the sheriff would not disclose.
Toelke said both boys appeared unharmed. Ben appeared somewhat dazed as he walked inside the sheriff's department, where he was reunited with his family Friday night. Hornbeck and his family also have been reunited.
Truck was key to case
Toelke said the break in the case came Thursday night. Kirkwood city police officers were serving a warrant on an apartment complex when they noticed a white truck matching the description of a vehicle authorities had been searching for in the Ownby investigation.
Kirkwood officers contacted the Franklin County Sheriff's Department and determined where the owner of the truck was and then searched Devlin's home.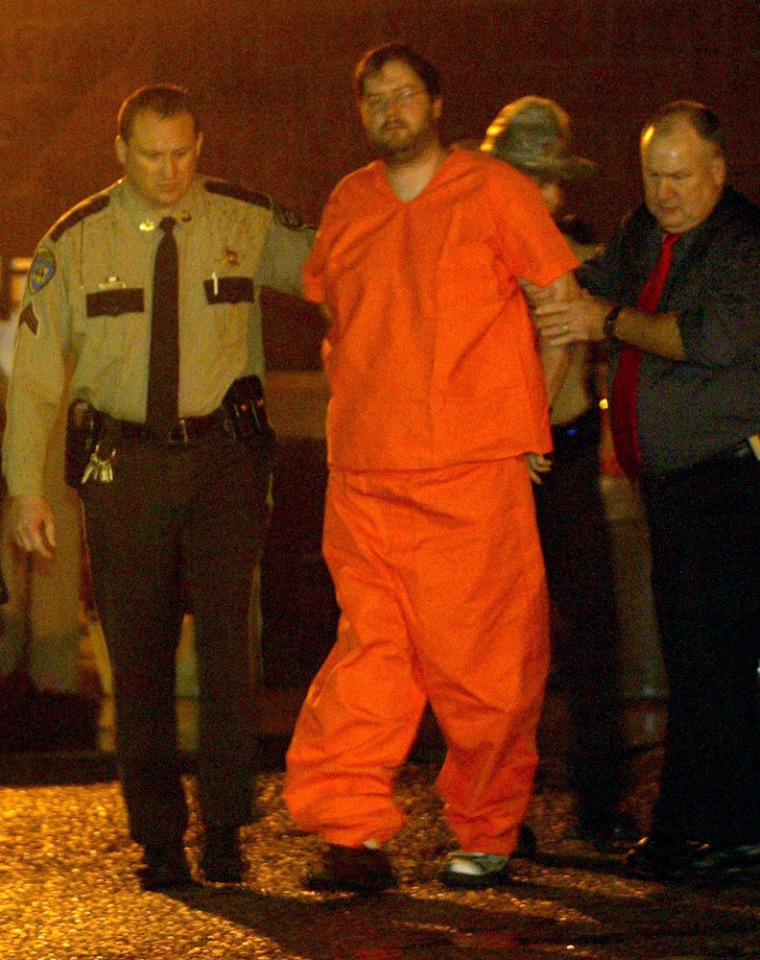 Toelke said authorities were surprised to find another boy who identified himself as Shawn Hornbeck.
Ben's uncle, Loyd Bailie, told The Associated Press he was escorted to the Franklin County Sheriff's Department with Ben's parents. He said Ben was delighted when he saw his parents.
"His eyes lit up like silver dollars," Bailie said.
Everyone broke into tears and Ben's parents embraced him as tightly as they could, Bailie said.
Ben seemed in perfect health, but was hungry. Sheriff's deputies brought in sandwiches and a honey bun and Ben instantly devoured the sweet, Bailie said.
Toelke confirmed that Shawn and his family were reunited but disclosed no details.
In Kirkwood Friday night, a half-dozen law enforcement officials congregated outside the modest brick apartment where Devlin lived. Temporary lights and trailers were set up in the apartment complex courtyard as a cold, driving rain fell.
Another neighbor, Rick Butler, 43, said the FBI came to his door Thursday night and showed a picture of Ben, asking if he had seen him. He said he had not. But he had seen a boy he now believes was Hornbeck.
Tent seen in suspect's courtyard
He said he saw no evidence that the boy now believed to be Hornbeck was scared or trying to get away. He had seen Devlin and the teen pitch a tent in the courtyard.
"I didn't see or hear anything odd or unusual from the apartment," Butler said. "I just figured them for father and son."
Ben, a straight-A student and Boy Scout, was last seen after he stepped off his school bus and ran toward his home down a gravel road on Monday. A friend who left the bus with the boy told authorities that after the two parted, he saw a small white pickup with a camper shell speeding away from where Ben had been walking.
Searchers on foot, horseback and all-terrain vehicles looked for Ben in the hilly area about 60 miles southwest of St. Louis.
Hornbeck disappeared from his rural home when he was 11. He went for a bike ride and never returned.
Hornbeck's parents, Pam and Craig Akers, met their son in Union, the Franklin County seat and where the sheriff's department is, Toelke said.
His parents have devoted themselves to bringing missing people home since Shawn vanished from his hometown.
His parents, dozens of volunteers and sniffer dogs searched for weeks. The couple set up a Web site and listened to anyone who offered a tip.
Full-on search for Shawn
Craig Akers, Shawn's stepfather, quit his job as a software designer to devote his time to a foundation bearing his son's name. They depleted their savings, borrowed against their retirement and talked to psychics. The financial strain forced both of them back to work.
A retired police officer volunteered to work on the case until Shawn was found.
Even though so much time had passed, Pam Akers said her son is frozen in her memory as an 11-year-old boy.
"It's been four years," she said on the anniversary of his disappearance last fall. "But for me, it's just been one long continuous day."
Toelke said authorities were still investigating the motive behind the abductions. Franklin County Prosecutor Robert Parks said more charges are likely to be filed.
"There are a lot of things we don't know right now," Toelke said.
Several media reports said Devlin was a registered sex offender in Utah. But the Utah offender and the Missouri suspect appeared to be different people. The Utah Department of Corrections said the Devlin living in Kirkwood had a different Social Security number than the sex offender in Utah.