/ Source: The Associated Press
The former imam of Ohio's largest mosque became a man without a country after being convicted of concealing his ties to terrorist groups.
Fawaz Damra was rejected by 72 countries and left with no choice but to be deported to his native West Bank, leading to his arrest by Israeli authorities on Jan. 4.
The arrest has angered Muslim leaders in Ohio, some of whom complained that he was double-crossed by U.S. immigration officials and delivered up to the Israelis.
Damra, 46, a Palestinian from the West Bank city of Nablus, was the spiritual leader of the Islamic Center of Cleveland, raising three American-born daughters with his wife in suburban Strongsville, at the time of the Sept. 11 attacks. He condemned the attacks and urged others not to judge all Muslims as a group.
Less than a month later, however, footage from a 1991 speech aired on local TV, showing him raising money for a Palestinian holy war and saying Muslims should be "directing all the rifles at the first and last enemy of the Islamic nation and that is the sons of monkeys and pigs, the Jews."
He apologized and said his views had changed. But in 2004, he was convicted of concealing ties to terrorist organizations on his citizenship application 10 years earlier. Prosecutors connected him to the militant Palestinian group Islamic Jihad, responsible for numerous suicide bombings and other attacks on Israelis.
Stripped of his U.S. citizenship and facing deportation, Damra struck a deal with federal authorities to leave the country, his attorney Mo Abdrabboh said.
"The reason he agreed to that is he thought he could go to Jordan," Abdrabboh said.
Rejected by Jordan
But even Jordan, where he holds citizenship, refused him. After his time to find a country willing to accept him elapsed, he was taken into custody in November 2005, then spent a year in a Michigan jail. Then he was arrested when he was presented to Israeli immigration officials for admission to the West Bank.
Haider Alawan, a friend of Damra's and a member of the Parma-based Islamic Center's council of elders, is one of many Muslims angry with U.S. Immigration and Customs Enforcement.
"There's no end to what they can do," Alawan said. "They take you, hold you and extradite you to wherever they want. It's un-American."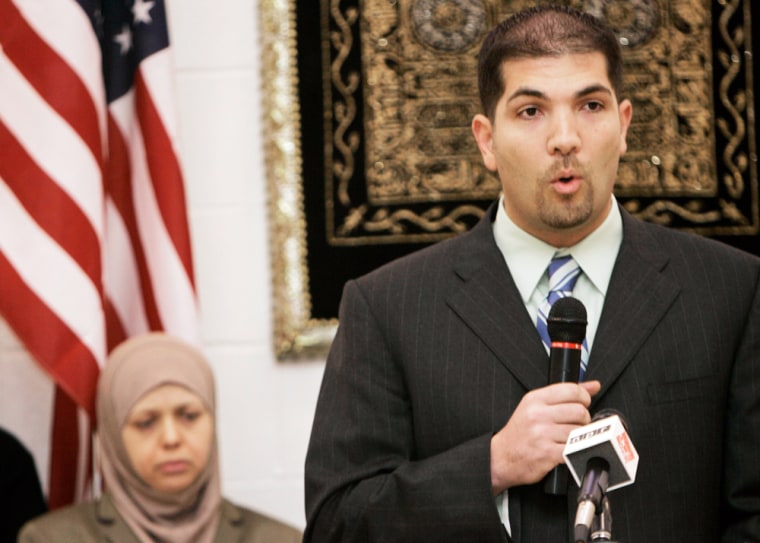 Damra last saw his wife, Nesreen, on Dec. 31, Abdrabboh said. She and their three daughters — ages 11, 15 and 16 — had not been notified he had been deported, and found out only when his lawyer arrived at the jail and found him gone.
U.S. immigration officials at first said Damra was escorted across the Allenby Bridge from Jordan to the West Bank. But later they acknowledged he was turned over to Israeli immigration officials.
Julia Shearson, director of the Council on American-Islamic Relations' Cleveland office, accused government officials of having an arrangement with Israel — an allegation ICE denied.
"This lawless behavior of our government must be stopped," Shearson said. "The American people must be made to realize that however great the risk and fear of terrorism, the risk of tyranny is ever greater."
Smadar Ben-Natan, Damra's Israeli lawyer, said her client was being treated well at the Kishon prison in northern Israel.
Damra will appear in court Jan. 25. Abdrabboh, his Detroit-based lawyer, said the hearing will have one of three outcomes — he will be released, charged with a crime or held even longer.