WASHINGTON — Will it be especially tense in the House chamber when President Bush walks in on Tuesday night to deliver his State of the Union address?
And will Bush gain respect by putting on a brave face in front of a body he's never had to confront before, a Congress under Democratic control?
A prolonged war, an unpopular president, his actions under investigation by a Congress in the hands of his foes — Rep. David Obey, D-Wisc., has been around Capitol Hill long enough to see it all before.
Obey, a 38-year House veteran who is now the chairman of the Appropriations Committee, recalled another wartime president facing an arduous time.
The Wisconsin Democrat was sitting in the House chamber on the night of Jan. 30, 1974, when President Richard Nixon, besieged by the Watergate investigation, walked in to deliver what would turn out to be his final State of the Union speech.
Some Democrats refuse to stand
"What I remember is that when Nixon walked in, about half the Democrats refused to stand," Obey told me in an interview just off the House floor, a few yards from where Nixon spoke.
"I thought, 'Oh my God, this is going to look terrible on television.' Then I discovered the House members weren't shown on television" and the TV network anchormen didn't comment on the Democrats' snub of the president.
Nixon was seven months away from being forced to resign. "It was intense," Obey said.
"It was electric, it was emotional for some of us," said Sen. Trent Lott, R-Miss., who was then a member of the House.
Nixon recalled in his memoirs that his wife and daughters had discussed before the address "whether there might even be an open demonstration of hostility" from angry Democrats. His approval rating in public opinion polls had sunk to 26 percent, compared to the Gallup Poll's current 34 percent for Bush.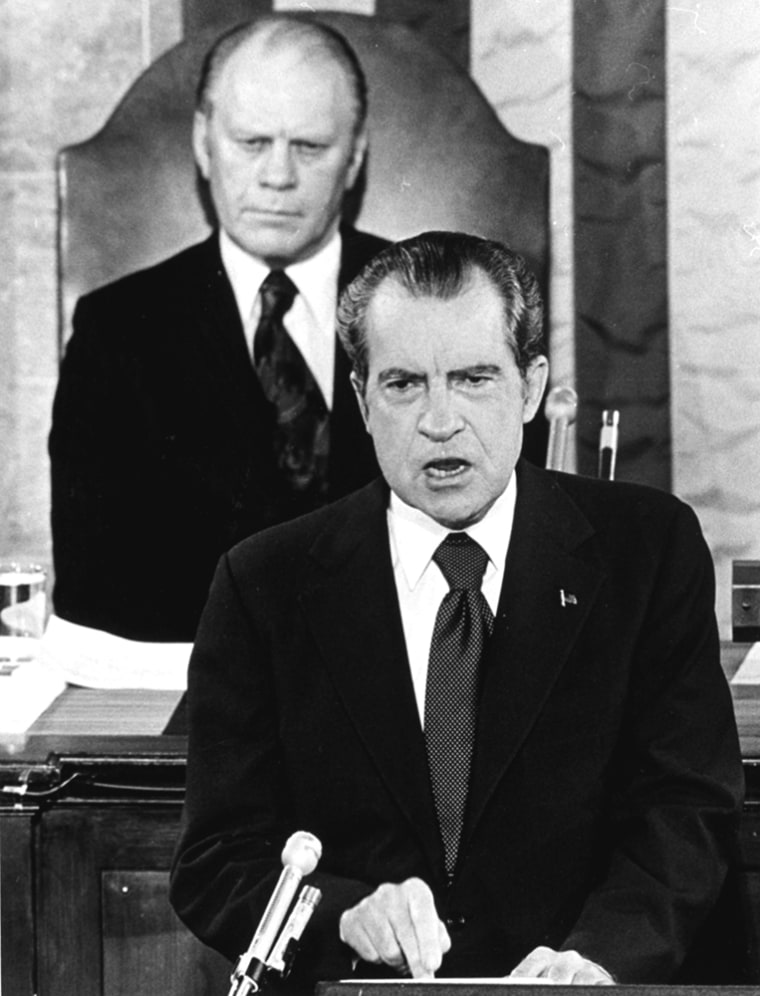 Nixon biographer Stephen Ambrose recounts that when the president entered the chamber he was "in a fighting mood. The applause and cheers from a small, but vocal group of Republican loyalists reinforced his determination."
Nixon's hoped-for legacy
When Nixon declared that peace with the Soviet Union and the rest of the world was "the chief legacy I hope to leave from the eight years of my presidency," Republicans got on their feet to cheer. "Eight" was only a hope; he was to have only five-and-a-half years in his presidency.
In an extemporaneous finale to his speech, Nixon turned to what he referred to as "the so-called Watergate affair" and called for an end to the investigations of himself and his former asides: "One year of Watergate is enough."
"Hisses and boos could be heard from the Democratic side of the chamber," Ambrose reports. When Nixon ended his speech by saying he had no intention "of ever walking away from the job that the people elected me to do," Ambrose says there were both "waves of approval" and "groans of dismay" in the chamber.
In recent years exaggerated cheering or booing of the president's words in the chamber have become routine. The annual speeches "have increasingly seemed like football matches," complained Sen. Gordon Smith, R-Oregon. 
Asked to forecast Bush's reception by Congress on Tuesday night, Sen. Susan Collins, R-Maine, said "I hope it will be respectful; I think the State of the Union speeches in some recent years have become circuses at times, where each side jumps up at the mention of a particular priority. It comes off as a very partisan exercise, rather than a dignified ceremony in which the president reports to the nation."
She added, "I've often thought it would be better if we did not sit with Republicans on one side and Democrats on the other side, which just worsens the partisan atmosphere."
'Acting like children'
"I hope we won't be acting like children as we have been in recent years where one side jumps up and the other sits down and then the other side jumps up. How pathetic that is," said Lott.
Democrat Obey agreed with his Republican counterparts.
"I think the State of the Union message is one of the most over-rated things in the world," he said. "I frankly don't care what he says; I care what he does."
The annual address, Obey says, "has been made what it is by television and by media advisors. It is essentially political propaganda with members of Congress serving as a bunch of jumping Jacks."
Obey's advice: "Get the folderol over with and get down to work."
But no matter what Obey, Lott, Collins and Smith think, the televised theatricality of the speech has become a ritual that Washington pundits and the TV networks invest with significance.
Another pitch on Iraq
Tuesday night will be a chance for Bush to renew his pitch for support of his Iraq strategy. "The issue of Iraq will be the one issue that everyone is listening intently to," said Smith. "It's a second chance for the president to make his case to the American people through the Congress."
"I don't know when a president has come to deliver a State of the Union address with such low political capital," said Rep. Steve Cohen, D-Tenn., who was elected last November and will in the chamber for his first address. 
If Bush says something about global climate change, for instance, that indicates a change of thinking on his part, will Cohen stand up and cheer?
"I might politely applaud. I don't expect to spend a lot of time getting out of my chair. Energy conservation," he explained wryly.
Cohen recalled that his predecessor, Rep. Harold Ford, was photographed embracing Bush at the last year's State of the Union. "It was a well-publicized photograph and I'm not sure in the long run if that helped or hurt the congressman," Cohen said. Ford lost his bid for the Senate seat in Tennessee last fall to Republican Bob Corker.
Cohen said he did not expect members, Tuesday night, to be eager to get close to Bush as he enters and leaves the chamber. "I imagine there'll be some people who will do so, but I don't imagine he'll have to have a large amount of mouthwash or mints," he said.
'Grace under pressure'
Since Bush's party suffered big losses in last year's election and he is now under fire from some Republicans, Tuesday night will be a chance to show what Hemingway called "grace under pressure."
The president who wins high marks both from Republicans such as Lott and Democrats such as Sen. Chris Dodd, D-Conn., for performing under duress is Bill Clinton.
He delivered his 1998 State of the Union just six days after the news of the Monica Lewinsky sex scandal broke.
Clinton carried it off with nonchalance, rallying his party to the old Democratic standby: preserving Social Security. "What should we do with this projected surplus? I have a simple four-word answer: Save Social Security first," Clinton declared.
Contrary to the predictions of some commentators, he neither mentioned nor even hinted at the Lewinsky furor.
"There was a lot of tension," recalled Dodd. "But the first thing he did when he came in was ask the Congress to take a moment of silence and stand up in remembrance of Sonny Bono," the California Republican who'd died in a skiing accident a few weeks earlier. "That was a wonderful thing to do, a moment when we could all start that process in a positive way." (Clinton also called on Congress to remember Rep. Walter Capps, D-Calif., who had died two months earlier.)
Sen. Sam Brownback, R-Kansas, who was there that night, too, recalled, "I was impressed that he could deliver a good speech in that atmosphere. If you had all that on top of you, it would get in your head and weigh you down, but he seemed to shove it all to the side and go forward."
Brownback's comment is a reminder that politics is a form of theater; on the night of the State of the Union, members of Congress, like playgoers, are there to watch and judge the Performer in Chief.