/ Source: The Associated Press
An indicator of future economic activity rose slightly in December, suggesting the economy may grow at a modest clip in the next several months, an industry-backed research group said Tuesday.
The New York-based Conference Board said its Index of Leading Economic Indicators edged up 0.3 percent last month, following a revised flat reading in November and a slight decline in October.
Analysts expected the index to rise 0.4 percent in December.
The index, which stood at 138 versus a revised 137.6 in November, is closely watched because it is designed to forecast economic activity over the next three to six months.
Ken Goldstein, economist with the Conference Board said two soft spots in the economy — the housing and job markets — both showed signs of leveling last month.
"When you start to put all the ducks in a row, it certainly doesn't add up to an economy that is going to come roaring right back," he said. "But it's clearly not an economy that is continuing to slow."
Six of the 10 indicators that make up the index rose in December, led by robust numbers of building permits and an improving job market.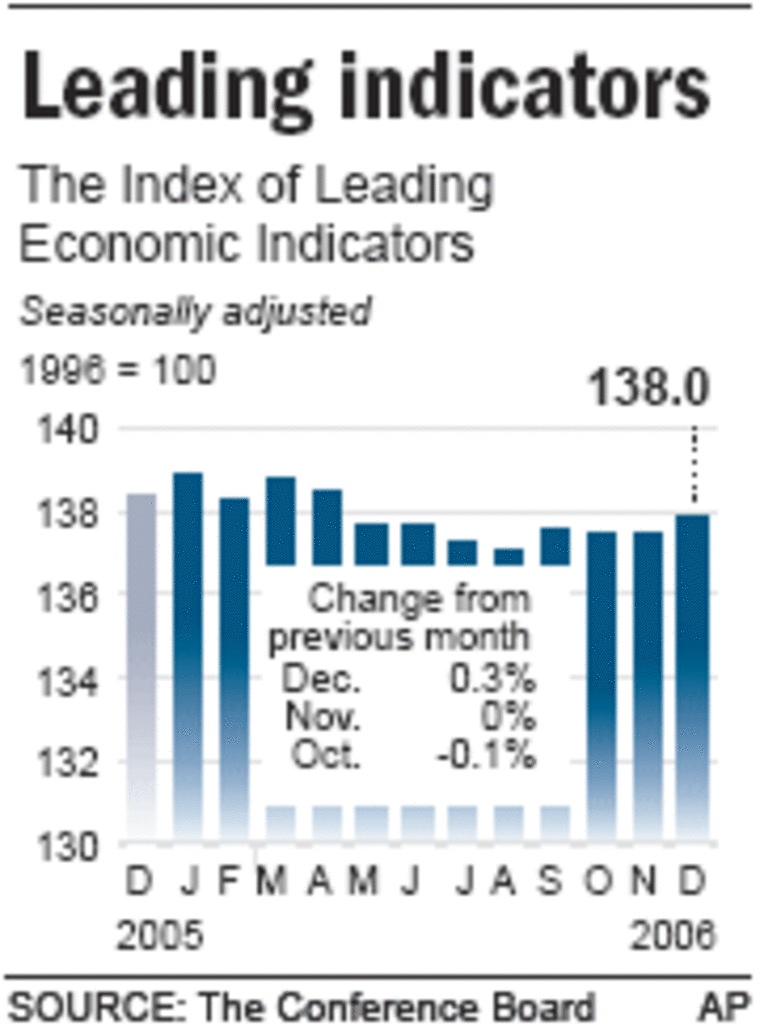 Abnormally warm weather last month in the Midwest and Northeast resulted in a jump in construction activity in those regions, where building activity usually slows in December. That swell of activity may have inflated December's index, said Mark Vitner, senior economist with Wachovia Corp.
Vitner said he believes December's pickup "will come at the expense of growth in the early part of the year."
"We're still looking for economic growth to moderate over course of the year," he said.
Other positive contributors to the December index included real money supply, stock prices, vendor performance and manufacturers' new orders, excluding defense contracts. Interest rates and consumer expectations continued to be a drag, while average weekly manufacturing hours and manufacturers' new orders for consumer goods were flat during the month.
The leading index edged up 0.1 percent over the six months through December and has increased two of the past four months.
"I think it points to the idea that there is a bit of gain in momentum in the economy," said Stuart Hoffman, chief economist with Pittsburgh-based PNC Financial Services Group. "Two pretty good jumps in last four months — that doesn't signal a downturn in the economy."
The Conference Board's coincident index, which measures current economic activity, rose 0.2 percent in December to 123.3, following similar increases in October and November.