To fend off foreign rivals and boost sales, Saturn is undergoing its second transformation since it began manufacturing automobiles in 1990. And with its excellent new Aura midsize sedan, this time it might just run rings around the competition.
With a starting price of around $17,000, only the Hyundai Sonata can offer as much value for the money as the Saturn Aura, but it lacks both the Aura's sophisticated style and Saturn's highly regarded no-haggle dealers. A starting price of around $21,000 for the basic Aura XE sedan yields a nice car, but the sportier $27,000 Aura XR I tested was packed with both amenities and value.
Saturn has had a few false starts of late. General Motors launched the brand to duke it out with Honda and Toyota in the lightweight car division, building inexpensive subcompact cars for Americans, by Americans. The little plastic-bodied cars churned out of Spring Hill, Tenn., gained a cult following, but Honda and Toyota pressed their attacks, and slow development of new models left Saturn in the dust.
So Saturn transformed itself from a unique boutique brand owned by GM into just another GM division, but with its scrappy underdog gimmick gone, buyers stayed away in droves. Now Saturn is reinventing itself again, this time as a domestic near-luxury brand. Think of it as an American Audi, or Volvo. Or maybe a four-wheeled Target. Gone, at last, are the chintzy, Rubbermaid interiors and that flimsy feeling when closing doors.
Last year's introduction of the red-hot, two-seater Sky roadster was the first indication of the big changes afoot at Saturn. By the end of this year, the Sky will be the oldest car in the company's lineup, and there's still likely to be a waiting list to buy one.
More Saturns are coming on to the market, most significantly the Aura midsize sedan, which was voted North American Car of the Year for 2007 by a jury of automotive journalists at January's Detroit auto show. Take one drive in the Aura and it's easy to see why.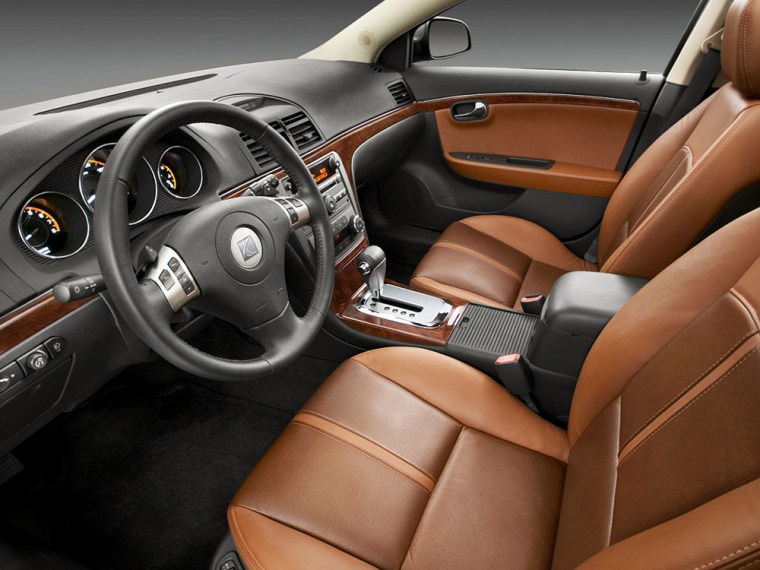 On the road the Aura is smooth, quiet and comfortable, conveying every impression of solid construction. That may be in part thanks to a magnesium reinforcing beam that runs under the dashboard to strengthen the body shell. A Saab 9-3 I tested recently, which shares the same corporate chassis under the skin, seemed to creak and groan occasionally, a foible that's absent in the Aura.
The 252-horsepower 3.6-liter V6 engine rarely works up a sweat, and the smart six-speed automatic transmission picks the right gear under most circumstances — this by design, or perhaps by redesign. Early customers weren't impressed with the software controlling the transmission's decision-making, so GM reacted immediately, improving the transmission in new cars and giving existing customers a free software update when their cars visit the dealer.
More steering feedback would please driving enthusiasts who are accustomed to the feel of driving an imported car (other than the Camry, which has even lighter, number steering). And the popularity of a sportier XR version of the Aura should embolden GM to give all of its cars a more "European" feel. According to Saturn's General Manager Jill Lajdziak, the upmarket XR equipment level garnered 40 percent of early sales compared with the 25 percent the company had expected.
On the outside, the Aura's handsome lines suggest a muted authority. It has the kind of presence we've come to expect from German brands, and among the Japanese brands it is probably only equaled by luxury divisions like Lexus and Acura. Its taut, muscular shape is complemented by an appropriate amount of chrome jewelry. The clear-lensed headlights and LED taillights add to the bejeweled appearance, and the Aura XR rolls on standard, 18-inch aluminum wheels.
But it's on the inside where Saturns — and actually all GM products — have disappointed in recent years. Here, the Aura breaks with that tradition.
Optional brown Morocco leather seats, a leather-wrapped steering wheel and chrome-ringed analog instruments furnish the Aura's interior with the air of a private library (a library that seems to be located very far away from the austere, plastic-lined mud room that characterized previous Saturn interiors).
Another example of Saturn's lightning-quick response to customers: In addition to the handsome black and brown leather interiors, a tan color is available to drivers in the Sun Belt who didn't want such dark colors.
GM has other nice benefits on offer, such as remote start (a pleasant luxury during cold weather) and the OnStar telematics service — a worthwhile safety net thanks to the automatic crash notification service, which you get even if you don't subscribe to the more expensive concierge services.

In addition to XM Satellite radio, the Aura's stereo plays music through a six-disc CD changer, although this feature is rapidly becoming obsolete. There's also an audio input jack to hook up a MP3 player and the rear seat has its own audio controls for an included pair of wireless headphones, sparing the front and rear seats from each others' musical tastes.
There's plenty to admire inside the Aura, but it could use some attention in some areas. There's a lack of overhead grab handles for passengers, a staple among the imports in this segment, and in the cabin some softer materials could have been used where there are now hard surfaces — primarily the dashboard, but also places like door panels and the console.
But these are just details. GM's Lajdziak has hinted at a more significant change in the offing — GM's excellent Stabilitrak electronic stability control system may soon become available in the affordable Aura XE. The government has said it will soon require this important safety feature to be installed in all cars, but Saturn, and the rest of the industry, would do well to make it available as an option at all trim levels before then.