/ Source: Forbes Traveler.com
Strolling down the Champs-Élysées in a pleasant post-croissant haze, you're suddenly gripped with a strong urge to meet the Mona Lisa face-to-face. You could use your Ectaco iTRAVL TL-6 talking translator to hear the proper phrase for asking directions to the Louvre, but you decide to bring up a map of Paris on its color touch screen and navigate the old-fashioned way.
Later, in front of your date, the TL-6 will prove handy again. This time you launch its media player and listen to a history of the creation of da Vinci's masterpiece. With your Comply NR-10 noise-canceling earphones snugly plugged in, drowning out the surrounding babble, it's just you and the world's most mysterious smile.
Ectaco's robust traveler device and Comply's super-silencing earphones are just two of the exceptionally nifty travel gadgets we found at this year's Consumer Electronics Show in Las Vegas. In the past 40 years, the show has introduced the public to the first VCR, the compact disc player, high-definition television, digital video recorders and satellite radio, just to name a few. This year it gave birth to the Gorillapod (more on that later).
Even as show atendees stumble glassy-eyed among 140,000 other visitors trying to see their share of the 1.8 million square feet of exhibits, they nevertheless manage to hunt down all sorts of smart devices. Some were ingenious twists on common items — the Sleeptracker, a watch that wakes you up when you're in a light sleep stage; or the HydraBrush, an electric toothbrush that brushes two sets of teeth at once. Others focused on making the mobile audio/visual experience more personally enriching, like the Headplay, which wraps around your eyes like a sleeping mask and simulates a big-screen movie-watching experience.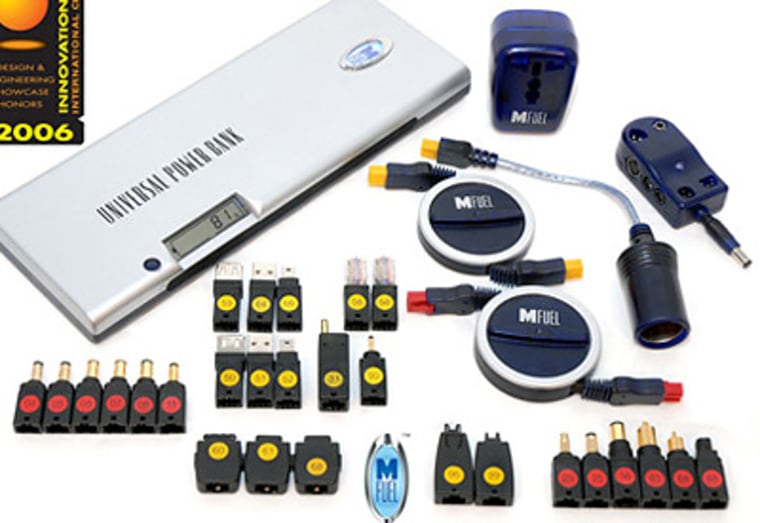 If there was a general theme among the most notable travel gizmos, it was autonomy. One example: the Gorillapod. With its versatile ability to perch atop or latch onto things like handrails, this camera attachment allows you to set up your self-portrait and avoid any awkward exchanges with passersby. Another freedom-inducing device was the Universal Power Bank. By charging it in any of 120+ countries to provide mobile power to all your devices, it guarantees no more dead time. Ceiva's digital photo frame was one more example: with its ability to connect to directly to the Web and instantly upload camera-phone shots from around the world, it skips the CPU middle man.
Most of our top 10 travel gadgets debuted just days ago. A couple of them won awards, like the Bluetooth Virtual Keyboard, which earned the highly coveted Best of Innovations honor, and every one of them is a marvelous mix of intelligent form and utilitarian function. In fact, all ten could fit neatly in a carry-on duffel bag. But since the items in that duffel represent more than $2,500 worth of high-tech wizardry to keep you understood, productive and entertained, it's one bag you probably won't want to check.