/ Source: The Associated Press
Ford Motor Co. lost a staggering $12.7 billion in 2006 — an average of $1,925 for every car and truck it sold and the worst loss in the company's 103-year-history.
The company that invented the assembly line and whose name was a byword for the auto industry warned it will bleed cash for two more years before it has a shot at making money.
Ford's loss, reported Thursday, came amid slumping demand for sport utility vehicles and other gas guzzlers and huge restructuring costs tied in part to the planned closure of 16 plants.
Last year's loss surpassed Ford's old record of $7.39 billion set in 1992.
A fourth-quarter loss of $5.8 billion helped drive up the red ink, which for the year amounted to $6.79 per share versus a profit of $1.44 billion, or 77 cents a share, in 2005.
Although huge, the losses were far from the largest quarterly or annual corporate deficits on record — Time Warner Inc. reported a $97.2 billion loss in 2002, largely due to new accounting rules about how to value assets. Ford could not rely on accounting rules, however, to explain its total.
Ford's loss also wasn't the worst annual total in the auto industry. General Motors Corp. lost $23.4 billion in 1992, due mainly to accounting rule changes on health care liabilities.
The Dearborn-based company predicted more losses for this year and in 2008, but Ford said its restructuring plan is on track to return to profitability in 2009.
"We know where we are. We are dealing with it and we're on plan," Chief Executive Officer Alan Mulally told reporters and industry analysts in a conference call.
Several analysts said the loss was not surprising, given Ford's high costs and falling market share and sales. Ford's future is cloudy at best, given the deficit that it must overcome, analysts said.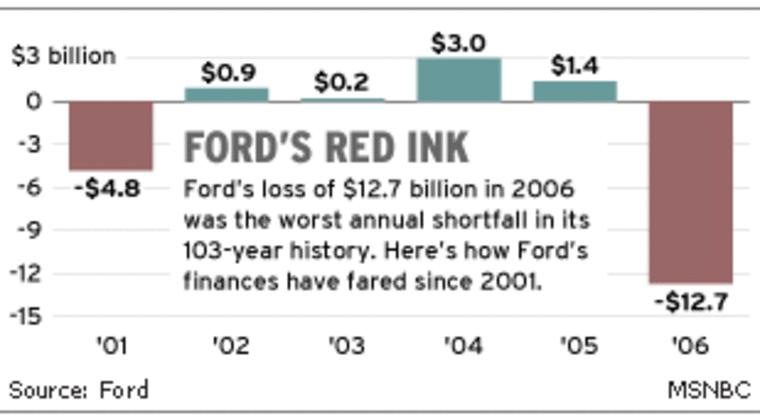 "They have a massive challenge in front of them. Their basic business is billions of dollars in the red," said Burnham Securities analyst David Healy.
Ford, which lost $6 billion on North American operations alone, said it expects to burn up $10 billion in cash to run its business through 2009 and spend another $7 billion to invest in new products.
The fourth-quarter loss was the worst final-quarter loss in Ford's history and its second-worst quarterly performance. Ford lost $6.7 billion in the first quarter of 1992.
Excluding special items, Ford lost $1.50 per share in all of 2006, worse than Wall Street predicted. Fourteen analysts surveyed by Thomson Financial expected a loss of $1.35 per share for the year, excluding special items.
The company's shares rose 2 cents to close at $8.22 on the New York Stock Exchange.
Ford, faced with increasing competition from overseas rivals such as Toyota Motor Corp., is banking on the restructuring to pull it through the next two years. Mulally, hired from aerospace giant Boeing Co., is leading the drastic efforts to turn around the company.
Ford mortgaged its assets to borrow up to $23.4 billion to pay for the restructuring and to cover losses expected until 2009. About 38,000 hourly workers have signed up for buyout or early retirement offers, and Ford plans to cut its white-collar work force by 14,000 with buyouts and early retirements.
Chief Financial Officer Don Leclair said Ford expects favorable results from its automotive business in 2007.
But because of interest on its debt, "total automotive results are expected to be worse in 2007 than in 2006," he said.
Leclair said the company finished 2006 with $33.9 billion in cash available for its automotive operations, including $12 billion that it borrowed in December. He said the company could tap into nearly all of that cash to fund its operations.
The company is on target, though, to achieve its goal of cutting $5 billion in annual costs by 2008 compared with 2005 levels, Leclair said.
Mulally said Ford will continue to review its costs, looking for more cuts as it gains efficiencies from building more cars worldwide on fewer frames in more efficient factories.
"The more I review the details, the more confident I am that we can continue that cost reduction through 2009 and beyond," he said.
Ford, which has relied on truck and sport utility vehicle sales for much of its profit, was hurt last year as $3 per gallon gasoline sent consumers fleeing to smaller, more fuel-efficient vehicles. Ford has seen its market share deteriorate in recent years. At the same time, Toyota has seen its U.S. sales rise, beating Ford out for the No. 2 sales spot in July and November.
The company has rolled out or will introduce several new or updated products during 2007, including the Edge crossover, new F-series Super Duty pickups, a redesigned Focus small car and an updated Five Hundred larger sedan.
But many analysts are skeptical that the products are strong enough to turn the company around.
Ford said that special items associated with restructuring costs totaled $9.9 billion for the year as the company continues efforts to shrink itself to match reduced demand for its cars and trucks.
Sales for the fourth-quarter fell to $40.3 billion from $46.3 billion a year ago, while annual sales dropped to $160.1 billion from $176.9 billion in 2005.