Among the many headaches of modern air transport are security lines, flight delays and unappetizing airplane food. But nothing beats the ultimate air-travel insult: lost luggage.
Unfortunately for travelers, complaints filed about lost, delayed and mishandled bags have never been higher. According to the U.S. Department of Transportation (DOT), 2006 is shaping up to be the worst year in over a decade for lost and damaged bags.
Ready for more bad news? Because of current security restrictions prohibiting liquids and gels in carry-on luggage, passengers will continue to check only bags in which these items are allowed in greater bulk, making 2007 even lousier, luggage-wise. Business travelers, on the road frequently and for long stretches at a time, are particularly vulnerable to losing bags.
To help frequent travelers avoid the worst when their luggage gets misplaced, American Express, which counts among its travel-planning services luggage and travel insurance and luggage forwarding, recently released a list of tips for cardholders aiming to hang on to their bags.
"Making travel as convenient and easy as possible is always what travelers want for themselves," says Monica Beaupre, manager of public affairs at American Express. "Taking a few steps to help protect their baggage will help ease travel plans and ensure that they have a good travel experience."
Simple steps to take today
Before you consider leaving home with just the clothes on your back and your laptop on your shoulder, know that there are several easy ways to prevent your bags from being among the many that go missing every year.
Make sure that your suitcase is tagged with your name, phone number and home address on the inside, as well as the outside. Because paper luggage tags tear off easily in transit, many bags are orphaned this way every year. With a quick yellow sticky note and a pen, you can prevent your bag from joining them.
In addition, put a copy of your itinerary, complete with contact information, inside each piece of checked luggage. This way, if any of your bags become separated from the others during travel, airport officials will be able to track you down. (Note: Use your judgment here. If you're traveling somewhere Westerners are regarded with disfavor, you shouldn't publicize contact information.)
Taking a Polaroid of your packed suitcase with you in your carry-on is another easy way to help airline employees help you in the event of misplaced bags. Before leaving the airport, give the photo — and your local phone number — to luggage officials. Any identifying characteristics on your bag, like a scratch on the front or a missing handle, will tip off baggage handlers that the lonely case by the luggage carousel is yours.
Quickest fix of all
Of course, you can entirely avoid the risk of dragging bags through the airport by shipping luggage straight to your hotel. Sports equipment, baby carriages and plain old suitcases can be mailed in advance of your journey, saving you time spent waiting in line.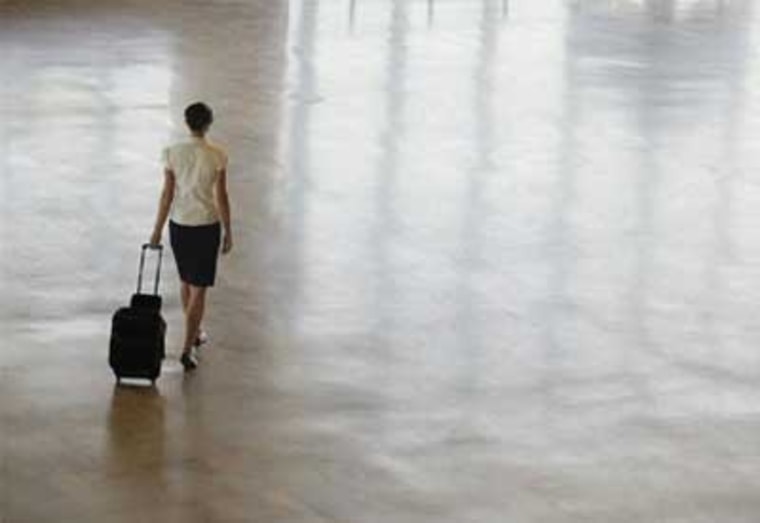 Luggage forwarding services, including American Express Vacations, offer round-trip delivery to a variety of domestic and international destinations and can be booked as little as two days in advance. But it's not cheap: Shipping a small bag from New York to London and back costs about $400; a garment bag is $450; and a baby carriage is $1,000. Still, the price could be right if it buys you peace of mind.
Even the best-packed bags are subject to airport mishandling, and if your bag doesn't make it with you to your final destination, Beaupre advises travelers to carry spares onboard with them. If you have a day's worth of clothes, toiletries and medications with you when you land, the loss of your bag, although annoying, will be much less dire.
And finally, since bags sometimes do go "missing" permanently, every business traveler should consider luggage insurance, available free through a variety of travel providers and credit cards, including American Express.
Before your next business trip, make sure you've printed and followed the checklist above. It will make the view from business class all the nicer.