She's maybe the best-known Miss USA we've seen in a long time— and for all the wrong reasons. Tara Conner recently emerged from a month in rehab after reports of hard-partying unbecoming a beauty queen.
Conner's rehab triggered a media frenzy and a take-no-prisoners war between Donald Trump and Rosie O'Donnell. But in the end, Conner emerged crown intact… and, according to her, clean and sober.
Miss USA Tara Conner: I have never had a legal drink (laughs). I'm 21 years old and I've never had a legal drink.Matt Lauer, NBC News: So it was all underage drinking?Conner: Yes.
It's not unusual to hear someone laughing about the sins of youth. Then again, when that someone is Tara Conner of Russell Springs, Kentucky maybe it is a bit odd…
It was little more than a month ago that Tara, the reigning Miss USA, was barely holding onto her sash. It turns out those scandalous reports of wild nights and underage drinking we read in New York tabloids were true.
Lauer: Here's the biggest thing from Russell Springs standing on the world stage, having to admit to the world and of course those people back home that "I may have screwed this up."Conner: mm hmm (affirms).Lauer: It was hard to say?Conner: It was hard to say, I mean I was humiliated—of course I was.
As everyone now knows, her tearful mea culpa, promise to sin no more, and divine intervention from Donald Trump helped Tara Conner keep her crown.
Lauer: I'm not really sure when the last time was that an interviewer could sit across from Miss USA and begin by saying, "How was rehab? How are you doing right now?"Conner: Right now, I'm doing very well, very well. You know, rehab did a big number for me. It completely changed my life.
But first we need to understand a bit more about that earlier life.  It seems the roots of her recent troubles run deep—all the way to her old Kentucky home: a three-stoplight, god-fearing, drytown. 
Earlier this week on TODAY, she revealed a secret about her childhood.
Lauer (on Today): Has there been abuse of some kind in your background? Conner: I will not deny that I've witnessed some abuse but out of the respect of my family and I've not discussed with them yet.Lauer: But physical abuse or sexual abuse— or can you clarify that?Conner: Again, it's something I would like to speak to my family about first and I would like the respect of privacy cause I'm giving all that I can right now.Lauer: Can you tell me if it's recent or is something from early in childhood?Conner: Let's just say it was earlier on.Lauer: Have you had a chance to confront the people responsible?Conner: Yes.
With a revelation like that, few people will be surprised that insecurity and depression plagued her. She started drinking at 14 and quickly learned the art of manipulation.
Conner: Iwore a face like a different mask every single day. And I was still very manipulative just to protect myself.Lauer: Give me an example of how you manipulate people?Conner: If I did something wrong, like let's say I spilled fingernail polish on somebody's dress, I would say 'There's no way that's my polish color. It's a different color.'Lauer: It was always someone else's fault.Conner: I would point my finger at others.
Whatever her behavior, she succeeded in beauty competitions. In 2005, she coasted to victory as Miss Kentucky. That prize catapulted her into the big leagues: The Miss USA pageant.  At last year's competition, she seemed to be the quintessence of clean living and school girl innocence. She wowed the judges and fooled everyone.
By her own admission, the first eight months of her reign went something like this: By day, she was Miss USA, all Southern smiles at charity events. By night, she was Miss Behaving Badly.
Lauer: So is this a case where you go out to dinner with the Miss USA people, they'd take you home, you'd shut the door of the apartment, say 'Good night everybody,' put your ear to the doorway till they were gone...Conner: I've done that once or twice.Lauer: And then sneak out and go to clubs?Conner: Well, you know, or late night dinners...Lauer: Was there a conscious thought on your part that 'Look, I'm Miss USA, and if this gets out, I'm gonna be out on my butt'?Conner: As crazy as it sounds, it was kind of like a game. A little exciting
Until that day in December, when the hijinks became headlines.  Her bosses were ready to dump their queen in the most unceremonious fashion.
Donald Trump is the toughest CEO in town. He's the star of "The Apprentice" who co-owns the Miss Universe/Miss USA pageants with NBC Universal.  But it seems that she caught the boss in a good mood...
At the press conference, Trump gave her another chance and hoped she would be the "next comeback kid." Trump said he was convinced Tara was simply blinded by the big city lights—a stint in rehab and she'd be good as new.  Even as her grateful tears flowed, it seems Tara was still wearing that mask, perhaps fooling only herself. At the same press conference, Conner said that saying she was alcoholic "would be pushing the envelope a bit."
Now, after four weeks in rehab, Tara says she's ready to come clean.  She now says she is an alcoholic.  Which begs the question, was she drinking the night she was crowned Miss USA?
Conner: Absolutely not, no.Lauer: Did you drink during pageants?Conner: You're chaperoned during pageants. You don't want to do things in front of other girls because don't want people to be like, "Hmmm you know..."Lauer: Cause they will talk?Conner: I was not drinking.
But in between those pageants, she more than made up for lost time.
Lauer: You said to me now this is really the first time you've admitted 'I did cocaine.'Conner: I have done cocaine, yeah.Lauer: How does it feel to say it?Conner: It gets it off my chest. And to be honest with you, at first, I kind of held back on it a little bit, but there's no sense in it because it frees me from it.
Tara says that by offering to send her to rehab, Donald Trump saved her in more ways than one.
Conner (at press conference): It truly takes someone with a wonderful heart ... a heart of gold...
But not everyone saw it that way.
Rosie O'Donnell (on TV): He's the moral authority—left the first wife, had an affair; left the second wife, had an affair; had kids both times but he's the moral compass for 20-year-olds in America.
Suddenly a war was on.
Trump (on TODAY): Rosie is a loser; she's been a loser for a long time; her magazine failed; she got sued... she folded up like a tent...Lauer: Would you like to stand here and support Donald on this one? I mean you know he took it on the chin from her. She said basically all publicity...Conner: Mr. Trump's a big boy. I think he can take care of himself.
So we invited him to do just that.  We wondered, did he really spare Tara because of that heart of gold or was there something else?
Lauer: You're a very smart guy. And you understand promotion and publicity very well.  Did a light bulb go on in your head where you said "you know what? A resurrected Miss USA is a lot better for this pageant than a dethroned Miss USA"?Trump: Well, I thought the bigger story would be dethroning actually.Lauer: Really?
Trump: Little did I know that the second chance was gonna play so well. But I didn't do it well in terms of playing well for the story. I did it because I really thought she deserved a second chance.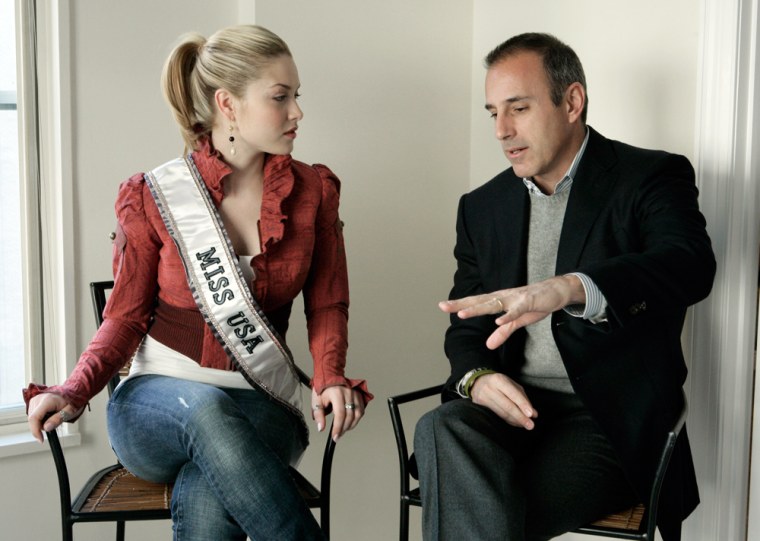 But some found that a little hard to believe—especially when it was reported that Trump and Tara were mulling over an offer from Playboy to have her pose for its pages. They say they turned the magazine down. 
Lauer: Will you just look me in the eye and say "You will not pose nude in Playboy"?Conner: I will not pose nude in Playboy.Lauer: Positive?Conner: Positive.
As for those who still say she doesn't deserve that second chance, Tara says maybe it's time for a new kind of role model, a beauty who doesn't hide all her warts.
Conner: I remember growing up, I would look at beauty queens and I would see a symbol of perfection and a symbol of purity and then I would see myself and I would think, "I could never do that. I could never be that girl."Lauer: So as an imperfect beauty queen, you could perhaps be a better role model?Conner: As an imperfect... exactly.
With only two months to go before her reign ends, Tara Conner has little time left to be that role model, spreading the message of rehab and rebirth as Miss USA.  But who knows?  With a little luck, and the right publicist... she might still prove to be a queen for the ages.