/ Source: The Associated Press
Tornado survivors and their supporters turned out for a Sunday service at a church that was demolished in the killer storms that ripped through central Florida, remembering the victims while trying to stay optimistic about the long recovery ahead.
This rural area still echoed with the sounds of hammers, chain saws and dump trucks, but gospel signing and shouts of "Hallelujah!" dominated among the more than 100 people who gathered around the rubble of the Lady Lake Church of God on the sunny morning.
"We grieve with you and there will be days that life will wear you down," the Rev. Larry Lynn told the crowd from a makeshift wooden platform where a broken cross was propped up next to an American flag. "But life does go on and we're here to help you pull it together. Don't let bitterness set in."
The church's splintered wreckage has become a rallying point in this rural area hit hard by the three tornadoes that killed 20 people and destroyed hundreds of homes early Friday.
Elden Jefferson, 35, and his wife came to the service even though their concrete block home had roof and wall damage that needed their attention.
"We felt this is where we needed to be today for ourselves, for other people, for this church," Jefferson said.
A gospel choir sang and clapped on the makeshift stage.
"It's sad because, you know, you think 'Next Sunday, I'm going to go to church, but it's not there any more.' But the building can be replaced. We still have the family of people," said Joy Newton, 53, whose home in The Villages retirement community nearby escaped damage.
Governor attends service
Gov. Charlie Crist, handling his first natural disaster since taking office last month, also attended Sunday's service, having canceled plans to attend the Super Bowl on Sunday night in Miami.
Crist later told reporters that the Federal Emergency Management Agency had kept its promise to help quickly, unlike its tardy response as New Orleans slid into chaos after Hurricane Katrina.
"There's no question about it. This isn't Louisiana. This is Florida. They really come in here and come in here strong," Crist said.
President Bush has designated Lake, Sumter, Seminole and Volusia counties as disaster areas eligible for millions of dollars in aid and loans. Early estimates showed at least $68 million in property losses and about 1,300 homes and buildings damaged or destroyed in Lake, Sumter and Volusia counties.
FEMA and state emergency managers opened a disaster recovery center Sunday near Lady Lake to hand out aid. Lake County spokesman Chris Patton said it would probably take weeks before temporary trailer homes could be set up.
A spokesman for the state's Department of Emergency Management, Mike Stone, said it was too early to talk about requests for trailer homes. He said such requests could come after officials determine temporary and long-term housing needs.
However, all shelters were closed because people found accommodations with friends and relatives. Some 1,600 customers were still without power Sunday.
About 50 National Guard troops, residents and volunteers helped with the cleanup. The Salvation Army had mobile canteens to provide counseling and meals to residents and rescue workers. More than 50 low-risk uniformed jail inmates from neighboring Marion County were back to help remove debris.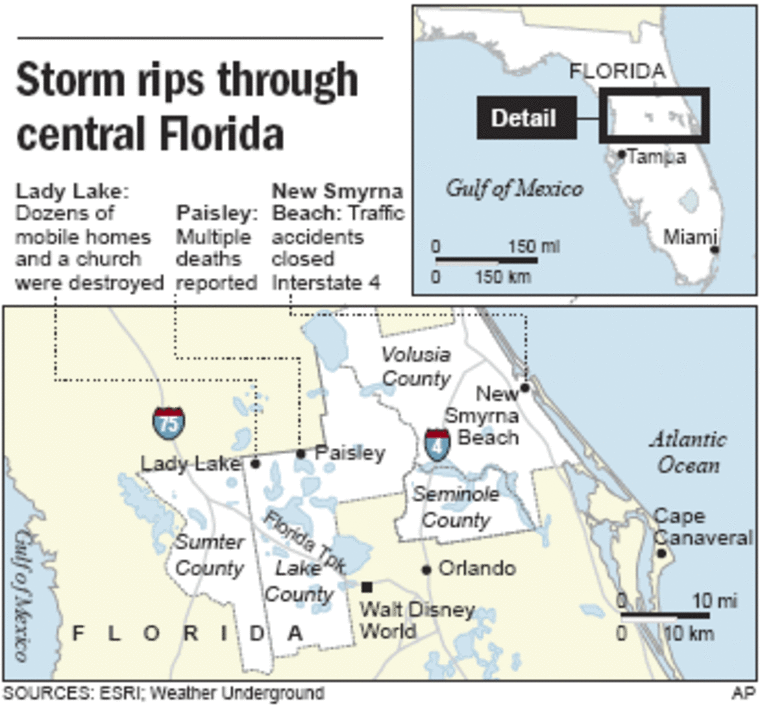 'I never felt a breeze'
Meteorologists said at least three tornadoes struck the area between 3 and 4 a.m. Friday, when few people were awake to hear broadcast tornado warnings. The two worst ones had wind estimated at 155 to 165 mph — about 30 mph stronger than Hurricane Katrina.
"The funny thing is I never felt a breeze," said Ellsworth Fischer, a 70-year-old retired telephone company worker. "God was protecting me, no ifs and or buts about it."
However, deep bruises covered his chest, face and head because the roof of his home in the Lake Mack area caved in on top of him. He was lying over his wife in the bathtub to protect her, and the weight of the roof crushed the sides of the steel tub.
"It feels like I've got a horse sitting on my chest," said Fischer, who has arthritis and high blood pressure and usually gets around on a scooter.