/ Source: The Associated Press
President Bush was hoping to win praise for sending Congress a more transparent budget that spells out in greater detail the costs of the Iraq war. But so far his $2.9 trillion spending plan is earning more brickbats than kudos, with critics charging that it is based on unrealistic assumptions and faulty priorities.
Democrats, who now control the levers of power in both the House and Senate for the first time in the Bush presidency, let it be known that they would give the president's team a hearing but planned to craft a spending plan closer to their liking.
The administration was to begin the sales job on its proposal Tuesday, with Treasury Secretary Henry Paulson and White House Budget Director Rob Portman appearing before House and Senate committees.
A balanced budget by 2012?
The $2.9 trillion Bush budget for the budget year that begins next Oct. 1 would provide a massive boost for the Defense Department, seek an additional $245 billion in spending on the wars in Iraq and Afghanistan for this year and 2008 and restrain spending across a wide swath of the rest of government.
The spending restraints allowed Bush to project gradually declining deficits, with the budget going into surplus in 2012, three years after he has left office. His spending plan would make his first-term tax cuts permanent, at a cost over the next decade that the administration estimates at $1.6 trillion.
"Congress needs to listen to a budget which says no tax increase and a budget, because of fiscal discipline, that can be balanced in five years," Bush said Monday in releasing his budget.
Democrats, however, charged that the president is able to produce a surplus only on paper by using overly optimistic assumptions about how much revenue the economy will generate over the next five years and by leaving out expensive items such as further war costs after 2009 or providing money beyond this year to fix the alternative minimum tax so that it doesn't hit millions of middle-income taxpayers.
"This budget is just disconnected from reality," said Senate Budget Committee Chairman Kent Conrad, D-N.D.
House Budget Committee Chairman John Spratt, D-S.C., said he doubted Bush's plan would garner much support from Democrats or Republicans, calling the surplus projection "a very improbable assumption to say the least."
2007 budget still not approved
The task facing the Democrats is no less daunting. When Republicans were in control last year, they failed to pass the appropriations bills needed to operate most government agencies, falling back on a stopgap spending measure that Congress is still grappling with four months into the current budget year.
Democrats are pledging to do better. Conrad said the Democratic alternative to the Bush budget would adopt a more fiscally responsible pay-as-you go approach that will require any new tax cuts or spending increases in government benefit programs to be paid for.
Democrats pledged to restore Bush's cuts in such programs as low-income heating subsidies, Head Start for preschool children and rural health care programs.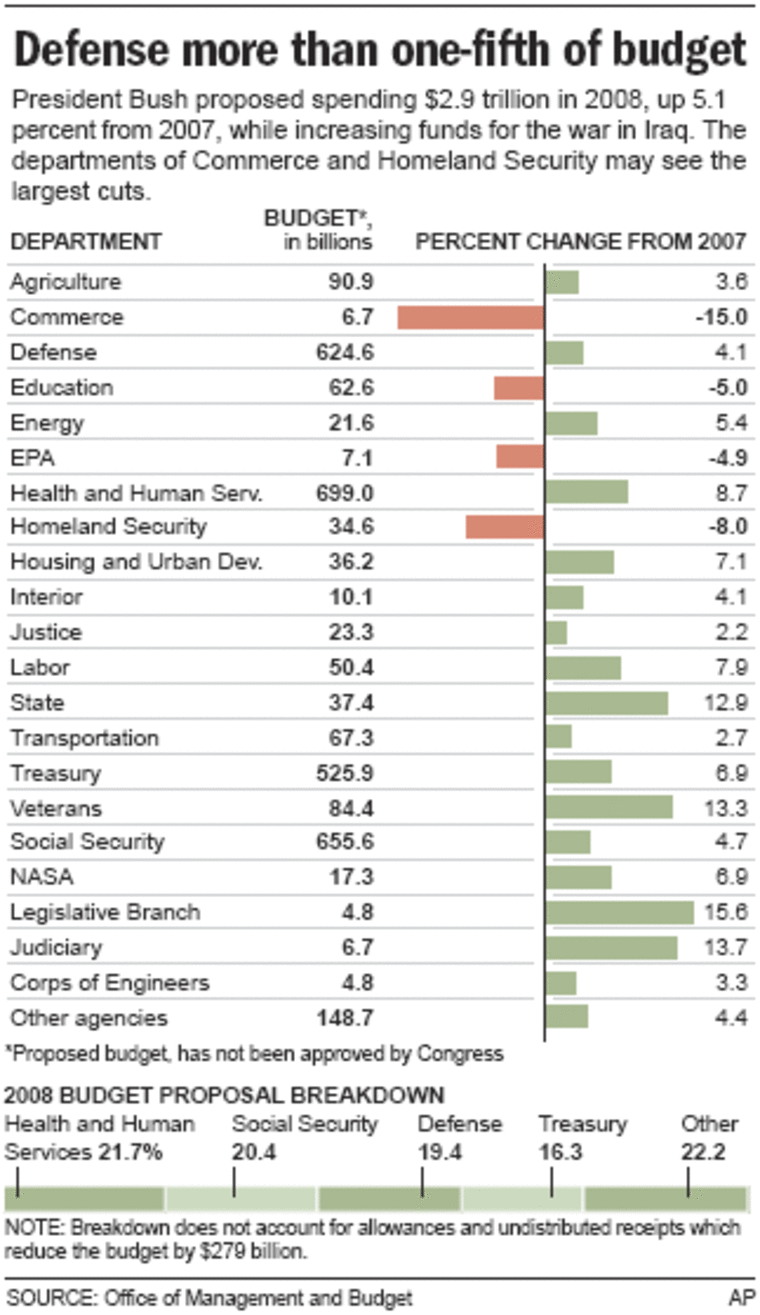 Bush also proposed eliminating or sharply reducing 141 federal programs at a savings of $12 billion. Congress has ignored many of the same recommendations in previous Bush budgets.
Bush proposed a few high-profile spending boosts, such as an increase in the maximum Pell grant for low-income students, from the current $4,050 to $4,600. The $15 billion cost over five years would largely be borne by cutting subsidies to lenders issuing student loans.
The president's budget also included the initiative he featured in his State of the Union address to expand health care coverage for the uninsured through a complex approach that would make employee-provided health insurance taxable but give every family a $15,000 tax deduction in an effort to encourage those who don't get health insurance through their employees to purchase policies.
Democrats strongly oppose the idea, saying it would encourage businesses to drop their coverage.
The Bush proposal also contains $78 billion in cuts over five years in the government's big health care programs, Medicare for the elderly and disabled and Medicaid for the poor.
The administration would impose about $10 billion over five years in higher premiums on wealthier Medicare recipients and trim payments to hospitals and other health care providers. Congress rejected a less ambitious package of spending reductions last year.