/ Source: Caribbean Travel and Life
I'm standing in the hardwood lookout pavilion on Jack Boy Hill, in the midst of terraced gardens and a herd of wandering goats, admiring the view of the Soufriere Hills Volcano. Trying to, anyway. On this particular afternoon, cheesecloth clouds drape the crater's lava dome in gauzy white.
"She's feeling shy today. She's hiding," says tour guide Jadine Glitzenhirn. "Come on, girl, lift your skirt a little."
My guide's cheeky commentary typifies the contagious and good-humored optimism of the 4,500 hardy souls still living on Montserrat. The volcano that many outsiders believe wiped out the tiny Leeward island has in fact given rise to a new sense of self: A burgeoning eco-adventure industry has risen from the ashes, with the very culprit of all the adversity turning out to be a star attraction, the live volcano only adding to the island's lost-world allure.
As we linger to view the petrified remains of a pyroclastic flow that stretches from the volcano down into the sea like a vast gray glacier, the clouds slide westward and Madame Soufriere favors us with a smoldering look. The steep sides of the dome shimmer with escaping heat, and the rounded top wears a crown of spines formed from tiny eruptions of lava over a steam vent. "That's the most I've seen of her in weeks," says Glitzenhirn. "See, we're always willing to please here."
By the mid-80s, Montserrat had attained a paradoxical reputation both as a popular roost for rock royalty – with frequent sightings of Eric Clapton, the Stones, Sting and Elton John, all of whom came to record at Sir George Martin's Air Studios – and as a secret getaway. Its dramatic peaks and valleys were free of expansive resorts and casinos. In their stead: small hotels, guesthouses, villas and 11,000 disarmingly friendly descendants of 17th-century Irish settlers and African slaves. Times were good on "The Emerald Island of the Caribbean."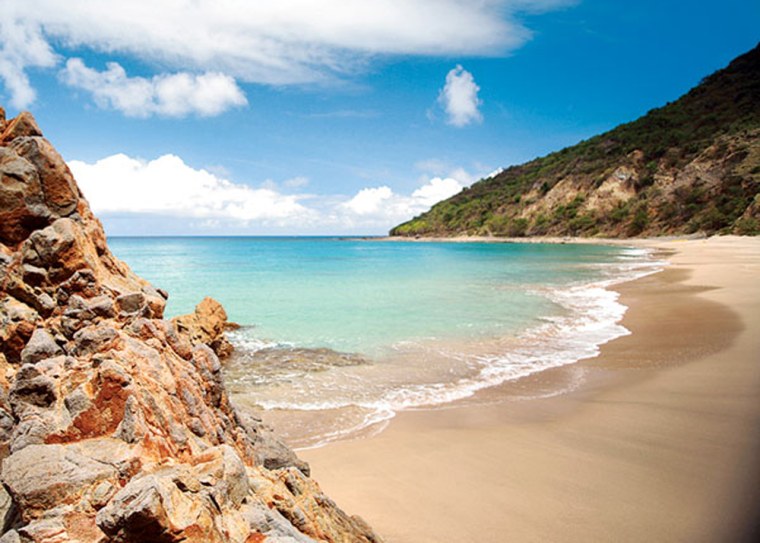 But everything changes starting in 1989, when Hurricane Hugo steamrolled the island. Six years later, the most fruitful and historic part of Montserrat disappeared under a massive cloud of volcanic debris. The initial eruption of the Soufriere Hills Volcano in July 1995 began a period of regular activity that rendered the island's south end unlivable. A climactic explosion two years later killed 19. More than half of the residents fled, many to England, which maintains Montserrat as an overseas territory.
These days, the volcano still belches ash across the southern Exclusion Zone every few years when the percolating gases feel the need to vent. Incandescent rocks the size of pickup trucks sometimes trumble down its deserted eastern face; along with the glowing lava dome, they can be seen at night from Jack Boy Hill. Scientists at the Montserrat Volcano Observatory predict these episodes will decrease in frequency until Madame Soufriere ultimately dies in her sleep a few years from now. But the legacy of the volcano will cast a long shadow.
Spunky Montserratians like Carol Osborne, a U.S. citizen who has lived on the island for 34 years, are quick to point out fringe benefits of the tectonics. Locals claim volcanic deposits have enriched the already fertile soil, improving their fruit and vegetable crops, and divers say that slightly warmer water temperatures along the coast have attracted more varied marine life. Then there's the increasing number of "volcano tourists."
"Visitors here used to be in their 60s and 70s. They'd play golf in the morning, then sit around the pool the rest of the day," says Osborne, who owns the '60s-era Vue Pointe Hotel in Old Towne, a mellow residential village midway up the leeward coast. "Now it's people in their 30s and 40s who want adventure and activities." Pastimes such as hiking, mountain biking, sport fishing, diving and bird-watching are more vital now than they were before the deluge.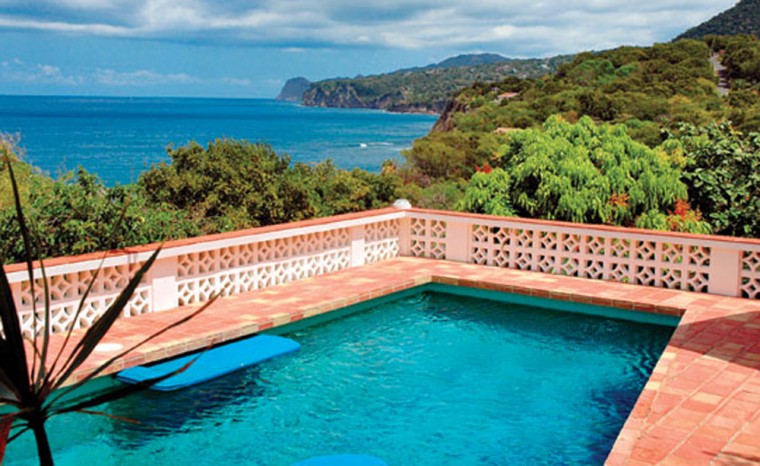 General tourism, however, is a long way from what it once was. Montserrat used to receive 30,000 visitors a year by air and sea; now only 1,300 drop in annually. The ferry from Antigua has been cancelled indefinitely, and the only planes landing at Gerald's Airport are Twin Otters carrying 20 passengers each, four times a day from Antigua and St. Maarten. And Air Studios is long gone, having closed in 1989 after damage by Hurricane Hugo.
Yet Montserratians are determined to rise above. Tourism officials say they will work in the years ahead to expand access to the island, improve the infrastructure and increase the number of hotel rooms – right now there are only two conventional hotels, offering less than 50 rooms total. But rather than trying to encourage mass tourism, the plan is to appeal mainly to independent travelers and those taking short side trips from other islands. "We don't want to be overrun, which will help keep Montserrat a naturally spectacular destination," says Dr. Lowell Lewis, chief minister of Montserrat.
Diver's Haven, a majestic Moorish villa crowning the rise above Vue Pointe, could be the best deal on the island for those who plan to spend their days blowing bubbles. A maximum of 12 guests mingle in the open-air interior, kick back by the pool and share undersea stories at the honor bar (daily two-tank dives are included in the room rate). Run by South African expat Bryan Cunningham, who also owns and operates Seawolf Diving School, Diver's Haven offers cool, casual ambience and magnificent views of the volcano.
The dives sites of Montserrat, while not endowed with the jaw-dropping walls or massive reefs of some other Caribbean destinations, are virtually free of the destructive results of shoreline development. Most excursions head to the west coast, in the lee of the island, where volcanic rocks form the base of patch reefs covered by soft sponges and corals. I take my first Montserrat plunge with Troy Deppermann of the Green Monkey Dive Shop in Little Bay. Also along are Roy and Lottie McDonald, the British owners of the bluff-top guesthouse Travellers Palm in Olveston, and Sam Dawes, an affable Brit I'd met the night before while prowling the island's rum shacks. Sam, 21, and his family – mum, dad and younger brother – have been coming to Montserrat for 18 years, staying for a week of serenity before flying over to comparatively buzzy Antigua for a few days. It sounds like a smart, fairly hassle-free way to experience two distinct sides of the Caribbean in one trip.
As out boat motors away from shore, I look back at the simple beach settlement of Little Bay, which is expected to become the island's new town center. A $2 million cultural complex nears completion, and a deepwater marina will be able to host 18 charter yachts when it is completed sometime in the next five years. Festival Park, home of carnivalesque St. Patrick's Week celebrations, will be relocated nearby, and proposals for a boutique hotel, private housing and condos, a sports facility, and market and commercial space are all being considered.
We drop the hook in Rendezvous Bay off one of Montserrat's rare white-sand beaches (most have fine, black volcanic grains). Down below, we see a spotted moray partially hidden in a cave formed by a pile of rocks. Sea fans and brain coral create a fairy-tale forest dotted with large barrel sponges, which are typically found in deeper water. A green turtle circles us as if in a holding pattern. On the way back to Little Bay, Troy points out one of the island's most unique dive sites, a series of partially submerged caves where he says it's possible to dive beneath thousands of fruit bats.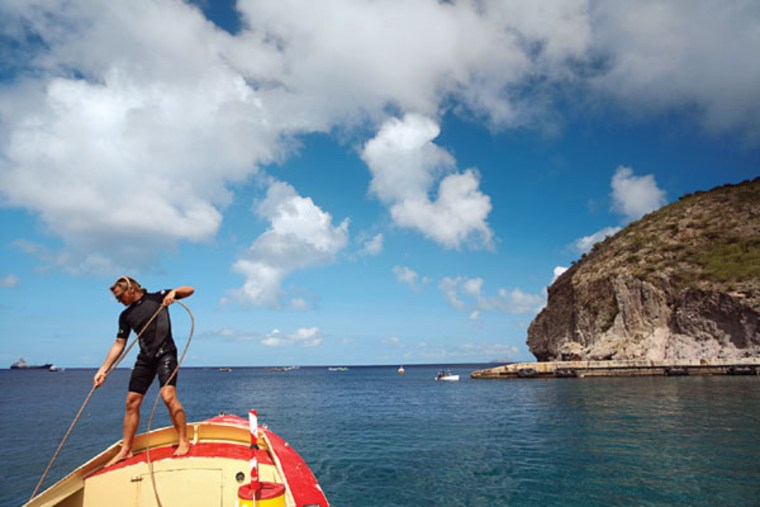 Back on dry land, I meet up with James "Scriber" Daley, who all but guarantees he can put me on a black and orange Montserrat oriole, native only to the island. A naturalist with the Forestry Division, Scriber has been tending trails and leading expeditions into the lush Centre Hills for nearly 20 years. "Sometimes, I just walk the trails for days," he says as we begin our two-hour hike on Oriole Walkway. To accommodate the growing emphasis on eco-activities, new trails are being cut and others upgraded in this part of the island. Others may be added further north, in the Silver Hills.
Though the no-go zone currently covers half of the teardrop-shaped island, the rest of Montserrat is not only safe; its jagged splendor and thick vegetation would make Kauai take a self-conscious look in the mirror. As we ascend through tropical highlands, we stop to catch our breath beside a rusty tin-roofed shack set in a field of waist-high ground cover. "You can see how some people lived after the eruption," Scriber says. "There wasn't enough housing in the north, so they did what they could to survive." Scriber lost his own home in St. Patrick to the pyroclastic flows and now lives in a quaint cul-de-sac nestled in the forest.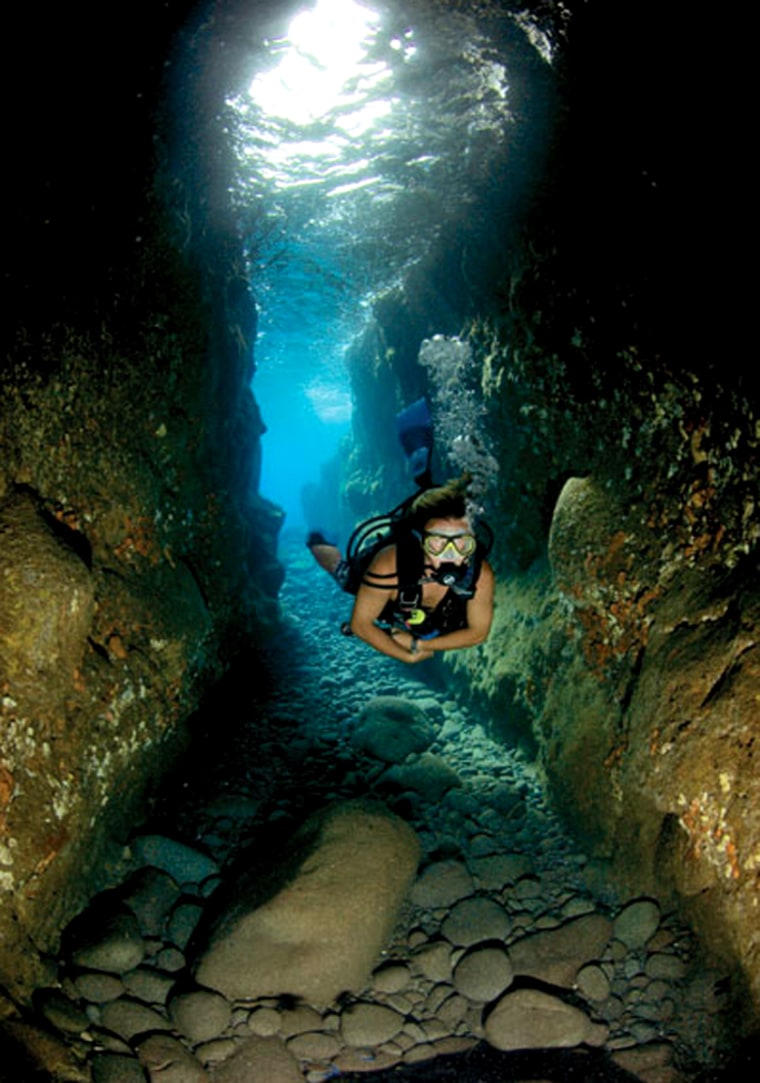 At the summit, a stunning panorama of green ridges, black cliffs and blue seas spreads out before us. Peeking out from the hills all around are the villas and guesthouses that make up the majority of Montserrat's accommodations. Varied in size and design, they're mostly spacious and secluded, and many have swimming pools. Visitors book them through rental companies such as Tradewinds Real Estate, which manages 40 of the properties, many of them close to the coast and open to sunset views. Princess Anne stayed at one, called Mango Falls for the petite cascade that edges its garden, during her visit to the island last year.
Scriber delivers on his promise on the way back down to civilization, charming both a male and female oriole with his warbling whistle calls. We encounter a number of the island's 32 other species – Carib grackle, bananaquit and red-tailed tropicbird – but don't spot any "mountain chickens," enormous frogs rumored to be a local delicacy.
On my final night, I dine at Ziggy's, Montserrat's top restaurant in more ways than one. High in the hills of Woodlands, its white tenting and candlelight create an intimate, secret-garden feel. It's the kind of place you bump into Governor Deborah Barnes Jones and her family – who are entertaining Bryan Cunningham – or honeymooners like Darrell and Edy Cummings, who live in Virginia and were married a few days earlier at the foot of Mango Falls along Woodlands Beach.
After several days of chicken roti, baked fish and "goat water" (a thick soup filled with chunks of goat meat that is thought to have its origins in Irish stew) the beef tenderloin prepared by owner John Punter sounds decadent and tastes exquisite, as does the locally famous "sludge" (molten chocolate cake). As the evening evolves, it's more dinner party than restaurant, everyone chatting with everyone.
It turns out that Darrell and Edy discovered Montserrat in 2005 while doing some research for a geology class. They decided to visit on a whim after finding out it was very affordable compared to better-known islands. Now one year later, they have returned with 10 friends and the hopeful promise of beginning a new life together.
"It's funny that some people view Montserrat as a volcanic wasteland," says Darrel. "We never did. Even though the area around Soufriere Hills looks gray from the ash and pyroclastic flows, it's really quite beautiful. It's new earth. And someday the volcanic part of the island will look as green and lush as the rest."
But it was the determined spirit of the place that spoke most loudly to the Cummings. "The driving force that brought us here to be married," says Darrell, "was the commitment of the people who choose to continue their lives here."
is the magazine for anyone in search of the perfect tropical getaway. Each issue presents expert insider's advice on where to find the Caribbean's best beaches and attractions, its finest resorts and spas, liveliest beach bars and activities, and its friendliest people.