/ Source: Destination Weddings & Honeymoons
You're going where?! Be among the first to make tracks to these undiscovered yet unyieldingly romantic destinations.
When it comes to travel, some couples prefer to blaze their own trail. We've got the scoop on six up-and-coming destinations that most people can't point out on a map – and all of them are ideal for postwedding bliss.
Croatia: The Other Mediterranean
The Inside Scoop: Created when Yugoslavia broke into six different countries in the early 1990s, Croatia may not seem the most obvious choice for a Mediterranean honeymoon, but the Balkan republic is one of the hottest vacation spots in Europe. Wedged between the Adriatic and the Alps, the country can easily be combined with a romantic Euro trip that includes Venice and Vienna.
Claim to Fame: Croatia is famous for two things: basketball and beaches. This sliver of a country had produced more NBA players per capita than any other nation, and its prime spot along the deeply indented Adriatic gives it a longer Mediterranean shoreline than France and more offshore islands than either Italy or Spain. Much of the coast remains refreshingly undeveloped, making the country an affordable and almost totally unspoiled alternative to the Greek isles or the French Riviera.
Why it's Hot: This is the Mediterranean you've always dreamed about: ancient stone houses framed by vineyards and olive trees, unpretentious waterfront cafes where tourists can mingle with local fishermen and seawater so clear you hardly need a mask and snorkel. Local life continues as it has for hundreds of years in offshore havens like Hvar and Vis, connected to one another and the mainland by frequent ferries. The Dalmatian Isles are ideal for sailing, diving or just plain relaxing. And all of them have unique stories: Stone quarried on Brac Island was used to construct the original White House in Washington D.C.; Marco Polo was born on Korcula Island; and on Mljet, the mythical nymph Calypso kept the Greek warrior Ulysses as her love slave for seven years.
What Makes it Unique: Croatia may be a new member of the United Nations, but most of the country is as old as the hills. The ancient walled city of Dubrovnik – a warren of red-tiled roofs and cobblestone piazzas set against a backdrop of sapphire sea – is considered the most perfectly preserved medieval town in Europe. This incredible 13th-century burg is like a waterfront version of Florence, with elbow room. The nation also has outstanding natural attractions, such as the jade-colored Plitvice Lakes, protected within the confines of a national park that offers dozens of waterfalls, towering limestone cliffs, several wild rivers and one of Europe's last old-growth forests.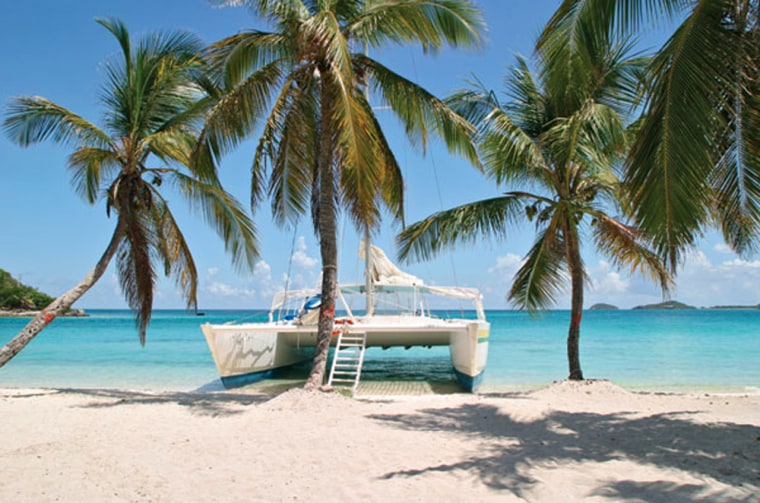 Try this: Charter a sailboat for a week or two and flit around the Dalmatian islands on your own. The Moorings recently established a new yachting base in Dubrovnik, with bareboat charters available for roundtrips through the archipelago or one-way voyages between Dubrovnik and Trogir.
Where to Stay: Other than the Hilton Imperial Dubrovnik you won't find a lot of big-chain hotels along the Croatian coast. Most overnight abodes are locally owned, and many charge less than $100 per night for a double room. One of the best-loved hotels is the Peristil, literally built into Roman ruins in the medieval heart of Split.
Tuamotus: The Undiscovered Tahiti
The Inside Scoop: If there was ever a perfect place for the next Cast Away film it's the Tuamotus, a chain of 78 unspoiled atolls about an hour's flight north of Tahiti. The archipelago sprawls more than a thousand miles from east to west, a maze of coral reefs and sandy lagoons that early European explorers dubbed the Dangerous Islands because navigation was so difficult. Rangiroa is the main island, a port of call on many a French Polynesian cruise. But if you are looking for something even more off the beaten path, head out to the less-visited islands of Manihi, Tikehau and Fakarava.
Claim to Fame: Ironically, the Tuamotus are great because they aren't famous yet, unlike sister islands Bora Bora, Moorea and Tahiti. Our advice: Get there before the rest of the world discovers them, because it's only a matter of time. There isn't a better place to be stranded in the entire South Pacific than these remote and wildly handsome islands where you often feel like you're the only two people on the planet.
Why it's Hot: The locals. Tourism may dominate life in other parts of French Polynesia, but the people here go about their daily business with little regard for the ebb and flow of visitors. Old men snooze beneath coconut palms while their grandkids play in the shade of a sacred tou tree in the village square. Women scale fish or pound taro root on the front porches of their brightly painted homes. The aroma of French bread drifts from waterfront bakeries. All around these islands, you run into folks who are shy and unassuming but ever so eager to help if you need it. They don't know the meaning of the word "jaded."
What Makes it Unique: The water. There isn't another place on Earth with so many different shades of blue and green. Beneath the surface lurks an astounding variety of marine life. Researchers from the Cousteau Society discovered that the Tikehau lagoon harbors more fish species than any other place in French Polynesia. Manihi's lagoon serves as a major breeding ground for manta rays. Rangiroa is renowned for drift snorkeling, riding the outgoing tide in narrow channels that connect the lagoon to the open ocean. And if that's not thrilling enough, try diving the Manihi drop-off, a 4,500-foot plunge into liquid oblivion.
Try This: The Manihi lagoon is home to more than 60 oyster farms that produce the famous Polynesian black pearl. Most of these little round balls are not technically black, but rather a whole spectrum of deep shades including peacock blue, fly-wing green and eggplant purple. Some of the farms create their own jewelry, and all sell raw pearls that you can take back home to your own jeweler for setting or stringing. The Manihi Pearl Beach Resort also has a great jewelry boutique.
Where to Stay: The overwater bungalows at Tikehau Pearl Beach Resort hover above a coral reef that you can study through glass-top tables or explore by leaping off your private dock with mask and snorkel. Its sister property on Manihi feels like a family-run resort, a place where you're quickly on a first-name basis with the staff and fellow guests.
The Maldives: Indian Ocean Exotica
The Inside Scoop: "Long haul" doesn't even begin to describe the air journey from North America to the Republic of Maldives (pronounced MALL-deeves), which lies in the middle of the Indian Ocean between Sri Lanka and Madagascar. But once you're there, the 26 major islands of this exotic archipelago are tailor-made for tropical bliss. Speedboats and seaplanes (with barefoot pilots) make domestic travel a breeze.
Claim to Fame: Most Americans have probably never heard of the Maldives, but for a growing number of Europeans and Australians, the islands are an irresistible indulgence. First and foremost they are a dive destination, ranked as one of the world's top 10 scuba spots. But they have also become a refuge for the rich and famous seeking a patch of sand without paparazzi; recent visitors include Val Kilmer, Pamela Anderson and Simon LeBon.
Why it's Hot: Wildlife and waves. Lots of islands flaunt colorful tropical fish. But the Maldives are also a gathering place for the big guys that lurk beneath the water – giant grouper, manta rays, whale sharks, turtles, tuna and dolphins. Scuba divers search their whole lives for these kind of waters, and surfers have discovered the huge breakers that roll in all the way across the Indian Ocean from the Antarctic. If you didn't bring your own stick, there's a gnarly little surf shop in Male, the nation's capital.
What Makes it Unique: The exotic ambience. Imagine India meets the South Pacific, curry and coconut palms, silk saris and secluded beaches. Many of the resorts are nothing short of gorgeous, with overwater bungalows that rival those in Tahiti and thatched-roof villas arrayed along glimmering white sand. The food is awesome, especially if you like tropical fruit, fresh off-the-boat ahi tuna or anything that goes with sambol and chutney. Maldivian spas, where you can enjoy Ayurvedic yoga, Balinese bodywork and European-style facials in a single morning, are gaining quite a reputation around the world.
Try This: Maldivian sand massage offers a whole different take on tropical bliss. As you lie on your stomach at the edge of the surf, a skilled masseuse scrubs your skin and kneads your muscles with sand and seawater, an experience so relaxing it's impossible to keep from nodding off. Follow this up with a cooling shower and a quick coconut-oil massage and you'll feel like a new person.
Where to Stay: The luxurious Soneva Fushi resort offers spacious two-story beach villas, some of them equipped with romantic treehouse rooms that you can exit by streaking down a slide into your own private pool. The brand-new Four Seasons at Landaa Giraavaru, scheduled to open this fall, will feature sumptuous land and water villas with outdoor showers and private pools.
The Grenadines: The Secret Caribbean
The Inside Scoop: This string of 31 paradise islands that float between Grenada and St. Vincent have long been typecast as the jet-set capital of the Caribbean, the tropical stomping grounds of Mick Jagger, Janet Jackson, Michael Caine and other superstars. Showcased in the Pirates of the Caribbean flicks, this sun-splashed archipelago is also considered the best place in the West Indies for sailing (but fortunately not nearly as dangerous as when Jack Sparrow plied these waters.)
Claim to Fame: There aren't many places left in the Caribbean where you can find yourself alone on a gorgeous white-sand beach, where you're the only one floating in the teal-colored pool at the bottom of a waterfall, where the person waiting on your table is the former prime minister (more on that later). Not that the Grenadines are in any hurry to change, but a place this special can't stay undiscovered for long.
Why it's Hot: Extraordinary quiet – almost to the point that you crave a bit more action. Islanders who rank as the most hospitable you will come across anywhere in the Caribbean. And pretty good value for the money. That's not to say the Grenadines are cheap – you don't even want to set foot on Mustique is you have to ask the price. But there are other islands, like Bequia and Union, that won't bust your budget.
What Makes it Unique: Port Elizabeth on Bequia is a popular stopover for the yachting crowd that migrates through the Caribbean each winter. Several hundred boats at a time may anchor in the town's narrow harbor during high season, creating a party scene that spills over onto the town beach, where bars and restaurants cater to both the boat people and shore-bound visitors. In a waterfront eatery called Frangipani, you might find none other than Sir James Mitchell waiting on you – he's the father of the young woman who runs the joint and the former prime minister of the archipelago. That's one of the things so endearing about the Grenadines: a complete lack of the airs and graces that you may find on some other paradise islands. A place where even the onetime head of state isn't too cool to fetch you a beer.
Try This: Although the Grenadines are aptly famous for sailing, the islands are also ripe for speedboat adventure. Cruise down to the Tobago Cays and act out your desert-isle fantasies on any one of five tiny uninhabited islands. Scuba and snorkeling is divine, or simply cuddle up beneath a coconut palm on your own white-sand strand. At the opposite end of the archipelago, powerboat up the western shore of St. Vincent to black-sand beaches, secluded jungle waterfalls and various bays used in the filming of Pirates of the Caribbean.
Where to Stay: The sprawling Raffles Resort on Canouan Island flaunts a luxury spa, golf course, Trump casino, four gourmet restaurants and two white-sand beaches. At the other end of the sleep spectrum are charming B&Bs like the hillside Sugarapple Inn on Bequia.
Panama: Latin Hot Spot
The Inside Scoop: This narrow isthmus wedged between Costa Rica and Colombia bridges North and South America both geographically and symbolically. Its eponymous canal changed international shipping routes when it was completed in 1914, but the country has other attractions as well: acres of tropical rainforest, two undeveloped coastlines and countless offshore islands, most of them uninhabited. Nature lovers know Panama as one of the best birding and fishing spots on the globe, and eco-adventurists come for jungle trekking, river rafting and scuba diving.
Claim to Fame: Five years ago, Costa Rica was the hottest destination in Central America. But as it began to reach its tourism peak, independent-minded travelers looked farther south. Panama has the tropical climate and natural beauty of Costa Rica, but it also has something else important: infrastructure. The highways are great, electricity is steady, the government is stable, and thanks to prolonged American presence during the canal days, many people speak English.
Why it's Hot: Panama City is in the midst of a vast revitalization, especially in Casco Viejo, where ornate Spanish-style buildings fronting quaint plazas are being renovated and turned into hip eateries and elegant nightclubs. Or head to the Amador Causeway, a series of islands that stretch out from downtown. Rent a pair of bikes and cruise along the promenade, then stop in at Café Barko for amazingly fresh ceviche and grilled fish. The causeway is also the site of the new Museum of Biodiversity, designed by noted architect Frank Gehry and scheduled to open in 2008.
What Makes it Unique: This S-shaped country boasts two coastlines on two different oceans. The rustic Caribbean coast is home to the native Kuna Indians, who still practice traditional lifestyles; it also boasts miles of pristine coral reefs for scuba diving and snorkeling. The Pacific side is a bit more developed, with larger resorts and lots of adventure sports like surfing, kiteboarding and windsurfing. Farther inland, hikers, birders and nature buffs love the mountain town of Boquete, which offers access to two national parks and Volcan Baru, Panama's highest point.
Try This: One of the wonders of the world when it was built, the Panama Canal serves a whopping 14,000 ships a year. Skip the daylong boat tour through the locks and head instead to the visitors' center and museum at the Miraflores lock, where you'll get a bird's-eye view of the operation.
Where to Stay: The Gamboa Rainforest Resort offers jungle adventures and boat tours on Lake Chagres, plus more traditional activities like golf and spa. For sun and surf, head to the new Intercontinental Playa Bonita Resort and Spa on the Pacific coast; it's only a half-hour drive from there into Panama City, so you can take in some lively nightlife along Calle Uruguay. For a more secluded feel, head to San Jose island, in the Pearl chain, and the beachfront cabanas of Hacienda del Mar. The crew of Survivor camped out here during the filming of the Panama season; if Jeff Probst is happy, we're surf you will be, too. – Susan Moynihan
is your ultimate resource for planning a destination wedding or honeymoon. Discover amazing places throughout the world to tie the knot as well as the perfect spot for your honeymoon. In every issue, you get coverage of real-life lovebirds and their nuptials, expert advice for planning your big day, and the hottest styles in wedding attire to take you from wedding to honeymoon.