/ Source: The Associated Press
Astronaut Lisa Nowak returned to Texas and headed to Johnson Space Center for a medical assessment Wednesday, a day after being charged with attempted murder in a Florida court.
NASA said Wednesday it would review its psychological screening process in light of Nowak's arrest.
Deputy NASA Administrator Shana Dale said the space agency would evaluate the process "to determine if any modifications are needed."
According to police, Nowak's obsession with fellow astronaut William Oefelein led her to drive 900 miles from Houston to Orlando, bringing with her a trenchcoat and wig, armed with a BB gun and pepper spray, and wearing a diaper to avoid bathroom breaks on the arduous drive.
Nowak, 43, a married mother of three who flew on a space shuttle in July, was accused of hatching an extraordinary plot to kidnap the woman she believed was her rival for for Oefelein's affection, Colleen Shipman.
Specifically, police said, Nowak confronted Shipman, who was in her car at the Orlando airport, and sprayed something at her, possibly pepper spray.
At first the astronaut was charged with attempted kidnapping and other counts. Then prosecutors upped the charge to attempted murder, basing it on the weapons and other items they said police had found with Nowak or in her car: pepper spray, a BB-gun, a new steel mallet, knife and rubber tubing.
Nowak was released from jail on $25,500 bail and ordered to wear a monitoring device.
Lisa Nowak became an astronaut after winning a series of Navy service awards, and she flew on Discovery in July, where she and crewmate Stephanie Wilson were known as "the Robochicks" because they operated the shuttle's robotic arm.
She also was a mother of three and said in a September interview with Ladies Home Journal that her husband, Richard, "works in Mission Control, so he's part of the whole space business, too. And supportive also."
But there were signs that not everything was right in her life.
In a NASA interview last year, before her mission aboard Discovery, she spoke about the strain her career placed on her family. She has twin 5-year-old girls and a teenage son.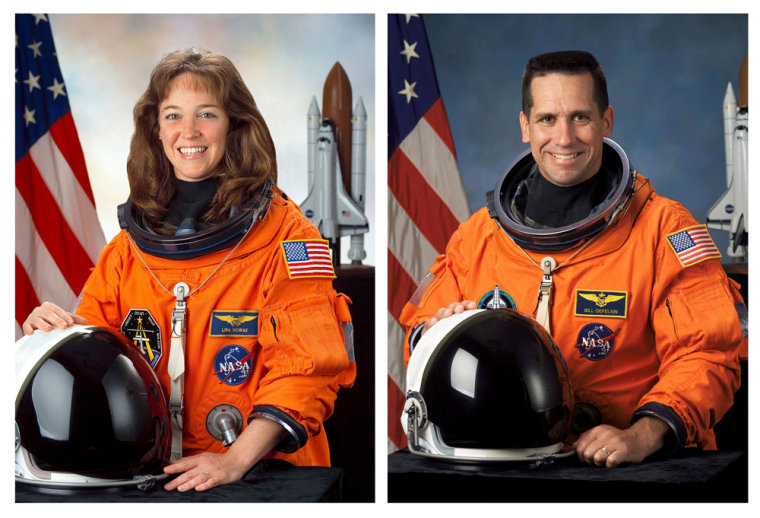 "It's a sacrifice for our own personal time and our families and the people around us," she said. "But I do think it's worth it because if you don't explore and take risks and go do all these things, then everything will stay the same."
In November, a neighbor reported hearing the sounds of dishes being thrown inside Nowak's Houston-area home, and the police came. And weeks ago, Nowak and her husband separated after 19 years.
The final unraveling came this week after police arrested her for allegedly trying to kidnap a woman she believed was her rival for the affections of astronaut William Oefelein.
"Perplexed is the word that I'm sticking with," said astronaut Chris Ferguson, who attended Nowak's bail hearing in Orlando with Lindsey.
Jon Clark, a former NASA flight surgeon who lost his wife, astronaut Laurel Clark, in the Columbia disaster in 2003, told CNN on Wednesday that Nowak supported his family then and he supports her now.
"She was a mother before she was an astronaut. I mean, she really was into family life, and what's happened in the last few days has just been totally a shock. She is a really wonderful, good, caring person," he said. "You have to find forgiveness and love in your heart to get her through this."
NASA needs to have a stronger psychological and behavioral health support system for shuttle astronauts, Clark said.
"They don't have to have any evaluation before or after a mission, and it is only when something catastrophic happens does this ever even come to light," he said.
NASA said Wednesday it would review its psychological screening process in light of an astronaut's arrest on charges she tried to murder a woman she believed was her romantic rival for a space shuttle pilot's affections.
Deputy NASA Administrator Shana Dale said the space agency would evaluate the process "to determine if any modifications are needed."

Police charged Nowak with attempting to murder Colleen Shipman based on weapons and other items found with Nowak or in her car: pepper spray, a BB-gun, a new steel mallet, knife and rubber tubing.
"We believe that the items that we found certainly would have caused Colleen Shipman serious bodily injury or death," Orlando Police Sgt. Barb Jones said. That was enough for probable cause, she said. The state, which has the burden of proving a case beyond a reasonable doubt, will decide on the formal charges to pursue.
Nowak's lawyer, Donald Lykkebak, took issue with the most serious charge against her, saying: "In the imaginations of the police officers, they extend these facts out into areas where the facts can't be supported."
Nowak posted $25,500 bail Tuesday evening. A tracking device was placed on her ankle as a condition of her release, and the judge ordered her to stay away from Shipman.
NASA also put her on a 30-day leave and removed her from mission activities.
In court Tuesday in Florida, Shipman filed a request for a protective order against Nowak, asking that Nowak be prohibited from going within 500 feet of her. In the handwritten request, she described Nowak as "acquaintance of boyfriend," but did not identify the man. She said Nowak had stalked her for two months.
Nowak and Oefelein, who both live in the Houston area, had trained together as astronauts, but never flew into space together. Shipman works at Patrick Air Force Base near Kennedy Space Center.
Earlier, Nowak was quoted by police as saying she and Oefelein had something "more than a working relationship but less than a romantic relationship."
Police found a letter in Nowak's car, however, that "indicated how much Mrs. Nowak loved Mr. Oefelein," an arrest affidavit said. And Nowak had copies of e-mails between Shipman and Oefelein.
Oefelein flew to Kennedy Space Center on Tuesday where he is "voluntarily cooperating with authorities," NASA spokeswoman Jessica Rye said Wednesday. She said the 41-year-old Navy commander, nicknamed "Billy-O" by his colleagues, wasn't granting interviews to reporters.
Shipman, a 30-year-old engineer assigned to the 45th Launch Support Squadron, could not be reached for comment.
Nowak's home was unlit Tuesday, and her husband could not be located.
"Personally, Lisa is an extremely caring and dedicated mother to her three children," a statement from Nowak's family said. "Considering both her personal and professional life, these alleged events are completely out of character and have come as a tremendous shock to our family."
Nowak, accustomed to wearing astronaut diapers during the space shuttle's launch and return to Earth, wore them on the drive from Houston so she would not have to make bathroom stops as she raced to confront Shipman at the Orlando International Airport, police said.
Then, according to police, Nowak donned a wig and trench coat, boarded an airport shuttle bus with Shipman and followed her to her car. Crying, Nowak sprayed a chemical into the car. Shipman drove to a parking lot booth for help.
A police affidavit made public Tuesday said Nowak had "stealthily followed the victim while in disguise and possessed multiple deadly weapons."
The affidavit said the circumstances of the case "create a well-founded fear" and gave investigators "probable cause to believe that Mrs. Nowak intended to murder Ms. Shipman."
Lykkebak said that Nowak only wanted to talk to Shipman. Asked about the weapons, he said, "You can sit and speculate all day."