A helicopter operated by a private security firm came down in Iraq last week, U.S. officials said on Thursday, an incident that marks the sixth downing of a helicopter in three weeks.
Reports of the January 31 incident, in which no one was killed, come a day after seven crew members and passengers aboard a U.S. Marine helicopter were killed when it crashed near Baghdad, possibly after being hit by ground fire.
The U.S. military, concerned that militants have changed tactics or are using more sophisticated weapons, has said it is adjusting its tactics.
One U.S. military official told Reuters he had heard reports that the private security helicopter came down under fire.
"It did not crash, it made a hard landing. They were able to get all crew and equipment out," the official said.
The New York Times, quoting American officials, reported the helicopter was shot down south of Baghdad after insurgents attacked it with heavy-caliber ground fire.
An American helicopter swooped in to rescue the passengers and crew, it said. It was unclear how many people were on board.
U.S. embassy spokesman Lou Fintor told reporters the January 31 incident was under investigation.
Wednesday crash under investigation
The cause of Wednesday's crash in Anbar province, heartland of the Sunni rebellion in Iraq, is under investigation.
Witnesses reported seeing the Sea Knight transport helicopter in trouble amid gunfire from the ground, although some media reports said mechanical failure might be to blame.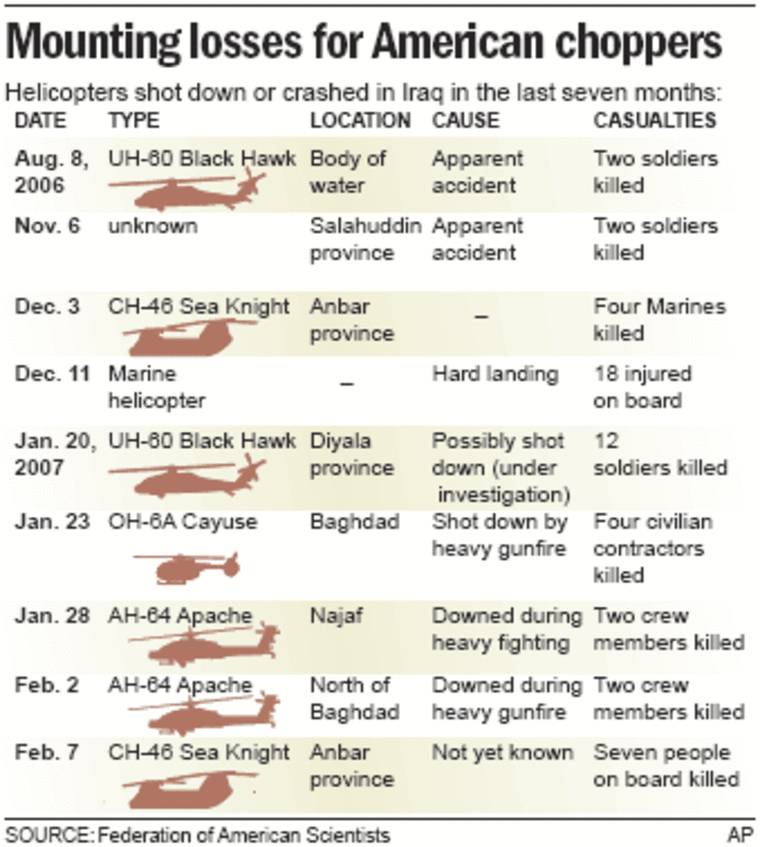 The U.S. military has confirmed that four of the six helicopters to come down in Iraq since January 20 were hit by ground fire.
In all, 28 U.S. servicemen and private security contractors have been killed in the helicopter crashes.