/ Source: Forbes Traveler.com
Nowadays, a trip to the airport is usually an unwelcome opportunity to rub shoulders, shoes and little plastic bags of goo with swarms of fellow travelers. The typical experience involves hauling bags foot by foot across acres of linoleum, followed by a St. Vitus's dance of shedding clothes, tubbing laptops and scrounging for boarding passes to the barked commands of security officials.
Happily, a collection of companies are developing new ways to ameliorate the process of security screening at U.S. airports.
One of those companies, Verified Identity Pass, offers a program called Clear which advertises itself as a "faster way through airport security." Members who pay the $99.95 annual fee to join and who submit to biometric and background screening are given access to a private lane, which purports to usher them through security with more predictability, greater speed and less hassle ($28.00 of that fee goes to the TSA to cover the cost of completing a security threat assessment). "Clear has made this new life of flying commercial, which has gone down the toilet, a little more bearable," said program member Henry Morgan, regional manager of Highline Products in Orlando.
Clear is one example of the Registered Traveler programs that the Transportation Security Administration has developed in conjunction with private companies in order to, as the TSA puts it, "provide expedited security screening for passengers who volunteer biometric and biographic information" and who "successfully complete a security threat assessment." To date, Verified Identity Pass and four other companies — Unisys, Saflink, Verant and Vigilant — have satisfied TSA's criteria to act as providers of Registered Traveler services. As the TSA notes, "The program is market-driven and offered by the private sector with TSA largely playing a facilitating role."
At this point, however, Clear is the only operational Registered Traveler service, having just launched a national rollout after conducting a pilot program at Orlando International Airport over the past 18 months. "More than 35,000 members have signed up for Clear in Orlando, and we have a 94 percent renewal rate," said Cindy Rosenthal, spokesperson for Verified Identity Pass.
Clear began its national rollout in mid-January with the opening of lanes in British Airways's Terminal 7 at New York's John F. Kennedy International Airport. The company has announced plans to expand its program in the near future to Cincinnati/Northern Kentucky International Airport, Indianapolis International Airport, San José Mineta International Airport and the Air France gates at JFK International Airport.
It's safe to assume that all of these Registered Traveler programs will be similar in nature (Unisys plans to start rolling out programs this spring), and Clear is a useful case study in how the process works. First, a passenger completes an enrollment form on the www.flyclear.com web site. Applicants open an account by entering basic biographical and payment information and designating their home airport (though Clear will not charge a membership fee until it begins a program out of the home airport).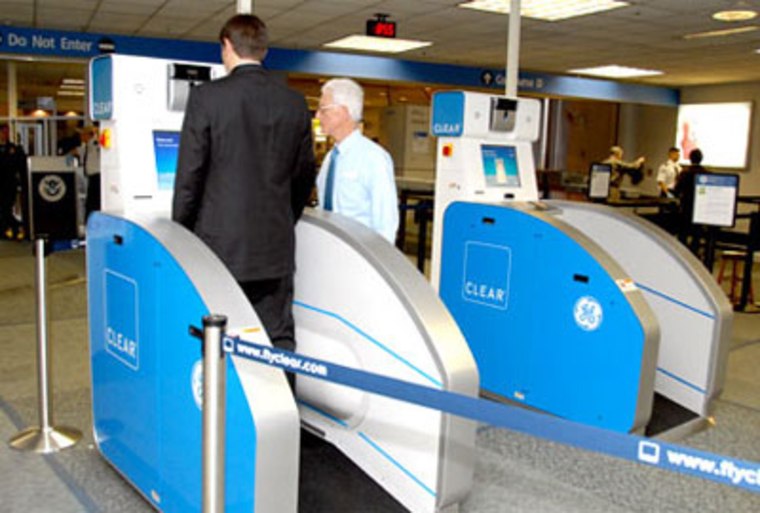 The next step is for passengers to make a visit in person to a designated counter at one of the five airports currently slated to host their lanes. At the airport, members will be asked to produce two forms of government identification and to have digital scans taken of all 10 of their fingerprints and both of their irises. "We then send the entire application to the TSA, and they do the background vetting," said Rosenthal. "In two to four weeks, we receive a simple 'yes' or 'no.'"
Applicants who are approved by the TSA are granted access to Clear lanes in addition to the regular security lanes. When they reach the front of the queue, Clear members must enter their membership card into specialized machines and offer their hand or eye (whichever they prefer) to be scanned for a match with the biometric information coded on their card. If the computer indicates a positive match, members may then proceed immediately to the security machines staffed by TSA personnel, potentially bypassing a lengthy line of regular passengers. "You blend right into the front of the line," said Morgan. "Okay, you butt ahead."
Although at this time Clear members still have to follow the same security procedures as other passengers — such as removing shoes and coats, segregating laptops and bagging liquids — they avoid the delay of waiting in a longer line with the ordinary traveling public. "The whole process takes five minutes," said Morgan. "There have never been more than two people in the Clear lane, even with 30,000 members here in Orlando."
But not everyone believes that Clear and its ilk are positive developments. "The ATA strongly opposes the Registered Traveler program," said David A. Castelveter, Vice President of Communications for the Air Transport Association, the trade association of the principal U.S. airlines. "All this program does is get a customer to the front of the line — that's what frequent-flier programs do today, that's what a first-class ticket does today."
In particular, the ATA objects to the use of TSA personnel to conduct background checks on customers of the Registered Traveler programs rather than to perform screening functions at airports. "We see no security benefit from the program, and we object if it's going to take one employee away from TSA's ability to look for security threats," said Castelveter. "If customers want it, that's their decision, but not at the expense of valuable TSA resources."
Joe Brancatelli, editor and publisher of the popular business travel web site Joesentme.com, is also skeptical. "This is only the second time in 23 years that I've agreed with the ATA," Brancatelli said. He doubts whether customers genuinely want these programs. "On the list of things my readers want, the Registered Traveler program isn't on it." Brancatelli said that his readers, who are frequent business travelers, would be the perfect target audience for programs such as Clear and for whom the membership fee is relatively insignificant. But the programs don't offer enough incentive. Elites like business passengers are already getting to the head of the line," he said, "and if the program doesn't get them out of taking off their shoes, taking out laptops and taking off their coats, it's a pig in a poke."
The TSA recently approved advanced kiosks that will be capable of screening passengers without their having to remove their shoes. "We have installed that equipment and TSA has approved it," said Steve Brill, founder and CEO of Verified Identity Pass. "The fact is that in Orlando, customers have bought Clear, have renewed their memberships and are ecstatic about it." The company is also pursuing technology that will allow passengers to be screened without having to remove their coats.
Read on to learn about how the Registered Traveler program works — at least with Clear, the only program currently in operation. Expect that to change by mid-2007, however; Unisys is planning on opening kiosks in Reno-Tahoe International Airport within the next several months.