/ Source: Forbes Traveler.com
Planning a European ski trip? Admittedly, it's been a slow start to the season, though veteran Europhiles know that you can't count on snow at most European resorts until the post New Year's storms blow in.
The good news is that those storms have indeed arrived, and even low-lying resorts are now reporting pretty good conditions. But if you're going, go soon: The European ski season, which winds up at the end of March, is shorter than the U.S. season.
But why make the trek? Because a European ski holiday is a classier version of its stateside counterpart. It's that unexpected foot of fresh powder that greets you one morning in St. Anton, setting the stage for a day long ski safari. It can be a long cruise from Zermatt to Cervinia, in the shadow of the Matterhorn, on a quest for the perfect Italian lunch. Or it could be going off-piste in Courchevel for the most challenging ski day of your life.
You'll find a lot more glacier skiing here than in North America, despite the much-trumpeted effects of global warming. But the mogul runs that are carefully maintained in the Rockies are rarely found here. Slopes tend to be precisely groomed paths where steepness rules. For tougher terrain, you head off-piste. Fortunately, there's a vast amount of that kind of open, unsupervised out-of-bounds skiing.
The best European resorts are self-contained worlds that exist to energize, comfort and restore. The Italian resort of Cortina is a classic example — a place that offers skiing in the breathtaking, rugged Dolomites, as well as exceptional dining and accommodation in privileged surroundings.
Despite the clamor of the 21st century, many resorts integrate the past remarkably well. Car-free Zermatt, which still bears traces of its pastoral heritage, exudes a welcome timelessness. And in St. Moritz, witnessing a polo match on the frozen lake is like being transported into a 19th-century novel.
On the snow, the incentive to do as the Europeans do and hire a private guide for the day is clear: It opens up vast amounts of off-piste terrain and makes the forbidding suddenly accessible. A guide can help you explore hidden trails, secret bowls and troves of powder that would otherwise remain unseen — and get you to the best mountain hut for lunch before or after the crowds. It's a world away from holiday queues, unveiling a wilder, less explored side of the Alps.
By the way, the food found on-mountain is invariably far better than anything on you can find on a North American ski slope. Lunch is often the event of a ski day, a multi-course repast with local mountain fare and regional wine. Everyone has time to linger, converse, and yes, have a marc, a genepi or a grappa before heading back to the piste.
Yet a ski holiday in Europe is about the hotel as much as the skiing, and European hotels, at the highest levels, offer a superb welcome and stellar service. What are the ingredients for a great European ski hotel? It's often a place that's been family-owned for decades, if not a century or more. Count on the fact that the staff was trained in one of the better European hotel schools, not rounded up the week before you arrived. The building itself is usually historic, no two bedrooms are alike and the furnishings have the patina of bona fide antiques (which they often are).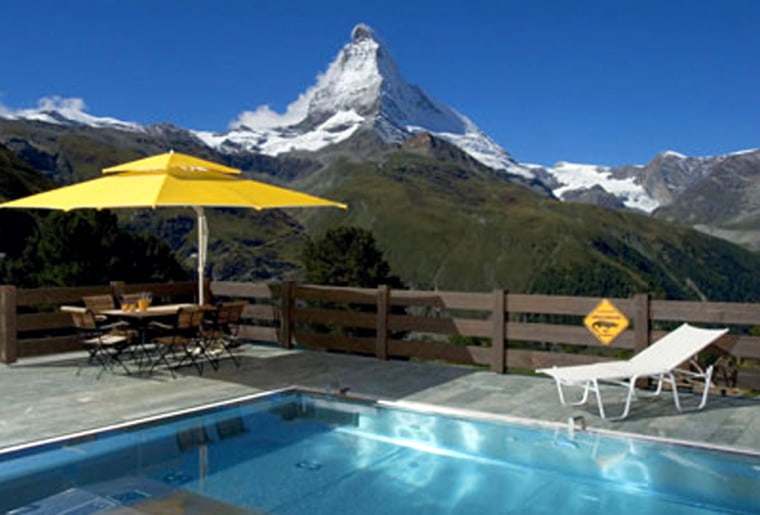 These properties, from the Arlberg Hospiz to the Chesa Grischuna, offer equal measures of warmth, coziness, luxury and creature comforts that few American ski hotels can hope to emulate. When was the last time a ski hotel handed you Prosecco and hors d'oeuvres upon check-in? Breakfast and a four-course dinner are usually included in the room rate. And the food has to be exemplary, otherwise discerning guests wouldn't return for 20 or 30 years straight, as they do in the best hotels in the Alps. If there's a downside, it's that ski hotels are rarely located on the slopes. They're more likely to be in a village, within walking distance to the lifts.
As an alternative to a hotel, consider a catered luxury chalet with your extended family or a group of friends in a resort like Meribel or Klosters. Hotel or chalet, you're set up for seven days or even a fortnight of restorative mountain living.
No one does the high life better than Europeans, who've had centuries to perfect it. So here's a look at what the best European resorts have to offer.