Even though the life of Anna Nicole Smith was defined by tragedy and high drama, the news of her death still came as a shock.
Controversy and scandal, success and failure trailed Anna Nicole from the moment she came into public view — make that full view — as a Playboy centerfold 15 years ago. Her sudden and still mysterious death Thursday is a final ironic chapter for a woman who modeled herself after her idol, Marilyn Monroe.
Humble beginnings
The level of fame Anna Nicole achieved in her 39 year was a far cry from her humble beginnings in Mexia, Texas.  She was born Vickie Lynn Hogan on November 28, 1967.  Her parents divorced before she was two.  Young Vickie was raised by her mother and her maternal aunt in conditions that can best be described as modest.
As a teenager she waited tables at Jim's Krispy Fried Chicken in Mexia.  It was there that she met a young man named Billy Wayne Smith—he was the cook.  They married on April 4, 1985.  Vickie Lynn was 17; Billy Wayne just 16.  One year later she gave birth to a son, Daniel.
Meeting the billionaire
But Anna found her early 20s difficult years. She divorced her husband and was now on her own, she drifted from job to job at places like Wal-Mart unable to support herself and her son Daniel.
So she turned to exotic dancing, working at a Houston strip club—and  that's when her life suddenly changed. She met a man at the strip club—Howard Marshall who turned out to be a billionaire. 
They started a relationship — an unusual one: Anna was 23 years old and Marshall was in his mid-80s.
Then in 1992, the 5' 11 bombshell began stripping for a better and bigger crowd. Hugh Heffner chose her to be on the cover of Playboy. She appeared numerous times in the magazine and was even chosen Playmate of the year.
Soon after, in true Hollywood-style, the Playmate and her billionaire admirer wed.
But just 14 months later, Marshall died leaving behind a billion dollar plus estate. Even though she was left  nothing in the will, Anna felt she was due half of the estate. And she went after it — initiating a courtroom war with her late husband's son— Pierce Marshall.
More struggles, battles
The younger Marshall vigorously fought back. The news media loved the battle between the ex-stripper and the billionaire's son, and would feast on it for years to come.
Like Monroe before her, Anna Nicole had tried to become a movie star. But her acting career never quite got off the ground. Her acting was only part of the problem. Smith's life was spiraling out of control. As the bitter legal battle over her deceased husband's  estate raged in the courts, the former model's weight and her increasingly bizarre behavior made her a regular punchline.
While acting was a stretch, it turned out that simply playing her self would be a role juicy enough to make her a star  In 2002 she debuted her own reality show on E!, living large her celluloid celebrity.
"The Anna Nicole Show" also had moments of surprising depth—revealing her teenage son to be a thoughtful, yet slightly embarrassed young man who could be just as bewildered as the audience with his mother's behavior.
The show also introduced a new man in Anna Nicole's life. Howard K. Stern was her real life lawyer... but it turns out he was much more.
Critics panned the show—and it was eventually canceled in 2004. She continued to pursue film roles, but her resurgence came by way of something else.
Resurgence... and the cruelest blow
She lost 60 lbs., and started to look like her modeling days. Smith became the spokesperson for TrimSpa—and the latest poster child for weight loss.
On February 22, 2006, Anna Nicole looked to be in fighting trim as she arrived at the United States Supreme Court for oral arguments in the legal battle over her late husband's fortune.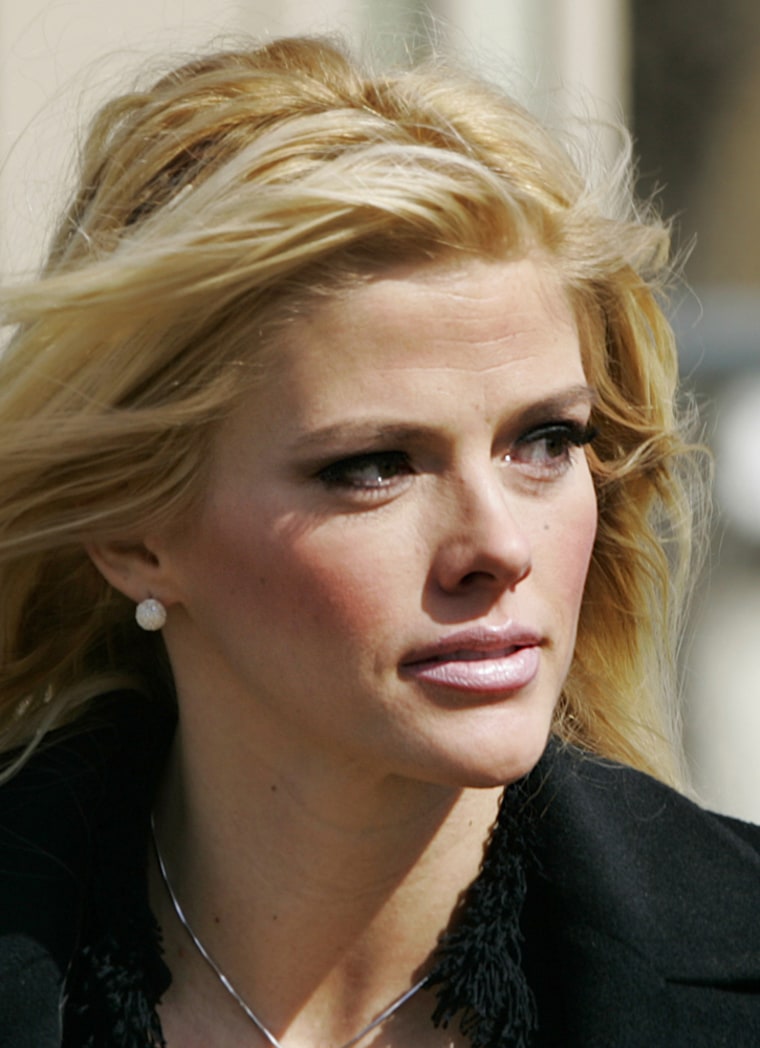 The voice and the figure of TrimSpa looked elegant in a tailored black suit. But her arrival at the highest court in the land was still a gaudy media circus.
The case was called Marshall v. Marshall and when the high court ruled in May, they handed a victory to Anna Nicole over her husband's son Pierce, who immediately vowed to continue the legal fight based on issues not covered in the Supreme Court's ruling.
Four months after her victory in court, Anna had reason to celebrate again when she gave birth to a daughter in the Bahamas. It was a high point in a life filled with ups and downs. But it was followed almost immediately by the cruelest blow yet—just three days after giving birth, her 20 year-old son Daniel died of a reported drug overdose.
Through the roller coaster ride of her marriages, celebrity, and legal battles, Daniel had been the steady guy in her life.
And in her grief, Anna turned to her current steady—her lawyer and companion who'd become so familiar to fans of her TV show. Anna Nicole and Howard K. Stern exchanged vows less than three weeks after one child was born and another died.
In a life where nothing seemed to come easily, the hardships just kept on coming. Larry Birkhead, an ex-boyfriend, sued Anna in October, claiming he was the father of her infant daughter. A messy paternity battle loomed and the crushing weight of Anna's tabloid life seemed harsher than ever.
Over the past few months, Smith was back in the public eye. She was spotted at a recent boxing match in Florida. On Wednesday, a judge in Los Angeles set a two week deadline for Smith to take a paternity test. 
It was not to be
Authorities in Florida are now reviewing the events surrounding her death.
Here's what we know: Smith checked in the Seminole Hard Rock Hotel and Casino in Hollywood Florida last Friday. Reportedly, she and her entourage were in Florida to pick up a yacht and return it to her home in the Bahamas. 
According to Seminole Police Chief Charlie Tiger, at approximately 1:45 p.m. Thursday, Smith's private nurse walked into her sixth floor room and discovered Smith. She was unresponsive.   Smith's bodyguard attempted to revive her with CPR. Seminole and Hollywood fire rescue workers arrived on the scene 20 miniutes later.
She was taken to Memorial Regional Hospital in Hollywood and at 2:49 p.m. was pronounced dead. It was all over within one short hour.
Her body was transported to Ft. Lauderdale and turned over to the Broward County Medical Examiner for an autopsy. 
Was foul play involved? Crime scene investigators were reportedly going through the room on the 6th floor.
What's next?
And now, there are only questions: Who is the real father to Anna Nicole's baby daughter? 
Who will take care of the child?  
And what happens to all that money?
It's a reality show with all too real an ending.