/ Source: The Associated Press
A hard-won disarmament pact that the U.S. and four other nations struck with North Korea on Tuesday requires the communist nation to halt its nuclear programs in exchange for oil while leaving the ultimate abandonment of those weapons projects to a potentially trouble-filled future.
In a sign of potential problems to come, North Korea's state news agency said the country was receiving 1 million tons of oil for a "temporary suspension" of its nuclear facilities — and failed to mention the full disarmament for which the agreement calls.
It wasn't clear if the report represented an attempt by the government to backtrack on the deal, or was simply a statement of bluster for a deeply impoverished domestic audience that Pyongyang has rallied around the nuclear program as a cause for national pride.
Cautious optimism
And by tackling so many issues in a process likely to take years, the deal could unravel, pulled apart by differing agendas of its six signers, which also include China, South Korea, Russia and Japan.
"We have a lot of work to do," U.S. Assistant Secretary of State Christopher Hill told reporters. "It's certainly not the end of the process, it's really just the end of the beginning of the process."
Nevertheless, the agreement marks a turnabout for North Korea, which rattled the world only four months ago when it tested a nuclear device. If Pyongyang follows through with its promises, they would be the first moves the communist state has made to scale back its atomic development since it kicked out international inspectors and restarted its sole operating nuclear reactor in 2003.
"These talks represent the best opportunity to use diplomacy to address North Korea's nuclear programs," President Bush said in a statement. "They reflect the common commitment of the participants to a Korean Peninsula that is free of nuclear weapons."
Questions, doubts expected
U.N. Secretary-General Ban Ki-moon "strongly welcomes" the deal as "the first practical stage towards a non-nuclear peninsula," said his spokeswoman, Michele Montas.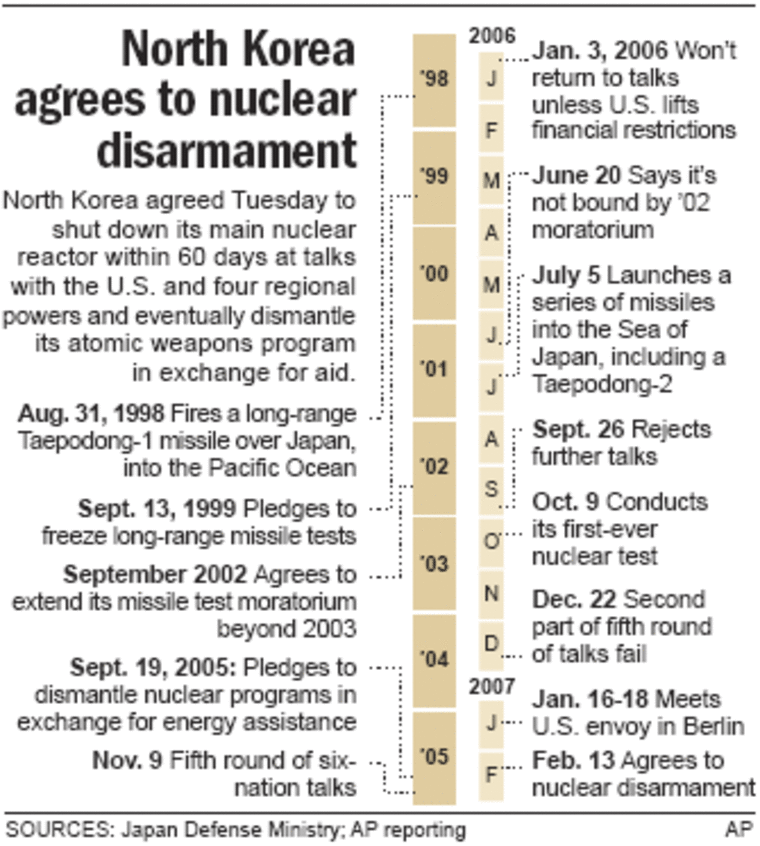 Ban, who had been deeply involved in the six-nation talks as South Korea's foreign minister last year, "is encouraged that this constructive effort by the international community can eventually result in strengthening the global non-proliferation regime," Montas said. He "urges the participants to make every effort to sustain the current positive momentum and ensure that this accord is implemented as agreed."
Robert J. Einhorn, a former State Department official who visited North Korea with then-Secretary of State Madeleine Albright, said Americans should applaud the agreement, but he predicted it would come under heavy questioning from both the right and the left.
He said, "I think a number of people are going to ask the question, 'Couldn't this deal have been concluded three or four years ago before North Korea conducted its nuclear test and acquired enough additional plutonium to build anywhere from six to 10 nuclear weapons?"'
Rewarding defiance?
On the right, former U.N. Ambassador John Bolton said the agreement rewards North Korea for bad behavior while encouraging Iran to ignore international demands that it roll back its nuclear program and hold out for a better deal.
"I will be the saddest man in Washington" if Bush goes along with the agreement, Bolton told reporters. "I think the agreement is fundamentally flawed."
The accord, completed at a Chinese government guesthouse by negotiators from six countries after tortuous talks, lays out an ambitious agenda. It sets a firm 60-day timetable for North Korea to seal its main nuclear reactor and begin accounting for other nuclear programs.
Terms of the deal
Within that time, more talks are planned on ending the hostilities between North Korea and the United States and Japan that have made northeast Asia a tense corner of the world. In return, North Korea will receive 50,000 tons of heavy fuel oil, a modest down payment on a promised 1 million tons in oil or aid of a similar value if it ultimately disarms. One million tons of oil would be equivalent to more than two-thirds of North Korea's entire oil consumption in 2004, according to the CIA Factbook. Hill said the aid package was worth about $250 million at current prices.
In the negotiations, envoys debated who would pay for North Korea's disarmament. China, the U.S., South Korea and Russia agreed to foot the bill though Moscow may contribute in the form of debt relief. Japan has refused to provide aid until Pyongyang fully accounts for the abductions of Japanese citizens by North Korea.
"We understand it marks the first concrete step by North Korea toward its nuclear dismantlement," Japanese Prime Minister Shinzo Abe said after the accord was struck in Beijing. "But our position that Japan cannot provide support without a resolution of the abduction issue is unchanged."
Disarmament, however, is likely to remain the thorniest problem.
What ifs abound
"What if North Korea doesn't show them to inspectors, if they say we've stopped this and shut down that, what if they say you have to trust us?" said Liu Gongliang, a physicist at China's Institute of Applied Physics and Computational Mathematics who has followed North Korea's nuclear program for the Chinese government.
Under the deal, the North is required to seal its main nuclear reactor and related facilities at Yongbyon, north of the capital, within 60 days and allow inspections by the International Atomic Energy Agency.
Senior IAEA figures have met regularly with North Korean diplomats in past months preparing for such a mission, and a diplomat familiar with the status of preparations told The Associated Press that IAEA inspectors could be on site "within days" once given the go-ahead.
But no timetable was set for a final declaration by North Korea of all its nuclear programs and their ultimate dismantling.
Deal sidesteps uranium program
North Korea has sidestepped previous agreements. It allegedly operated its uranium-based weapons program even as it froze a plutonium-based one, sparking the latest nuclear crisis in late 2002. The country is believed to have countless mountainside tunnels in which to hide projects.
The uranium program was not explicitly addressed in the agreement. But, Hill said, "I certainly have made very clear repeatedly that we need to ensure that we know precisely the status of that."
The nuclear issue has frequently been ensnarled by lingering frictions between the North and its neighbors, as well as a dispute over U.S. sanctions against the regime for alleged money laundering and counterfeiting activities. Hill said the sanctions issue would be resolved within 30 days, but didn't provide specifics.
The United States will also begin the process of removing North Korea from its designation as a terror-sponsoring state and also on ending U.S. trade sanctions, but no deadlines have been set, according to the agreement. Washington's blacklisting of a Macau bank in September 2005 had led the North to a more-than-yearlong boycott of the six-nation talks during which it tested its first nuclear bomb.