/ Source: Forbes Traveler.com
The Draw
• The regal majesty of old Siam and the crossroads of exotic Thailand
• The neon nexus of Southeast-Asian business, tourism and vice
• The home of kick-boxing, snake farming and elephant soccer
The Scene
A polluted, congested city of more than 10 million people, Bangkok doesn't lend itself to leisurely strolls. Fortunately, lounging in luxe environments along the Chao Phraya -- the Oriental, Shangri-La, Montien Riverside and Peninsula -- makes for a relaxing break from the crush. And perennial attractions like the Grand Palace and the Jim Thompson House continue to draw tourists on their way to a beach holiday. The advent of budget airlines has turned Thailand into the next French Riviera. With the currency crash of '97 a distant nightmare, Bangkok is once again a thriving commercial mega-city as well as a lively layover on the way to post-tsunami island paradises.
To Be Seen
• Sukhumvit Road: Also known as the embassy district; anything you could ever want or need is here for sale. But unless you want to spend hours in traffic, take the Skytrain.
• Rattanakosin: This man-made island in the Chao Phraya River--best accessed by riverboat--is home to the Grand Palace and the Temple of the Emerald Buddha.
• Siam Square: The commercial heart of modern Bangkok boasts a sleek collection of bustling malls, hip restaurants and pulsing nightclubs.
For The VIP
• Travel like royalty on the Eastern & Orient Express with a two-day excursion to the ruins of Ayutthaya and fast-developing Chiang Mai.
• Steep yourself in the colonial Bangkok of Joseph Conrad and Graham Greene with high tea in the Author's Wing of the Oriental Hotel.
• Ask the concierge to arrange a private cruise along the Chao Phraya River. A visit to the floating market is a must.
Overrated
Patpong. Bangkok's decrepit red-light district is far from exotic or exciting.
Underrated
Chatuchak Market: Located in the northern part of the city, this massive weekend market (an average Saturday attracts more than 200,000 people) features the best deals on wood carvings, ceramics and other Asian curios. And best of all, it's organized by subject matter.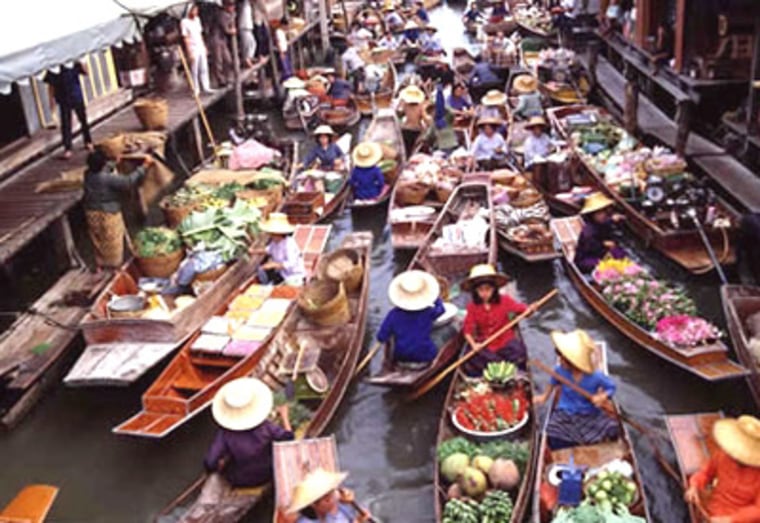 Don't Miss
The Jim Thompson House: The traditional Thai home of the legendary American expatriate is a famous tourist site worth its salt. A CIA spy during World War II, Thompson revolutionized the Thai silk industry before mysteriously disappearing in Malaysia in 1967.
When To Go
Just 14 degrees north of the equator, Bangkok is generally hot and muggy, though the winter months are cooler. The rainy season (which is only slightly wetter than the dry season) lasts from June through October.