/ Source: Forbes Traveler.com
As the sun dips behind a tranquil seascape, enticing hors d'oeuvres kick off a dinner to whet all sorts of appetites. Bubbles in champagne glasses rise in tandem with the evening's mood — which abruptly evaporates as a boorish couple wedges into the adjoining table.
"Romantic restaurant" can be an oxymoron: a private enclave in a public space.
"The most important element of a romantic dining experience is privacy," explains Peter Neptune, a Master Sommelier and Vice President at the Henry Wine Group, where he works as a consultant for a number of West Coast restaurants. "A lot of places these days will try to cram people in, so that you're almost sitting on top of the person next to you. But you've got to have a sense of privacy to foster romance."
How to find a secluded and intimate table to share with a room full of strangers?
We turned to a team of insiders for advice on navigating this paradoxical pleasure. Our panel of five chefs, drawn from contestants from both seasons of Bravo Network's reality competition show "Top Chef," have worked and dined in some of America's finest restaurants. They shared their thoughts on the romantic dining experience as well as their recommendations for restaurants best suited to St. Valentine's special night.
Atmosphere, inside and out
"I'm a sucker for a sunset," says Harold Dieterle, winner of "Top Chef" season one. And to soak up the day's last rays over a romantic meal he recommends The Beacon restaurant in Sag Harbor, New York. Dieterle warms to this venue's top-notch cuisine, "rustic" ambience and magnificent view of the harbor. For even more rustic charm he recommends the Saddleridge Restaurant in Beaver Creek, Colorado, where "old-school Western antiques" like Annie Oakley's gun lend a meal the romance of the frontier.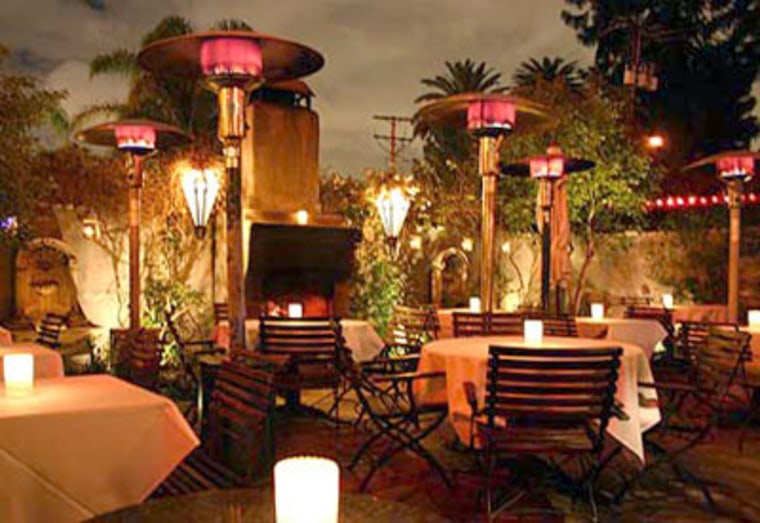 Marisa Churchill, a season two "Top Chef" contestant, shares Dieterle's affinity for a meal under waning light, but prefers to bring the restaurant to the sunset, as it were. She suggests planning something out of the ordinary, like an ocean-bluff picnic with a meal from Out the Door, the to-go branch of San Francisco's modern-Vietnamese destination, The Slanted Door. The picnic could just as well take place in a candlelit living room, Churchill points out; what's important is mood. "Food can be very sensual," she says and accordingly, her romantic Out the Door picnic would involve "lots of finger foods; items you can eat with your hands and feed to your partner."
This kind of physical entanglement figures into season one contestant Andrea Beaman's suggestions as well. She recommends New York City's cozy Korean-vegetarian hideaway, Hangawi, where, Beaman says, "You get to play footsies under the sunken tables."
For an amorous meal in close quarters, season two chef Betty Fraser is lured by L.A.'s La Boheme, where she says the "private booths and the lush décor" offer the right ingredients for romance.
The classics of romantic atmosphere — seclusion, dim lighting, muted colors — may have broad and time-tested appeal, but for some, like season one "Top Chef" competitor Stephen Asprinio, those elements can be "kind of old-school." What's important for the 21st-century romantic dining experience, according to this young chef-entrepreneur, is "sexiness." He explains, "This sexiness can be expressed through a multitude of design elements, such as a chair shaped to resemble the curves of the female body, or captivating color schemes within a particular décor." Asprinio recommends the restaurant at the Setai Hotel in South Beach, Florida for a "mind blowing" night of romantic dining.
Energy to Burn
Beyond the ambience of a particular venue, our "Top Chefs" emphasized the importance of food that would satisfy but not sedate. According to Betty Fraser, the meal should include "bold flavors that will excite, if you will, the taste buds: Something that is light enough not to weigh you down and make you lethargic, and it should always include a heady bottle of vino or bubbly, like a good Italian Prosecco."
Harold Dieterle says a romantic meal should feature "feminine food — sensual, petite portions, not loaded with fat and dairy," a sentiment that fits with chef Asprinio's aesthetic. "Keep everything small and sexy, as with a tasting menu," says Asprinio, with entrees like "a lavender honey-lacquered breast of roasted quail, shaved white truffles and chanterelles with a glass of rosé."
Andrea Beaman agrees that a Valentine's Day meal should leave lovers light on their feet. "Over-seasoned food can make the diners retain water, and swollen hands, feet and eyes are not conducive to romance. It's imperative to eat normal-sized portions of food." She adds a key reminder for those who want their Valentine's evening to heat up up after the meal: "If we overeat, the only thing we'll want to do when we get home is sleep!"
It's not about the food
All that postprandial stamina may be moot if you don't love the one you're with. Several of our experts pointed out that the location of a romantic meal is secondary. "If you're head over heels in love," says Fraser, "you could enjoy a burger next to a construction site and be gaga-eyed."
In the end, as Chef Dieterle explains, the romance of a restaurant may be independent of any sunset, champagne or otherwordly crème brulee. "A lot depends on the mood factor," he says, "stuff that's out of the restaurant's hands. If you're fighting with significant other ahead of time, chances are you won't have a good time."