BEIJING — In a major diplomatic breakthrough, North Korea agreed Tuesday to shut down its main nuclear reactor and eventually dismantle its atomic weapons program. The agreement marked the first concrete plan for disarmament in more than three years of six-party talks.

Ambassador Christopher Hill, the chief U.S. envoy to the six-nation talks, spoke with NBC News' Mark Mullen about how the agreement was reached and what it means for U.S.- North Korea relations.
NBC News' Mark Mullen:  How does it feel?
Ambassador Hill: It's been a long five days, but I think it's a good first step. So the real significance of it would be to see how we go in further stages, because we're aiming at complete denuclearization. We're not looking to just shut down their reactor.  We're aiming eventually to dismantle that reactor and see that North Korea gets out of the nuclear business entirely.
How big a deal is this first step?
We are working through a multilateral process, so of course it's important what we do with North Korea. But, what you know is also very important, is the fact that we're working really hand-in-glove with the Chinese. The Chinese absolutely share our objectives. So getting everyone to work together to get North Korea first of all to accept in a declaratory way that they're going to get rid of their program, and then finally to get them to do something on the ground, I think is significant and certainly well worth pursuing.
How much do you think the DPRK [Democratic People's Republic of Korea] will actually hold up its end of the bargain?
Well it's a six-party process so if they want to cheat or walk away from this, that's not just walking away from the U.S. They'd be walking away from a number of other countries, including all of their neighbors.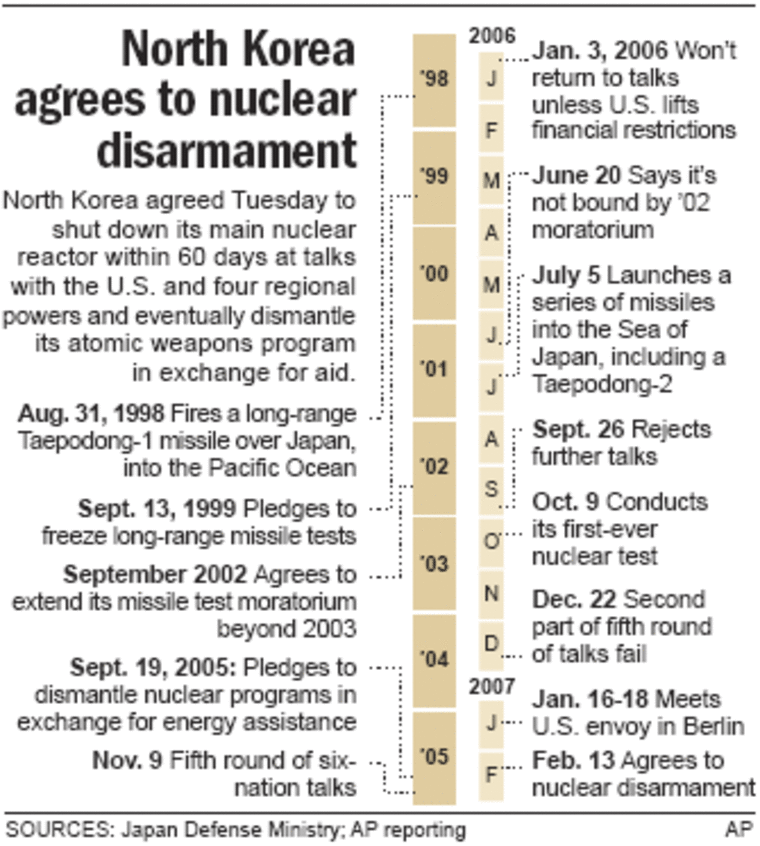 Do you think they have more to lose at this point?
There's no question these nuclear programs for North Korea have been quite an albatross. They have really helped to impoverish that country and to deepen its isolation. So if North Korea wants to improve its lot and join the world, it's gotta get out of this nuclear business.
I heard a high-level diplomat say, "We're not worried about North Korea blowing things up, we're worried about them selling their technology?"
Well actually we're worried about a number of things. First of all, if North Korea is allowed to develop nuclear weapons, what does that say to other states?  Moreover, if North Korea were allowed to develop its nuclear weapons, what would happen in this region, this rather combustible region in Northeast Asia? Which is why I think it's important to have this six-party process work together and to begin to develop a sense of community in this region.
What do you say to the hawks back in the U.S. that say you should not have yielded in this regard?
People are entitled to their opinion. There'll be a lot of criticism, but I tend to look at these things from the point of results. Can we get something done here with diplomacy?  If I thought we could do something without diplomacy, sure, I'd be more interested in that, but I think diplomacy is very necessary. And what to me is very key, is to work with our partners. And we're working very closely with the Japanese on this, the South Koreans, the Chinese, and the Russians. So I think that's the way to go.
What's the atmosphere like inside [the talks]?
Well there's a certain pace and lifecycle in a negotiation, and you get to a point where you've kind of discussed everything and then you have to get everything on paper. And that's when things can get very, very tense. You don't know if one side will try to walk out or something like that. Certainly we got through some rather tense moments there.
Is the tone of the North Koreans different this time from others?
We had some consultations with them. We had some consultations in Berlin so we had a pretty good idea that we could make some progress here, but then we ended up with a -- lengthy discussions about this fuel question, where they wanted to have more heating fuel, that sort of thing. So we looked at that, and rather than turn it into a concession or a roadblock, we looked for ways that we could go deeper into the process of denuclearization, so we gave them more, but we asked for more.
Do you worry that this might appear as though North Korea is being rewarded for having conducted its nuclear tests?
Certainly when a country develops nuclear weapons, this is a grave concern that the international community has to have. Certainly you don't want to put yourself in the position of rewarding bad behavior.
But frankly, North Korea is not doing very well. I mean, they have serious problems. So in a sense we're helping them out of their problems by helping them to denuclearize. Because if they denuclearize, a lot of things are going to be possible. If they don't denuclearize, if they try to hide this stuff or try to stay with it, frankly they're going to have a continued very difficult existence.
What's a realistic goal here? What can the other parties expect from North Korea realistically?
I think a realistic goal is to get them on the track to fulfilling their commitment, a commitment they've already made to denuclearize and get them on a step by step basis to start taking the actions.
For example, this is the first action to shut down the reactor. The next action would be to disable it, then to take the thing apart, and then to cart it out. I think we're going to have to do this step by step. I don't think this is a situation where the North Koreans are going to fall out of bed one day and say we're going to get rid of all this stuff. I think it's going to be done on a step by step basis.
Critics have said that if the Bush administration hadn't cancelled the agreement reached under Clinton, that an agreement like this one might have been in place five years ago?
To be sure, there was an agreement in the 1990s, the so-called Agreed Framework. Some very talented people worked on that, worked on that very hard. But that was a different type of agreement, a different era really.
What we're trying to do is to craft a multilateral process that can address some of the underlying problems in the region; that can address some of the problems in the bilateral relationship. For example, between North Korea and Japan, that can address some of the issues where the region really has not been able to come together. A very successful economic region, but when you look at the state of politics among these states, not very good. So we're approaching this in a much broader framework so it's a much different approach.
Are you more optimistic at this point?
People always ask me are you optimistic or pessimistic. What I do is, I just kind of go through these processes, I try to set something up and then see if the North Koreans will respond. I'm optimistic we can get through this phase. I'm optimistic we can get through the next phase. But after that, we just have to see.
Who benefits the most if this goes through?
Everybody. Everybody. That's what deal-making is all about.