/ Source: The Associated Press
A car bomb killed 11 members of Iran's elite Revolutionary Guards on Wednesday in the deadliest attack in years near the Pakistani border, and Iran accused the United States of backing militants to destabilize the country.
A Sunni Muslim militant group called Jundallah, or God's Brigade, which has been blamed for past attacks on Iranian troops, claimed responsibility for the bombing, according to the semiofficial Fars news agency.
Earlier news reports had the death toll as high as 18; the downward revision was not explained.
The blast represented a sharp flare-up of violence in the remote southeast corner of Iran, near Pakistan and Afghanistan, that has long been plagued by lawlessness. The area is a key crossing point for opium from Afghanistan and often sees clashes between police and drug gangs.
At the same time, Jundallah has waged a low-level insurgency in the area, led by Abdulmalak Rigi, a member of Iran's ethnic Baluchi minority, a community that is Sunni Muslim and is present in Pakistan and Afghanistan. Rigi has said his group is fighting for the rights of impoverished Sunnis under Iran's Shiite government.
An al-Qaida-linked group of the same name has carried out attacks in Pakistan, but Pakistani officials say it is not connected to the Iranian militants.
Tehran casts blame far and wide
Iranian officials blamed "insurgents" and "terrorists" for Wednesday's bombing — and accused the United States of backing them to sow instability in Iran.
"This was done by a group that gets support from America," the state-run Islamic Republic News Agency said, quoting unidentified officials.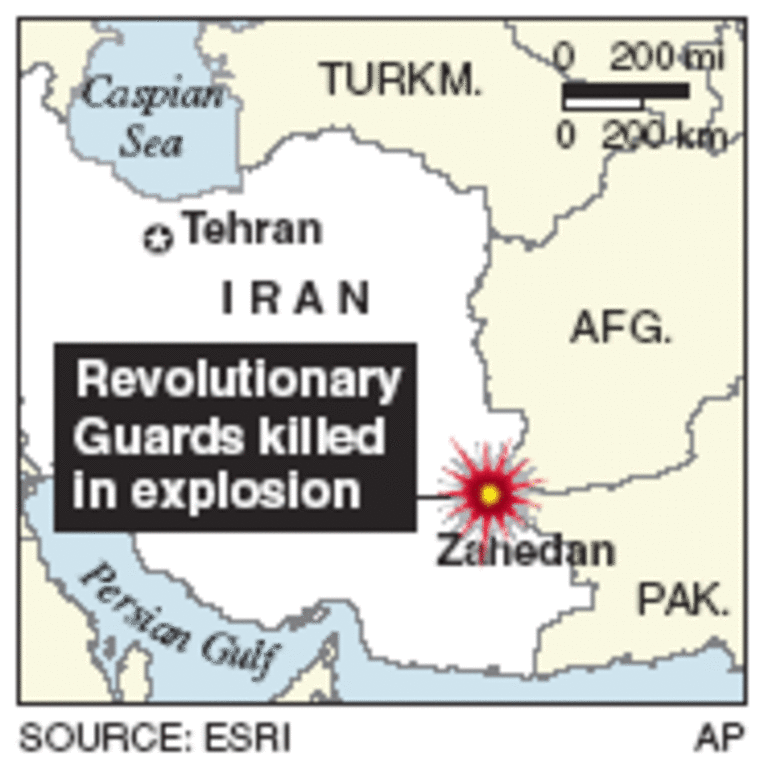 Iran has increasingly raised the alarm that the United States may attack it or try to foment an uprising against the government as the standoff between the two countries has escalated in recent weeks over the country's nuclear program and over the turmoil in Iraq.
President Bush on Wednesday repeated accusations that Iran was supplying weapons to militants in Iraq and vowed to stop the support. The U.S. has also built up its military presence in the Persian Gulf and has vowed action against Iranian operatives in Iraq.
Iranian officials have often raised concerns that Washington might incite members of Iran's many ethnic and religious minorities against the Shiite-led government, which is dominated by ethnic Persians.
Early morning explosion
Wednesday's bombing took place at about 6:30 a.m. near Zahedan, capital of Sistan-Baluchestan province, when a car packed with explosives pulled to a stop in front of a bus carrying members of the Revolutionary Guard.
The car exploded, killing 11 guards and wounding 31, the provincial governor, Hassan Ali Nouri, told IRNA. He said one attacker was also killed in the blast, and IRNA said others in the car fled just before the bomb went off.
Soltan Ali Mir, a local Interior Ministry official, said five suspects were arrested, IRNA reported.
The insurgency in Iran
Iran has faced several ethnic and religious insurgencies that have carried out sporadic, sometimes deadly attacks in recent years — though none have amounted to a serious threat to the government.
Besides the violence in the southeast, ethnic Arab Sunni militants have been blamed for bombings in the western city of Ahvaz — including blasts in 2006 that killed nine people. Iranian Kurds based in northern Iraq have also stepped up incursions into Iran.
The Iranian government has repeatedly accused the United States of backing militants to destabilize the country.
Hossein Ali Shahriyari, a lawmaker representing Zahedan, accused U.S. ally Pakistan of allowing a "safe heaven for insurgents" operating in southeastern Iran. In parliament on Wednesday, he called on the government to press Islamabad to crack down on its side of the border.
Shadowy group with little-known name
Little is known about the Jundallah militant group. Iranian state media and officials avoid even using the name — apparently to play down the image of an organized opposition group operating on the country's soil.
In December, Jundallah claimed responsibility for kidnapping seven Iranian soldiers in the Zahedan region, threatening to kill them unless group members were freed from Iranian prisons. The seven were released a month later, apparently after negotiations through tribal mediators.
In March 2006, gunmen dressed as security forces killed 21 people on a highway outside Zahedan in an attack authorities blamed on "rebels," though Jundallah was never specified.
A group of the same name operated in Pakistan and was blamed for a series attacks in the city of Karachi during 2004, most notably an attempt to assassinate the city's army corps commander. The general escaped but 10 others were killed.
A counterterrorism official in Karachi said Wednesday that the Pakistani group had about 20 members, who may have trained with al-Qaida near the Afghan border. Security agencies arrested its leaders and broke up the network and there were no signs it had operations in Iran, said the official, who spoke on condition of anonymity because he was not authorized to talk to the media.