/ Source: msnbc.com and NBC News
A huge Valentine's Day winter storm rolled up the East Coast on Wednesday, causing hundreds of accidents, snarling air traffic nationwide and knocking out power from the Midwest to the Northeast.
Sixty-mph winds, coupled with blowing snow, caused whiteout conditions for drivers from Nebraska to Pennsylvania. Hundreds of thousands of customers lost electrical service, and at least 13 deaths were blamed on the huge storm system.
Thousands of schools were closed from Maine to Kentucky, and the federal government opened two hours late in Washington.
"It's terrible — absolutely terrible," Abe Rosenberg, a truck operator in Scranton, Pa., told NBC News' Michelle Franzen.  
The storm was blamed for ruining many Valentine's Day weddings in Cleveland, where couples who made it to City Hall on Wednesday found that the doors were locked, NBC's Kevin Tibbles reported.
"We'll just have to wait until tomorrow," said half of one disappointed couple who wouldn't give their names.
Massive transportation snarls
More than 700 flights were canceled at O'Hare International Airport in Chicago, a scene that was repeated at airports from the Midwest to the Northeast. Hundreds of flights were also canceled at Albany, Boston, New York City, Washington, Philadelphia, Cincinnati and Indianapolis.
Dozens of planes were stuck on the tarmac at New York's three airports, stranding hundreds of passengers.
MSNBC-TV host Joe Scarborough sat on his plane in New York for nine hours waiting for the weather to clear and the wings to be de-iced. "It's been nine very long hours for everybody — for men, women, babies and dogs," he said.
The Federal Aviation Administration said cancellations would continue into the night as some of the biggest airports — especially in New York, Boston, Chicago and Philadelphia — tried to catch up, NBC's Tom Costello reported from Washington.
"It really is a balancing act to try to find out what can go, what can go where, make sure there are crew to staff the airplanes and are all in the proper position," said Tim Smith, a spokesman for American Airlines.
In New Jersey, a corporate jet veered off a runway while landing, officials said. None of the nine people on board were hurt, but Teterboro Airport closed for more than two hours.
Amtrak said it was largely continuing to operate despite the conditions, but it reported cancellations between New York and Washington and on the Empire Corridor, west of Albany, N.Y.
Blizzard warnings in Northeast
The National Weather Service issued a blizzard warning for all of Vermont, where as much as 2 more feet of snow was expected to fall by nightfall. State police activated members of its criminal division to help the patrol division with stranded motorists, NBC affiliate WPTZ-TV reported from Montpelier.
Parts of New Hampshire, Massachusetts and Maine were also under blizzard warnings. Maine Gov. John Baldacci declared a state of emergency after forecasters predicted gusts of 40 to 45 mph, whiteout conditions and dangerous wind chills.
New York Gov. Eliot Spitzer activated the National Guard to help as snow kept piling up Upstate. Forecasters predicted that the area could get 2 more feet of lake-effect snow, adding to the 10 feet that is already on the ground after a week of storms, NBC affiliate WKTV-TV reported from Utica.
In midtown Manhattan, Catalino Cruz, 46, and Marina Vera, 41, took advantage of the weather to sell hot rice pudding, tamales and hot chocolate to a steady stream of customers on Eighth Avenue, NBC affiliate WNBC-TV reported.
"I get moving so fast I don't even feel the cold," Vera said. Cruz said the top-selling item was the rice pudding.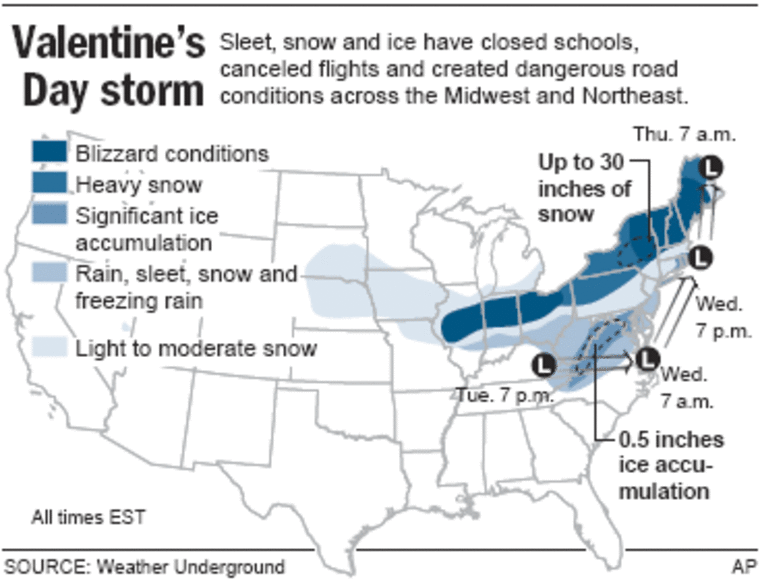 More than a foot of snow had fallen in parts of Indiana, and stiff wind piled it into drifts as high as 9 feet. The Indianapolis school system remained undecided Wednesday about whether it would call off classes Thursday for the third day in a row.
"We have concerns about bus stops — how high are the drifts?" Louise Bewley, a spokeswoman for the Indianapolis schools, told NBC affiliate WTHR-TV. "Will kids be able to stand in snow or will they be forced to stand in the street for a bus?"
The Big 10 basketball game between the University of Iowa and Northwestern University was canceled after the Northwestern team was unable to reach Iowa City because of the weather.
Thousands still without power
At least 108,000 customers were without power across Ohio, and more than 14,000 customers were blacked out in northern Kentucky, according to a roundup of reports by The Associated Press. Maryland's four biggest utilities reported about 120,000 customers without power statewide, 36,000 customers were blacked out in New Jersey, and more than 4,500 Duke Energy customers remained without power in Indiana.
The snow and ice had been blamed for three deaths in Nebraska; two apiece in Indiana, New Jersey and Delaware; and one each in Missouri and Ohio. A tornado on the southern side of the weather system killed one person in Louisiana.
Meanwhile, in Dunkirk, Md., volunteer firefighters rescued an unidentified woman from a frozen pond Wednesday morning after she fell through the ice while chasing her dog, NBC affiliate WRC-TV reported from Washington. The woman, who was in the water for about 30 minutes before firefighters pulled her out, was in stable condition, but firefighters could not rescue the dog.