A growing army of Australian water misers is finding new ways to live with tough restrictions on water use as much of the nation enters its sixth year of drought.
Faced with record low dam levels, Australia's major cities have introduced limits on household water use, and city dwellers are sharing the pain of a drought that has devastated rural production and cut 0.5 percent from economic growth.
Householders are responsible for only 9 percent of Australia's water consumption but all major cities, except the rain-drenched tropical northern city of Darwin, have imposed restrictions on water use over the past five years.
In the suburbs of Sydney, Perth, Melbourne, Adelaide and Brisbane, the lush green lawns that were once a hallmark of Australian suburbia, have mostly turned brown after authorities banned the use of sprinklers.
In most areas, public fountains have been turned off, taps have been removed from beachside freshwater showers, and gardens can only be hand-watered on designated days.
In the largest city of Sydney, householders face fines of $171 if they are caught watering gardens outside of set times on Wednesdays and Sundays, or if they are spotted hosing down the pavement or yard.
Water patrols
In the second largest city of Melbourne, 100 water officers in 30 cars are on suburban patrols around the clock, issuing fines to people who waste water. Repeat offenders can have their water supplies cut.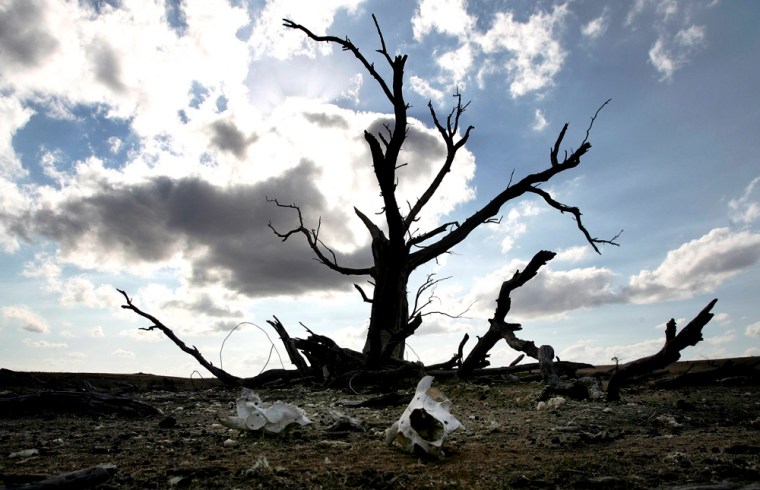 In the dry and dusty nation's capital Canberra, authorities have banned people from washing their cars, saying cars can only be cleaned at commercial car washes which recycle their water.
"There are an awful lot of dirty cars around Canberra. I wish they'd come in here," Anthony Tammett, who runs the city's biggest commercial car wash told Reuters.
The impact of the water restrictions has been noted in many different ways. Hardware stores report higher than usual sales of buckets and suppliers of rainwater tanks are struggling to keep up with demand, with delays of up to eight weeks on orders.
Landscape gardeners report business is booming as people rip up their lawns and reconfigure their gardens with native plants, paving, and water-saving irrigation systems.
Sydney landscape designer Simon Mann said the drought had also changed attitudes, with customers now saying water conservation was a key to garden makeovers, compared to a few years ago when water use was rarely mentioned by clients.
"Irrigation used to be considered as a lazy way of watering the garden. Now people are using irrigation to minimize the water they use," he said.
In Australia's national parliament, a 4,500 room building set into a hillside and covered in grass, fountains and water features have been turned off and the air-conditioning has been set two degrees Celsius higher to save water.
In the nearby diplomatic district of Yarralumla, foreign embassies with their plush green lawns, which do not have to comply with water restrictions, have been urged to stop watering in sympathy with the rest of the city.
Conservation goal
Across the country, authorities want to cut water consumption by between 20 and 35 percent by 2030 compared to 2001 levels, and the public appears to be supportive.
A report commissioned by the national government in late 2006 found household consumption was down by more than 13 percent across all major cities in the four years since 2001.
The change in water use reflects what appears to be a permanent shift in behavior, and one Prime Minister John Howard hopes will never revert to the carefree days before the drought.
"We've all been guilty in the past of hosing the car down in the backyard," Howard told the National Press Club last month. "I think there's been a permanent wake up call given to current Australian generations about that.
"I don't want us to go back to the wasteful years of the past and I do hope that we all, as individuals, have learnt about it. I hope that the growing interest of people in getting water tanks and making their own personal contribution continues."
From her home at Bateau Bay, north of Sydney, Glenda Way believes Australians have permanently changed their water habits, adding that community pressure now makes a green lawn something to be ashamed of.
"There is no way I would go outside and use any water, because you'd be very unpopular with the neighbors," she said.
"I think we'll always be very conscious of the water we use from now on. I don't think we'll ever go back to use water like we used to."